B.J. Penn and Khabib Nurmagomedov are undoubtedly two of the greatest lightweight fighters in UFC history. Joe Rogan covers the sport of MMA on his podcast from time to time. In an episode on his podcast, he pitted the two together in one fantastical fight.
Joe Rogan is undoubtedly one of the biggest MMA fanatics in the world. Adorned with keen interest and deep knowledge of the sport, he has a deeper understanding of the game. The UFC commentator and podcaster has seen it all in his promotion. He talked about his dream fight in the UFC, pitching retired UFC veteran B.J. Penn and the undefeated Khabib Nurmagomedov.
While in conversation with guest Bas Rutten at JRE #139, Rogan praised Penn and talked about his amazing feats. BJ Penn was a double-weight champion during his stint in the UFC. He was also the first non-Brazilian to win the World Jiu-Jitsu Championship at black belt level. Penn's achievements cannot be compared to that of any other fighter. Rogan said, "He was just doing these unbelievably brutal cardio workouts every day and then he would go and have a gas tank that was off the chart."
"When you've got a guy who's already as talented as B.J. with zero fear of getting tired, he was the G.O.A.T," Rogan said. Everyone knows about Rogan's appreciation of Khabib. The commentator greatly admires his pure strength, skill, and dedication. Khabib Nurmagomedov competed in the lightweight division of the UFC. He was the longest reigning UFC Lightweight Champion ever, holding the title from April 2018 to March 2021.
Related: "You know the rules," BJ Penn hilariously admits to winning two belts on beers and hotdog diet
Joe Rogan pits BJ Penn vs Khabib Nurmagomedov as a dream fight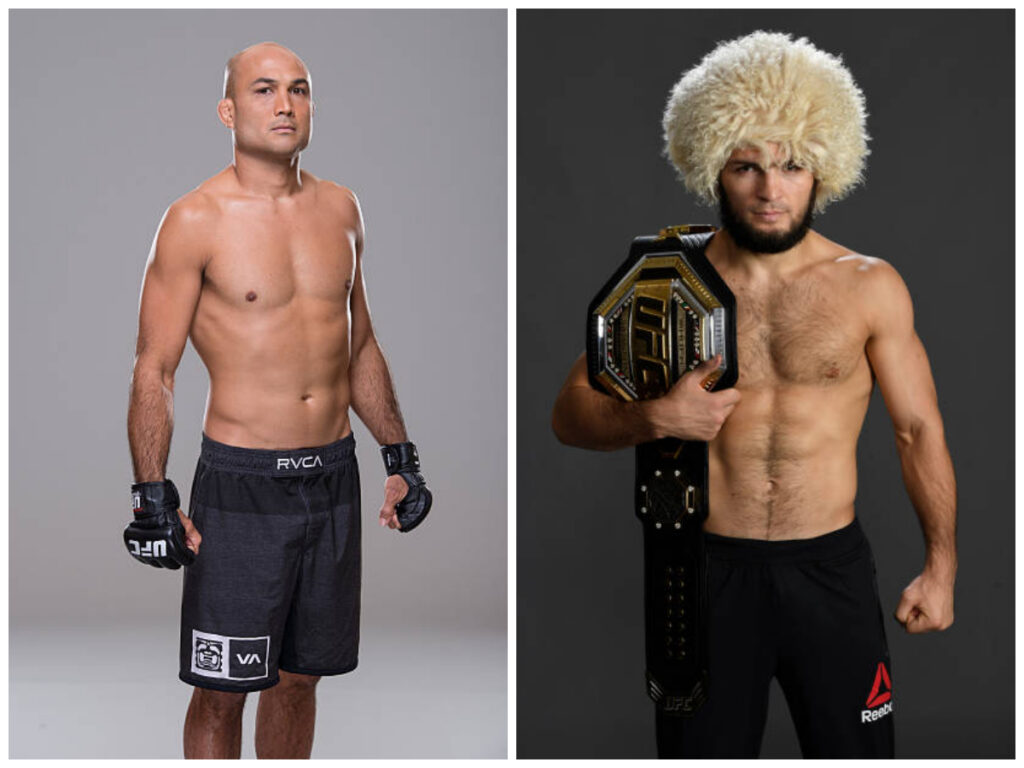 UFC veteran B.J. Penn had a long and eclectic fight career in the promotion. It spanned from 2001's UFC 31 to UFC 237 in 2019, his last fight in the promotion. Apart from his lightweight title, Penn also captured the UFC welterweight title.
Meanwhile, Khabib debuted in 2012 and, with only 13 fights in the UFC, retired as the undefeated and longest-reigning lightweight champion. Joe Rogan expressed his dream UFC fight and pitted both fighters against each other. He said, "If there was a fight that I ever wanna see, it'd be Khabib Nurmagomedov in his prime vs. BJ Penn in those years with Marinovich."
However, the two fighters have left the fighting game for a long time. Khabib Nurmagomedov retired from the UFC after his fight against Justin Gaethje at UFC 254. Rogan's dream fight will never occur.
In case you missed it!