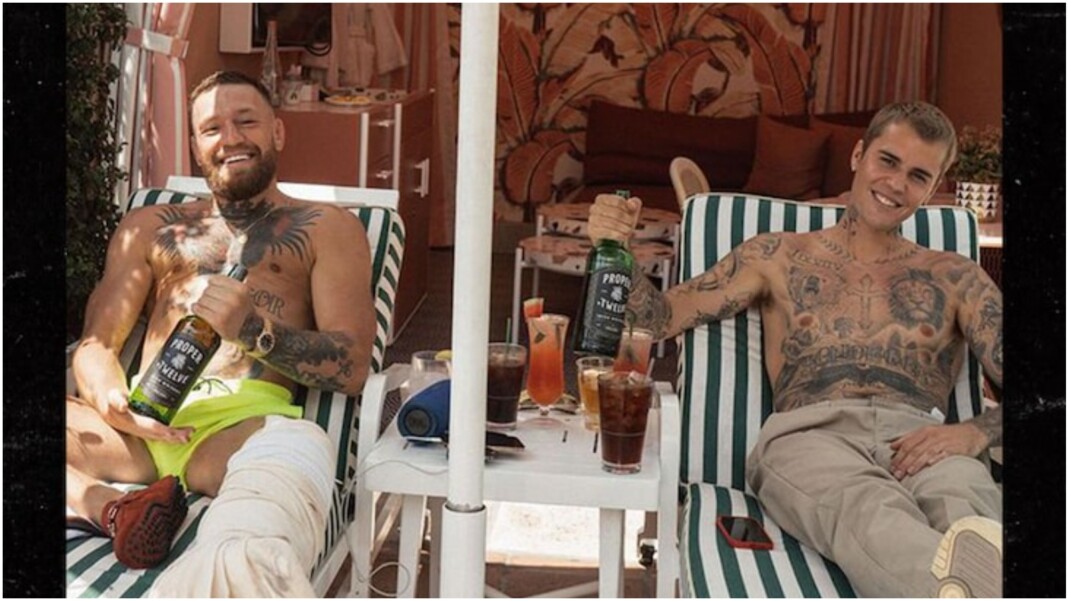 Conor McGregor was back in the spotlight once again. The UFC superstar presented the award for the Artist of the Year at the 2021 VMAs. Dressed in a Pink Suit, a cane-aided McGregor, was delighted to present the Artist of the Year to his friend and Canadian singer Justin Bieber.
About Conor McGregor's current in-ring state, he is coming off back-to-back losses for the first time in his UFC career. Never has the Irishman ever lost two fights in a row (in his entire career) – courtesy Dustin Poirier. His most recent defeat at UFC 264, saw him break his left ankle as well. He underwent surgery the next day, and is currently recovering from the same. He is expected to be back in January next year.
Back to the VMAs – after receiving his award, Justin Bieber thanked several people, including his wife Hailey Bieber who has been a pillar of support in his life. He then turned towards a beaming McGregor, claiming that next year would belong to the Irishman.
Conor McGregor and Justin Bieber caught up earlier this year in July!
Bieber was quoted as saying, "We're gonna get 'em next time…Conor, we're gonna get 'em next time, my boy. Let's go."
It is worth noting that McGregor and Bieber caught up earlier this year in July, right after McGregor was discharged from the hospital following his ankle break.
However, McGregor's presence at the VMAs was marred by an ugly incident with Cleveland-based rapper Machine Gun Kelly. The pair were involved in a run-in, and McGregor appeared to throw a drink at MGK. They would have come to blows had securities and Megan Fox (MGK's partner) not intervened.
Also Read: "So let's fight" – Nate Diaz accepts callout from Vicente Luque
Also Read: "What am I watching", "An absolute disgrace" – Twitter reacts to Evander Holyfield vs Vitor Belfort