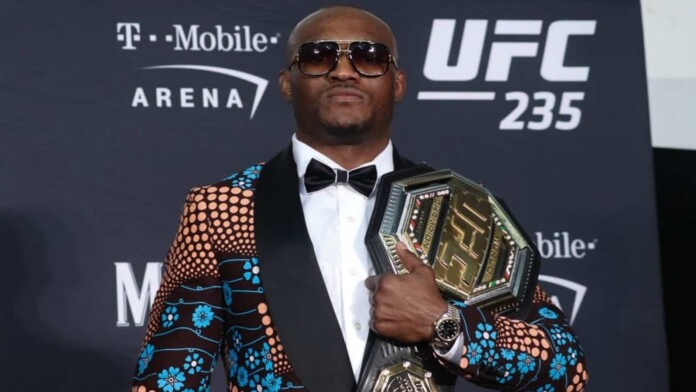 | | |
| --- | --- |
| Name | Kamarudeen Usman |
| Age | 33 |
| Net Worth | $3 Million |
| Source of Wealth | MMA, Endorsements |
| Salary | $600,000 (base salary) |
| Endorsements | Reebok, Trifecta |
| Residence | Delray Beach, USA |
| Nickname | The Nigerian Nightmare |
| Marital status | Married |
| Children | 1 |
| Last Updated | May, 2021 |
The King of the Welterweight division sure does get the bag for his crown. Kamaru Usman is undoubtedly one of the best welterweight fighters the UFC has ever seen. Kamaru Usman net worth now is estimated to be a whopping $3 Million. The fighter is barely at the end of his career and is already chasing the welterweight GOAT Georges St-Pierre by breaking one record at a time. His full name is Kamarudeen Usman.
Usman was born in a Nigerian town, Auchi on May 11, 1987. The Nigerian is a professional mixed martial artist, former freestyle wrestler, and a graduate of folkstyle wrestling. Coming from a very struggling background, the Nigerian Nightmare has made it to the top of the mountain. Usman is the reigning welterweight champion of the UFC.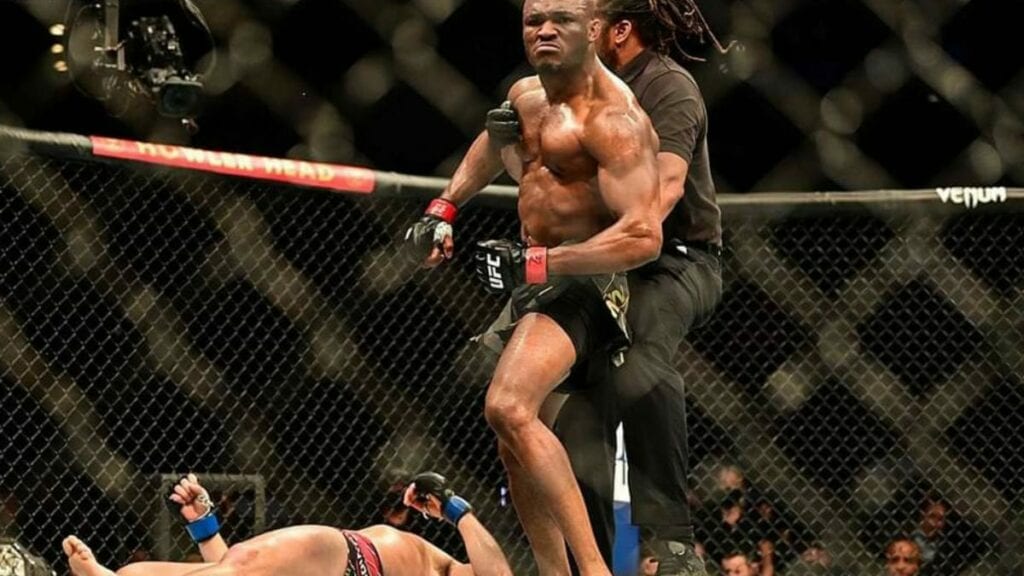 Kamaru Usman Net Worth 2021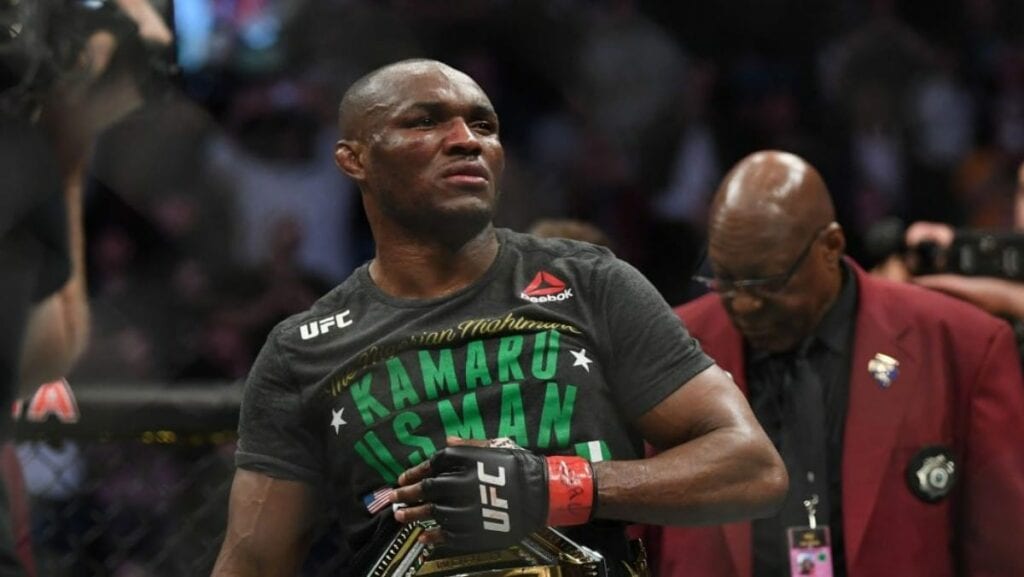 One can't be blamed for wondering what Kamaru Usman's net worth is given his outlandish outfits, and trips in a private plane. According to Celebrity Net Worth, Kamaru Usman net worth is estimated to be around $3 Million. Usman is paid on a per-fight basis and has earned around $600,000 in his last two fights against Jorge Masvidal and Gilbert Burns. Apart from this the fighter also has the opportunity to win bonuses based on the merit of his performances.
His first salary wasn't too extravagant. The Nigerian fighter earned about $72,500 on his first appearance on The Ultimate Fighter. He later earned only $26,500 on his first UFC fight after that. The biggest spin in his career came when he beat fighters of top ranks like Rafael Dos Anjos and Tyron Woodley, whom he beat for the welterweight title. He made $205,500 and $350,000 respectively in those two fights. His biggest pay after that was a half million for victory against Colby Covington.
Kamaru Usman Fighting Career
Usman started wrestling in his sophomore year in high school, in Texas. That is when the fighter got his name "Marty" which he infuriates nowadays. He has wrestled with Jon Jones in his senior national tournament before leaving for college after finishing his high school with a stunning 53-3 record.
Usman actually made it to the US University World Team in 2010, but his injuries pushed him down not allowing him to make the Olympic team trials. Then, Kamaru gave up on wrestling and turned his eyes to Mixed Martial Arts. In 2015, it was announced that Kamaru Usman will be on The Ultimate Fighter 21.
After making it to the finals of Ultimate Fighter against Hayder Hassan whom he beat in the second round by submission. Later Kamaru went on to be undefeated in the UFC. He finally earned his title shot against Tyron Woodley who then was one of the most dominant champions.
Usman beat Woodley in a dominant fashion, making him the UFC welterweight champion. Kamaru has a record of 18-1 in his MMA career but he is undefeated in the promotion. Winning the title made him the first African champion in the UFC. Since then he has gone on to break GSP's most consecutive wins in the division. This kind of career justifies Kamaru Usman's net worth.
Kamaru Usman personal life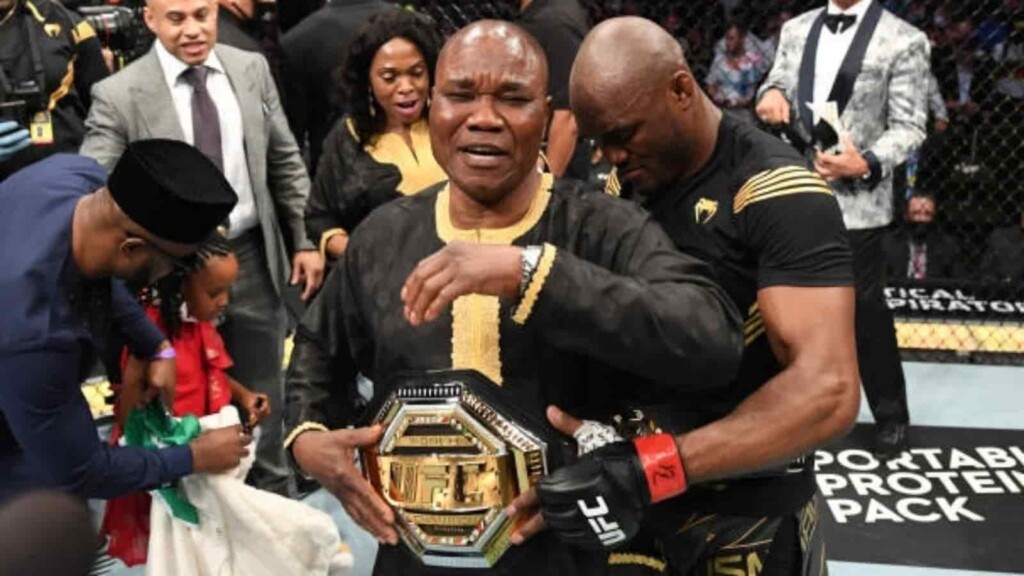 Kamarudeen Usman is a married man and has a daughter too. His wife's name is Eleslie Dietzsch who is of Brazilian descent with whom he has a daughter by the name of Samirah. Usman's father, Muhammed Nasiru Usman, has been convicted of various offenses in 2010. He was sentenced to fifteen years' imprisonment and was released on March 16, 2021. He was also present at UFC 261 where Usman defended his belt against Jorge Masvidal.
Q. What is Kamaru Usman net worth?
Kamaru Usman net worth is estimated to be around $3 million.
Q. What is Kamaru Usman salary?
Kamaru has a whopping 6 digit salary of $600,000 (base salary).
Q. What is Kamaru Usman wife's name?
'The Nigerian Nightmare' is married to Eleslie Dietzsch who is of Brazilian descent.
Also read: Dana White Net Worth, Earnings, colossal income, Assets, and more