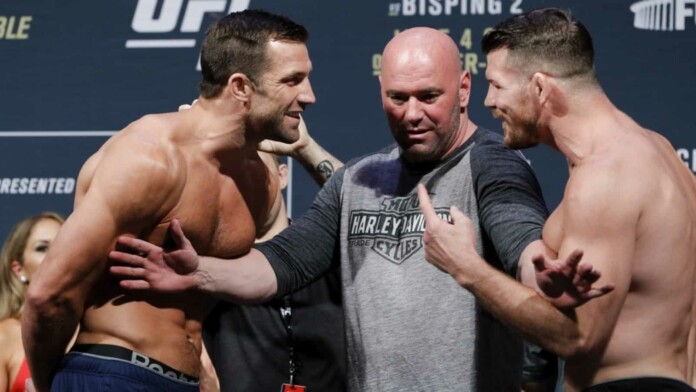 It looks like old-rivals Luke Rockhold and Michael Bisping have buried the hatchet. The pair were recently spotted in an intense sparring session RVCA Sport in Orange County, California. Shocking as it sounds, it is indeed tough to believe how the once-bitter rivals just hit the mats together.
Michael Bisping took to social media to post the video of himself sparring with Luke Rockhold, and also a photo alongside him. Bisping is believed to have first catch up with Rockhold earlier this year at the same training facility. Since then both have been frequenting this place.
"Catching up with old friends down at @rvcasport today. @parilloboxing @lukerockhold @sanabul," Bisping wrote on Instagram, with a plethora of MMA pros reacting with some heartwarming emojis and messages.
The pair's rivalry dates back to November 2014!
It all began in November 2014, when Bisping and Rockhold faced off at the UFC Fight Night headliner event. Rockhold won the fight. via submission in the second round. And just a year later Rockhold went on to become the middleweight champion in the UFC, after beating Chris Weidman at UFC 194.
Bisping, on the other hand, stitched three victories in a row, following his defeat to Rockhold, and earned the right to challenge the champion in a rematch at UFC 199 in June 2016. There was a boatload trash-talk from Bisping in the lead-up to the fight. He walked the talk with a stunning first round KO win over Rockhold, to claim the middleweight championship.
Bisping didn't stop there, as he took further shots at a visibly dejected Luke Rockhold during the post-fight press conference. That was when the Legend of Left Hook Larry was born.
Also Read : Alexander Volkanovski Net Worth, MMA career, Salary, Endorsements, Assets and More
Also Read : "My brother just beat Floyd Mayweather"- Jake Paul, Francis Ngannou and Others react to Logan Paul vs Floyd Mayweather