Khabib Nurmagomedov has had many critics for his impeccable career, but that doesn't influence the stats to his credits whatsoever, at least according to his longtime coach Javier Mendez. Coach Mendez is the face of the American Kickboxing Academy and is known to have built former world champions such as the likes of Khabib, Daniel Cormier, Cain Velasquez, Luke Rockhold and many more.
Now, coach Mendez has the responsibility of raising up the next batch of future MMA fighters and potential world champions, which includes Khabib's longtime friend and mentee, Islam Makhachev. Makhachev is going to fight next month against former UFC lightweight champion Charles Oliveira for the 155 lbs title at UFC 280 in Abu Dhabi. Ahead of that, Mendez stopped by Submission Radio to talk about various things, which also included talking about the internet's debate of who is the greatest lightweight of all time between Khabib and Oliveira.
"I don't put Charles there at all," says coach Javier Mendez. "How many losses he had, how many rounds he lost, how many times he has been dropped, tell me, if any one of those things has happened to Khabib… the guy that hit Khabib the best ever was Michael Johnson… you know Charles just had to come from behind how many times, how many losses does he have? So for me, I don't like that as putting in the GOAT discussion…" he continued.
Also Read: "Number 1 lightweight of all time" – Javier Mendez has high praise for Islam Makhachev, compares Dagestani to Frank Shamrock
Khabib Nurmagomedov & Charles Oliveira: In a battle of the legacies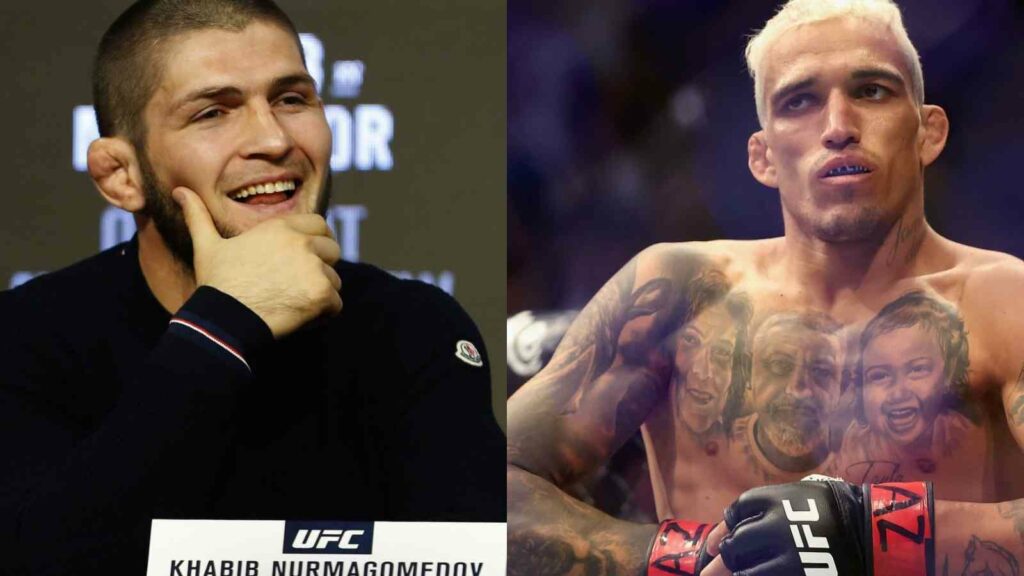 Based on the records for most finishes and submission wins in UFC history and having defeated legendary names in the contemporary phase of his career, Oliveira has secured an exponentially expanded fan base for himself within these last couple of years. For someone who was 10-8 in the first 18 fights of his UFC career, Oliveira had to fight the clutches of staying a journeyman forever to become one of the best fighters in the world today.
His list of wins includes the likes of Dustin Poirier, Justin Gaethje, Tony Ferguson, Kevin Lee, Jim Miller, Michael Chandler, Clay Guida, Will Brooks, Jeremy Stephens, Myles Jury, Darren Elkins and many more. Khabib on the other hand has wins over the likes of Gaethje, Poirier, Conor McGregor, Rafael Dos Anjos, Michael Johnson, Edson Barboza and many more. He retired with an incomparable status of remaining undefeated and nearly never having lost a round.
Also Read: Islam Makhachev's coach believes Michael Chandler is overlooking his opportunities whilst criticizing the former
Khabib retired with a record of 29-0 with 19 wins via finishes. Oliveira has an active fight record of 33-8 with a 1 no contest with 30 wins via finishes. In 2022, Khabib was inducted into the UFC Hall of Fame. Who do you think is the greatest lightweight of all time? While many believe that Khabib and Oliveira are the top 2 to be contested for such an auspicious status, the hardcore fans still consider BJ Penn as the greatest lightweight of all time since he is the only lightweight who fought and won a belt in an upper weight class as well.
Also Read: "He's had enough" – Frank Warren confirms Tyson Fury has called off super fight against Anthony Joshua