Aspen Ladd was one of the UFC fighters who had a lot of problems during her weight cuts. Ladd missed weight multiple times in the UFC, resulting in the fights being called off. Recently in September, Ladd was scheduled to fight at UFC Vegas 60 against Sara McMann but the fighter missed weight again and the bout was canceled. 
Following that, UFC announced that they had released Aspen Ladd from the roster. However, Ladd didn't give any public opinion about it until now. During her recent interview with Ariel Helwani, Ladd opened up about her experience with UFC. She revealed fighting at 135 lbs was the only option UFC gave her but she wasn't going to do it. 
Ladd said, "I clearly cannot make that weight at 135, at least not consistently without dying. And I need to make the move up. And they don't have an opportunity at 145. They have the weight class, but honestly, if you're a 145er in the UFC, I would recommend if you can go down, do it. If not, look at your options. So it was time to look at mine"
When asked if there was something else that was possible with UFC, Ladd explained that she had limited choices and cutting to 135 is bad for her body so she decided to leave the promotion.
"It was pretty much 135 or nothing. It was kind of both parties knew that this was the last straw. 'Cause if you're only given the singular option and I physically can't do it… after this last cut, I'm not trying again. And when you're told that that is not there, it's like, 'OK, we need to go figure out something else," said the fighter. In the end, it looks like both UFC and Ladd came to an agreement that was best for both and ended without any problems.
Related: Aspen Ladd signs with PFL after being released from the UFC
Aspen Ladd reveals that her PFL contract can make her earn millions of dollar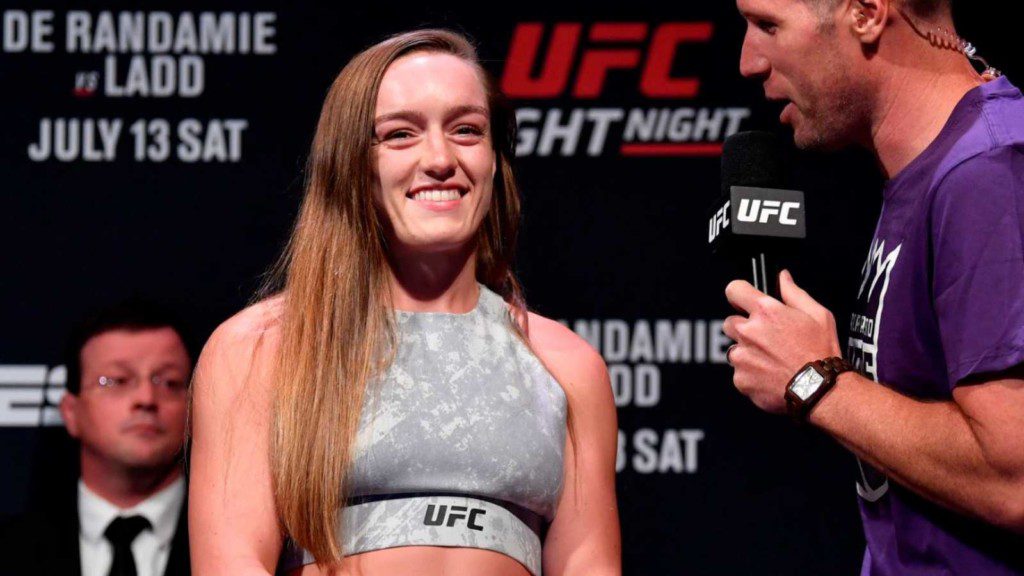 After getting released from UFC, things have worked out pretty well for Aspen Ladd. The fighter is currently expected to make her PFL debut soon. Recently in an interview with MMA Mania, the former UFC bantamweight fighter mentioned her new agreement with PFL and her excitement for it. 
Also Read: Aspen Ladd Net Worth, Fighting Career, Endorsement, Boyfriend, Parents, and more
She said, "Since this has happened, it's been nothing but positive and positive things keep happening since then, It just keeps on getting better and better. And obviously, the contract, the format, with the PFL, you're fighting at contracted rates. It's the same as you'd be doing for anybody else, depending on what you're contracted at. But every one of those fights is adding up to a fight where you can make $1 million. It's kind of a no-brainer."
PFL is a great platform and currently attracting a lot of audiences. Hopefully, Ladd can now fight at 145 lbs and put on a great show for her fans.
Also Read: "She stirred the pot," Aspen Ladd not happy with Miesha Tate's comments on boyfriend; wants to settle things inside the octagon