Islam Makhachev was accused of using an IV before his fight with Alexander Volkanovski. With the accusations piling on and on, the Australian commission has reverted to the community saying that they invite anyone to provide proof that Islam was using IV.
After posing with his belt which he retained after he won his fight against Volkanovski, Dan Hooker noticed there was a scar (a clear mark) of an IV on his arm. He instantly took to his social media accusing him of using IV before the fight. Using any form of drug for any combat sport is illegal, therefore using an IV before a super fight was frowned upon by the New Zealander.
With the constant accusations piling up and people discrediting Islam's win over Volkanovski, the Australian Commission stepped in. They said that there is no current conclusive evidence that there was use of IV before the main event of UFC 284. And that people are welcome to provide proof that IV was used.
The commission invites anyone with credible information to make contact with them through the appropriate channels.

— Fight News Australia (@fightnewsaus) February 17, 2023
With a reputed organization like The Combat Sports Commission of Western Australia backing Islam Makhachev, it will be difficult for the naysayers to prove them wrong. Anyways, Alexander Volkanovski doesn't seem to bother much about these claims as he just wants to fight Islam again to conclusively find a winner between them.
Related: "Jones would beat Ngannou," Alex Pereira believes Ciryl Gane might be a "more difficult" fight than Francis Ngannu for Jon Jones
Islam Makhachev gets accused of cheating by Dan Hooker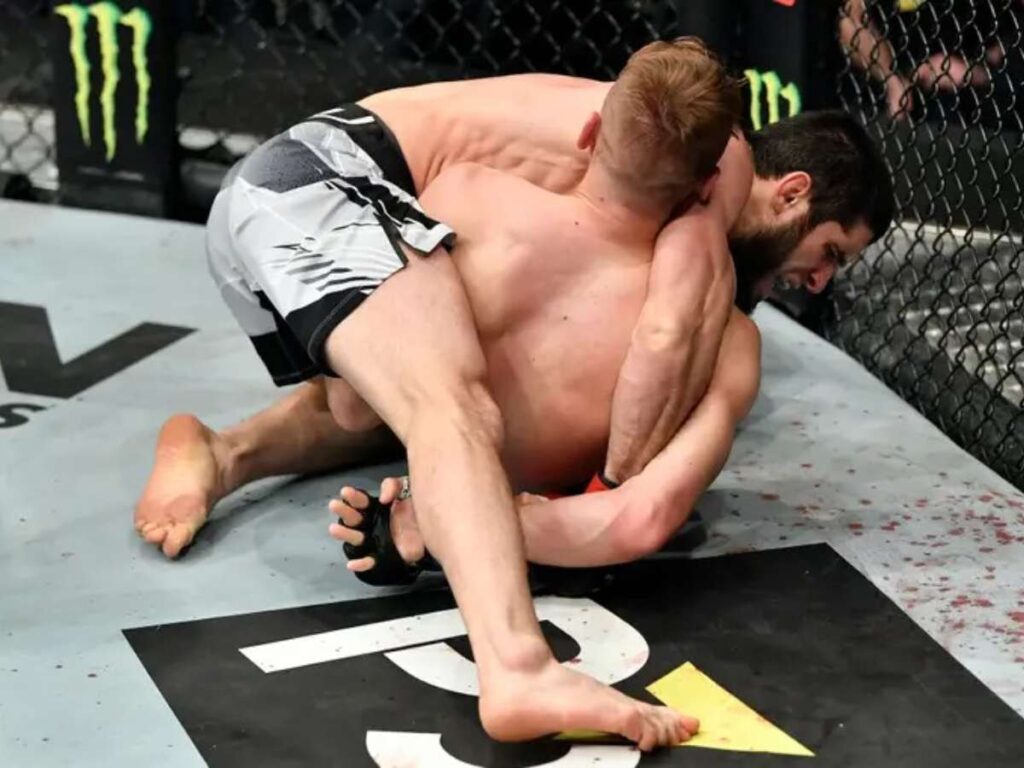 After Islam Makhachev won his fight against Alexander Volkanovski, he posed for a photo with his belt. There was a scar from a needle on his arm, which was noticed by Dan Hooker. He immediately took to his Twitter to call him out.
Hooker, who previously faced Makhachev, accused him of using an IV before his fight with Volkanovski. 'The Hangman' who was with Israel Adesanya in the stadium, noticed the IV scar on his arm and called Islam a 'cheating dog'.
Dumb cunt thinks he can fly to Australia hire a nurse to give him an I.V and we won't find out. Cheating dog.

— Dan Hangman Hooker (@danthehangman) February 13, 2023
USADA doing fuck all. pic.twitter.com/ilJplHsh9h

— Dan Hangman Hooker (@danthehangman) February 13, 2023
Prove me wrong. Bet cha can't.

— Dan Hangman Hooker (@danthehangman) February 13, 2023
He doesn't cheat, he doesn't win.

— Dan Hangman Hooker (@danthehangman) February 13, 2023
Islam is a cheat. https://t.co/bIdk13C26P

— Dan Hangman Hooker (@danthehangman) February 13, 2023
But with the recent claims of the Australian Commission, there seems to be no ground for Hooker to stand on. There have been no comments from Volkanovski on this incident, rather he wants a rematch with him immediately.
In case you missed it: