Dana White knows the UFC is as successful as it is because the best always fight the best. Amanda Nunes and Valentina Shevchenko have both for years proven that they belong on a separate plain from other female fighters, having their incredible records to back this claim. It's a welcome surprise that Dana is finally talking about making their trilogy happen.
Amanda Nunes and Valentina Shevchenko have fought twice in the past with both fights going to a decision. In both of these contests at UFC 196 and UFC 215, Nunes won by unanimous and split decision respectively. However many argued that the second fight should have edged in Valentina's favor. Both fights took place at bantamweight, 10lbs over the usual weight Valentina fights at.
This was the biggest concern Dana shared when he was asked about making their trilogy happen last December. He said, "Here's the thing that's unfair for Valentina — Amanda Nunes is a lot bigger than her," calling Valentina the best female fighter in the world in her weight class and below.
Related: "She was completely different"- Valentina Shevchenko reveals who she backs in the upcoming fight between Amanda Nunes and Julianna Peña
Dana White considers Valentina Shevchenko- Amanda Nunes trilogy as a possibility but makes no promises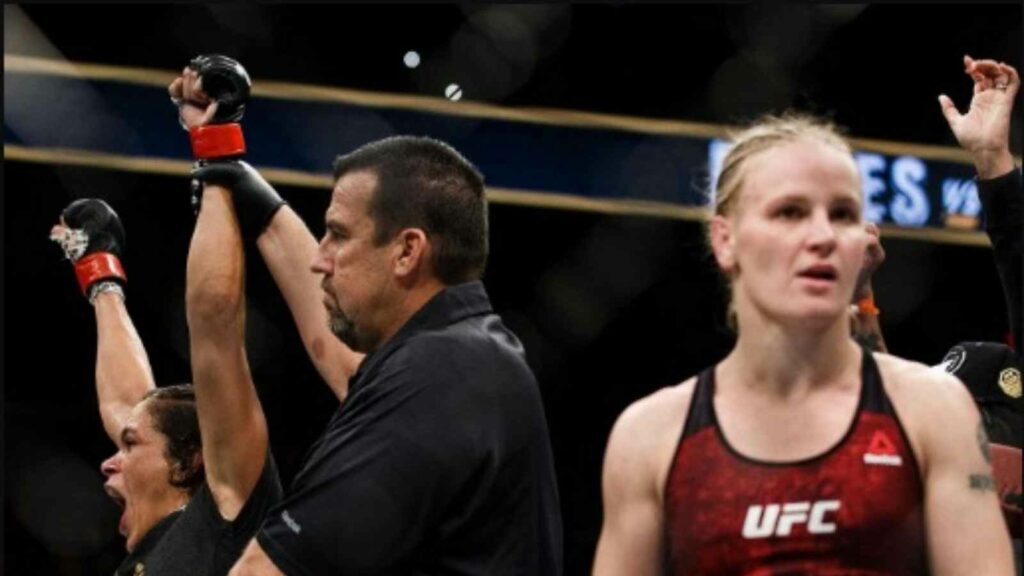 This response might have been compounded by the fact that Nunes had recently lost her belt to Julianna Pena via submission and had put doubt on her entire resume for a while. At UFC 277 she corrected that mistake by dominating Pena in the rematch from the opening buzzer to its close.
Hence with a champion who was able to get back on the right path with an incredible showing of superiority in the cage, Dana understands that now is the best time to make the fight between the two happen.
When asked if that fight would be up next on Amanda's list, White said "Normally I would say, 'Come on, man.' That's not a bad idea when you think about it. I'm not saying yes, I'm just saying it's not a bad idea."
It's good to see Dana move away from the realm of hesitancy to actually visualize the trilogy happening. Add this to the fact that , it would be the first time the two face off while both holding belts in their respective division. Do you think Dana should act urgently in order to see the trilogy through? Let us know below!
Also Read: "Mad To Me" Conor McGregor finds incredible similarities between Amanda Nunes and himself against Julianna Pena and Nate Diaz
Also Read: "First fight wasn't a fluke" – Belal Muhammad slams Julianna Pena's haters for criticizing loss to Amanda Nunes at UFC 277
Do follow us on: Google News | Facebook | Instagram | Twitter