The UFC Boss isn't too happy about letting Deiveson Figueiredo into the Brandon Moreno octagon interview. Dana White believes it was disrespectful for Figueiredo to stand in front of Moreno's face during UFC 277.
Brandon Moreno had a very special night this past weekend at UFC 277. The Mexican superstar flyweight stunned the entire American Airlines Center in Dallas, Texas with his amazing performance against Kai Kara-France in the co-main event of the amazing pay-per-view card. Moreno was crowned the interim flyweight champion which is a very special moment but the Mexican could not enjoy his special night alone. Moreno was accompanied by his biggest rival, Deiveson Figueiredo.
After Moreno won the belt and was talking to Joe Rogan in the octagon interview, Deiveson was allowed into the octagon with his belt and the two had a back-and-forth inside the cage where they set up a potential tetralogy between the two. Though things ended up going smoothly, Dana White was not too happy about the moment.
Related "Flyweights are back baby" – Jorge Masvidal, Henry Cejudo, and others react to Brandon Moreno setting up historic tetralogy fight against Deiveson Figueiredo at UFC 277
Dana White believes allowing Dieveson was "disrespectful" to Moreno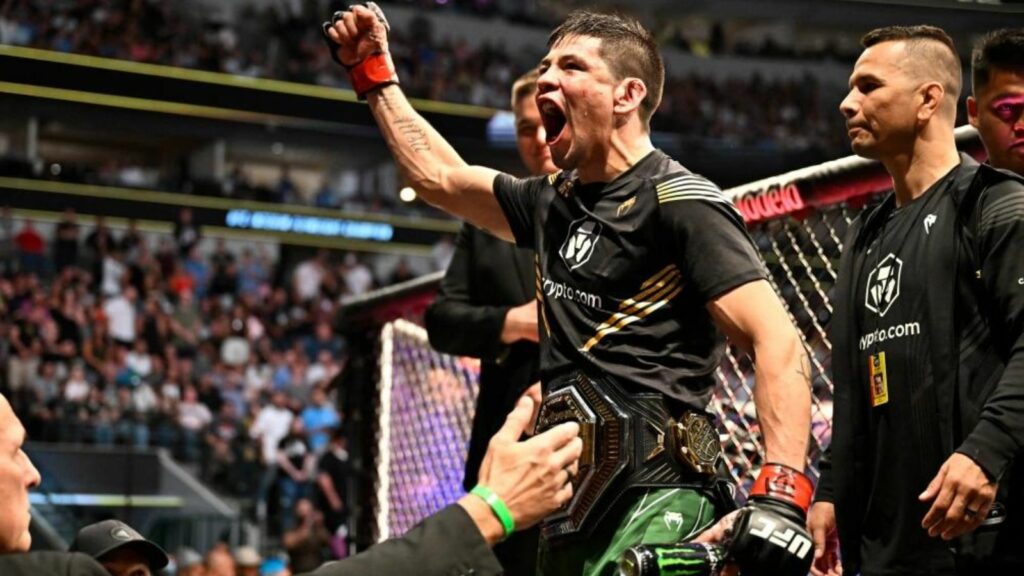 When Deiveson was in the crowd, it was actually Moreno who asked for his fierce rival to be present in the octagon. At first, the Brazilian was not allowed by the security but he was then let in with the hope of peaceful interaction. "When he got up there, I was like, well, that was f**king rude. This kid [Moreno] was having his moment and you've got Figueiredo standing in his face," said Dana when asked about the special octagon interview during the press conference.
Dana is just happy that nothing wild went off inside the octagon between the two flyweights. There have been moments in UFC when things did not go exactly according to plan during octagon interviews. "It happened. It wasn't horrible. We meant no disrespect to Moreno, but it came off pretty disrespectful," said Dana in his post-fight press conference at UFC 277.
Now that Moreno is the interim champ and Deiveson still holds the belt, the title unifier might be in the making. Both the fighters have agreed to fight each other for the first time in the hope to settle their rivalry.
Also read "First fight wasn't a fluke" – Belal Muhammad slams Julianna Pena's haters for criticizing loss to Amanda Nunes at UFC 277
Also read Paddy Pimblett's bold speech at UFC London creates spike in number of men seeking mental health help
Do follow us on Google News | Facebook | Instagram | Twitter