Like the rest of the world, UFC president Dana White is also a huge fan of Valentina Shevchenko. The UFC boss believes the flyweight champ is one of the best to ever do it in the octagon.
UFC flyweight champion Valentina Shevchenko is all set to make her title defense against rising contender Taila Santos who is 19-1 in her professional mixed martial arts career and is one of the most dangerous flyweights in the division. However, like any other opponent, Valentina will be expected to cruise past Santos like her previous challengers.
Dana White talks to MMA Underground's John Morgan about the upcoming pay-per-view event UFC 275 which will be held in Singapore being the first Asian PPV card for the UFC. White believes that Shevchenko sits at the same table as greats like Anderson Silva, Georges St-Pierre, Jon Jones, and others. Shevchenko is undoubtedly the favorite to win this upcoming fight which adds more pressure for the champ according to Dana.
"What Valentina has accomplished, what Anderson did during his reign, the list goes on and on," Dana responded to John Morgan's claims that people tend to downplay Shevchenko's achievements by calling the division weak. "People say the division is weak. No. Valentina Shevchenko is so good she makes the division look weak."
Related WATCH: Valentina Shevchenko and Joanna Jedrzejczyk's battle in Muay Thai from 2006
Dana White gives Valentina Shevchenko the freedom to call her next move in the future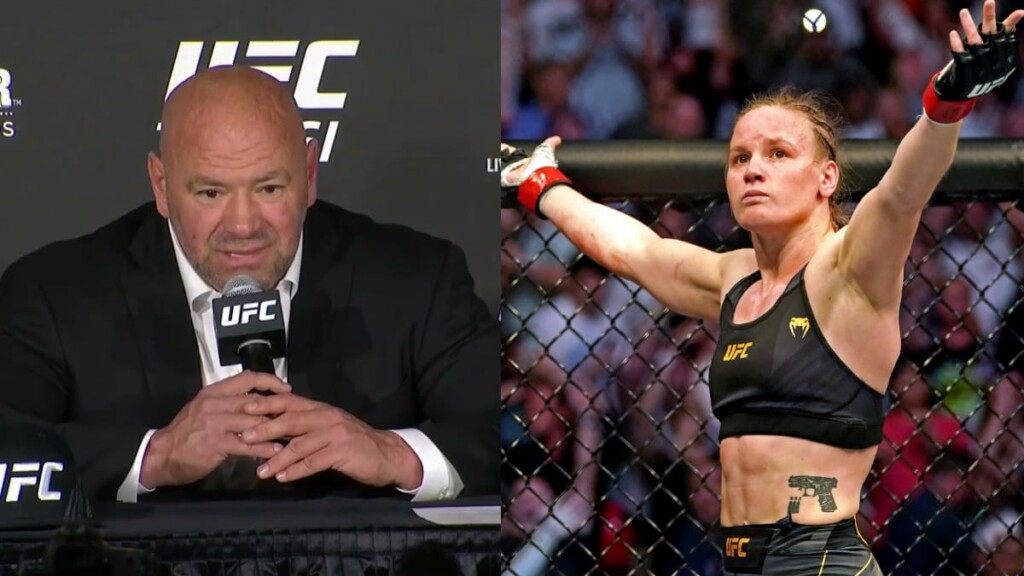 With her win over Taila Santos, Valentina would have almost wiped off the entire division. Shevchenko has a record of 22-3-0 in her professional mixed martial arts career. The fighter has previously challenged the champion of the bantamweight division but was not able to get the champ-champ status. When asked if Dana would encourage Valentina to move to another weightclass, the UFC boss says he won't put that pressure on the "Bullet".
"I respect her so much," said White talking to John Morgan. "Whatever she wants to do, I'm down. She can keep defending the title. She can fight Julianna [Pena], she can fight Amanda [Nunes]. I mean whatever she wants to do, she wants it bad enough, I'll try to make it happen."
Watch Dana's full interview with John Morgan for MMA Underground below as he promotes the upcoming UFC 275 pay-per-view event held in Singapore:
Also read "Since we were just teenagers"- Jake Shields harks back to training sessions with Nick and Nate Diaz as youngsters
"That's my plan right now"- Glover Teixeira shines a light on his retirement plans