Derrick Lewis was mesmerized when Daniel Cormier told him that he'd recently interviewed Ronda Rousey. For those unknown the two share a history that the UFC will likely not want you to know about.
Back in the early 2010's there were few names on the globe repeated as much as that of Rousey. The Olympian Judoka turned MMA Fighter, found incredible success through her undefeated run in Strike force and the UFC. Rousey in fact laid the foundations for the bigger hype train, that was Conor McGregor to follow on.
During this time, Lewis was still making his way up from the regional circuit and would only enter the UFC as Rousey was on the final stretch of her legendary unbeaten streak. After two losses to Holly Holm and Amanda Nunes respectively, Rousey quit the sport just as Lewis was starting to gain steam.
Related: WATCH: Derrick Lewis' hilarious prank on Dana White during UFC 277 ceremonial face-offs
Derrick Lewis asks DC about Ronda Rousey before UFC 277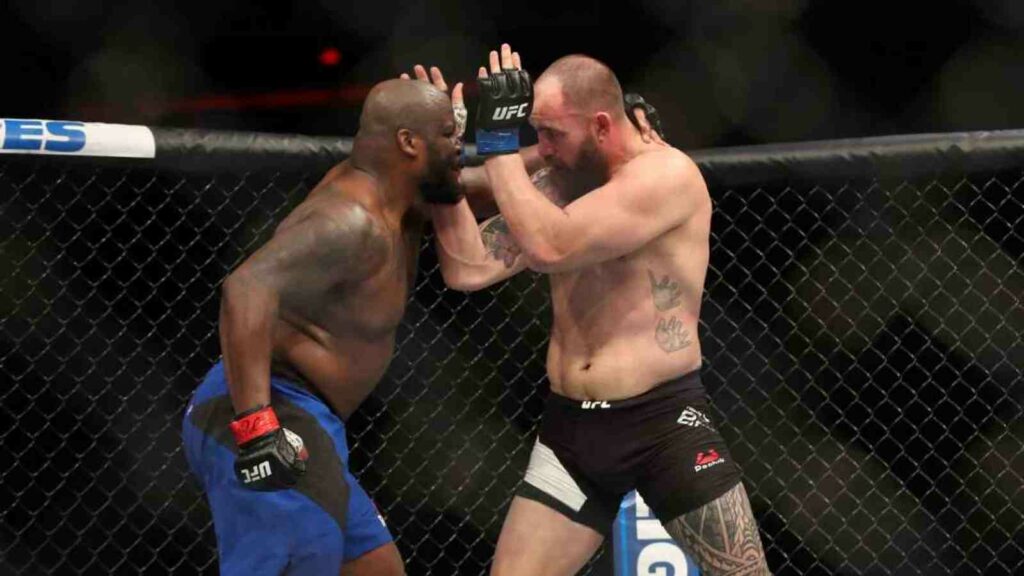 In his 11th UFC fight, Lewis was paired up against UFC vet, Travis Browne. Browne was then the fiance of Rousey who had taken her talents to pro-wrestling by that point. Browne had allegedly beaten up one of his former partners, leading to a temporary suspension as the UFC investigated the claims. While Browne was allowed to return, a fight against Lewis was the most toned-down version of the Capital punishment you could receive.
Lewis had only one of his 11 fights end in a decision up to that point and was known for putting his opponents to sleep. He did the same to Browne and later called him out for hitting women in his octagon interview. "He likes to call himself a man but he hit a woman so forget that guy I have much more heart than he has" said Lewis sounding like a brother of the sisterhood right before he ended by saying, "Where Ronda Rousey Fine A** at? "
While it got the chuckles it intended from the UFC fans, it cost Derrick according to him, his wife withheld having sex with him due to the incident. Seems like Derrick isn't afraid to risk it all again.
Just as they were wrapping up the filming for DC's check-in with Lewis, DC told Derrick that he'd recently interviewed Ronda Rousey. To this a starry-eyed Derrick enquired, "Did she ask about me" causing DC to burst out in laughter along with the whole crew behind the camera.
Derrick then clarified that he mean to ask that question off the record when DC pointed out that in a room with 3 cameras nothing is off the record. DC then told Derrick that Rousey in fact did not ask about him causing a heartbroken Lewis to conclude, "Well I'm married anyway"
Do you think anyone can work the mic better than Derrick Lewis? Lewis will face fellow Swangin and Bangin expert Sergei Pavlovich this weekend at UFC 277.
Also Read: "Imma talk so much sh*t" – Derrick Lewis reveals his hilarious plan to buy the UFC
Also Read: "Black man in Moscow" – When Derrick Lewis trolled Alexander Volkov with his witty remark on Russia