Might not be the best time to let the world know that your actual name is similar to the Kanye West brand, "Yeezy". Jiri Prochazka has had his first name pronounced all wrong by UFC and its fans all this time and never bothered correcting them and it makes sense why.
Jiri Prochazka is one of the most-loved fighters on the UFC roster. The fighter has a very unique personality. Fans already suspect the fighter to be an ancient warrior as they discover new things about their life. However, recently MMA fans have learned that Jiri Prochazka's first name is not pronounced "Yee-Ri" or "Jee-ree". Turns out it is actually "Yeezy". Luke Thomas from the Morning Kombat was the man to deliver this news.
Weird timing to say the least to find out their favorite fighter's first name is actually similar to the brand that Kanye West, the controversial rapper started with Adidas. On the Morning Kombat show, Luke Thomas said, "I'm told it is pronounced Yeezy Prochazka." On account of the events that are happening in the world surrounding Kanye West and his brands, the timing seems to have caused quite a reaction from MMA fans.
Prochazka is a Czech fighter that has taken the UFC by storm since the year 2020. After only three fights in the UFC, the Czech fighter became the champion of the light heavyweight division and went viral for his ancient training techniques inspired by the Bushido Code of the Samurais. The fighter is a box surprise and almost every day you learn something new about "Denisa".
Read more: "Tester really enjoys watching him pee" – USADA testing Jiri Prochazka for record 51 times in 2022 leaves fans puzzled
Twitter reacts to Jiri Prochazka's first name being pronounced as "Yeezy"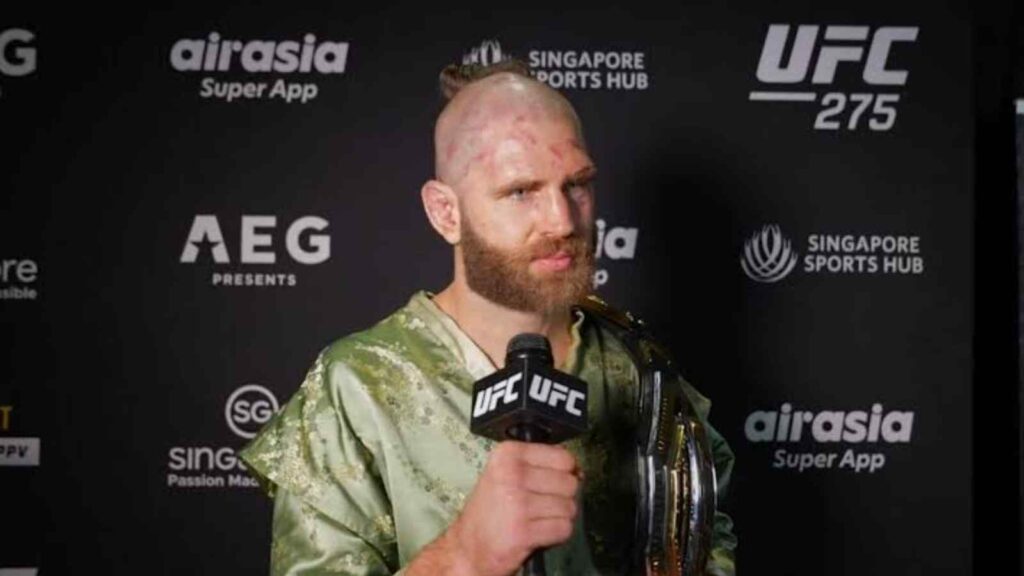 Kanye West is a name that many would want to be associated with following the controversy around the rapper. The rapper from Chicago has turned out to be bad luck for athletes as he recently mentioned basketball players Kyrie Irving and Chris Paul. MMA fans' fear of the recent news is very understandable as they'd dread watching one of the most-loved fighters in the UFC get into trouble.
Jiri Prochazka's first name is apparently pronounced "Yeezy." 💀 pic.twitter.com/sYxkZItOWx

— Borrachinha Depot (@FullContactMTWF) December 4, 2022
I've been calling him Jizzy 🤦‍♂️

— The People's MMA 🦈 (@ThePeoplesMMA) December 5, 2022
Now im just picturing Jiri being dressed as a hypebeast. Supreme shirt, Stone Island jacket and Yeezys on the feet

— Bryan (@_illmatic22) December 4, 2022
im czech and he is actually very close, closer than most

— TheWolf 🇨🇿🇦🇺 (@TheWolf_qld) December 4, 2022
Also read: "Make His Own Anime Already"- Jiri Prochazka's insane 3-day fast in a sensory deprivation tank has fans going wild
After recent events I think jiri might wanna stick to "year-ee" or "jeer-ee" https://t.co/IkG666R54E

— Brian Campbell's Liver (@yvngthik) December 4, 2022
Not surprising considering the Nazis once controlled the Czech Republic

— moopoom (@moopoomdfs) December 4, 2022
I can't tell what is a joke and what is real anymore, either way this is hilarious

— skadoosh907 (@skadoosh907) December 4, 2022
Ye Prochazkarrr

— SPG (@SletKentDome) December 4, 2022
December 4, 2022
#VirtuallyIdentical! pic.twitter.com/MXvVIpRRc5

— The Meme Guy (@joejaggi) December 5, 2022
Jiri Prochazka recently was hailed by the fans for his decision to vacate the light heavyweight title as he was forced to pull out of his first title defense fight against Glover Teixeira at UFC 282. Prochazka apparently didn't believe it would be honorable of him to hold up the rest of the division owing to his injury.
Also read: "Straight up bushido code" – Fans react to "Warrior" Jiri Prochazka selflessly vacating his light heavyweight title ahead of UFC 282