Joaquin Buckley's move to welterweight proved to be a great decision after his impressive win. Buckley scored victory via a phenomenal head kick against Andre Fialho in the second round. While the victory itself was impressive, Joaquin's post-fight celebrations were wild. Among a bunch of things, Buckley channeled his inner Booker T as he dropped the N-word after his exhilarating win.
Joaquin Buckley became widely famous for his spinning back kick against Impa Kasanganay. This started the Buckley hype train that lasted only for one more fight. Joaquin had a record of 3 wins and 3 losses after his fight with Kasanganay, derailing the hype train. Apart from that, he was also on a back-to-back two-fight losing skid from his fights with Nassourdine Imavov and Chris Curtis. Joaquin dropped to the welterweight division to contest against Andre Fialho. His move to welterweight received a great start after he scored another highlight head kick in the second round. However, after a wild win, Buckley could not hold it in.
"I told y'all, 170 what's good n***a, oh my bad," exclaimed Buckley, before realizing what he said. Joaquin embarrassingly laughed as he was approached by Michael Bisping for the post-fight interview. Bisping comforted Joaquin and proceeded with the interview, where he called out fighters and Logan Paul. Joaquin dropping the N-word was very much reminiscent of WWE legend Booker T's callout to Hulk Hogan. Like Joaquin, Booker T was so in character during the callout that he unknowingly dropped the N-word. Booker T quickly realized what he said and broke his character for a split second.
Joaquin has stated that he feels more motivated and will aim for the belt at 170 lbs. With Buckley's entry in the division, fans are possibly in for more highlight knockouts.
Related : "Sponsor an athlete fool," Joaquin Buckley riled up at Logan Paul for recent PRIME collaboration with UFC
Joaquin Buckley shuts down Andre Fialho with brutal second round knockout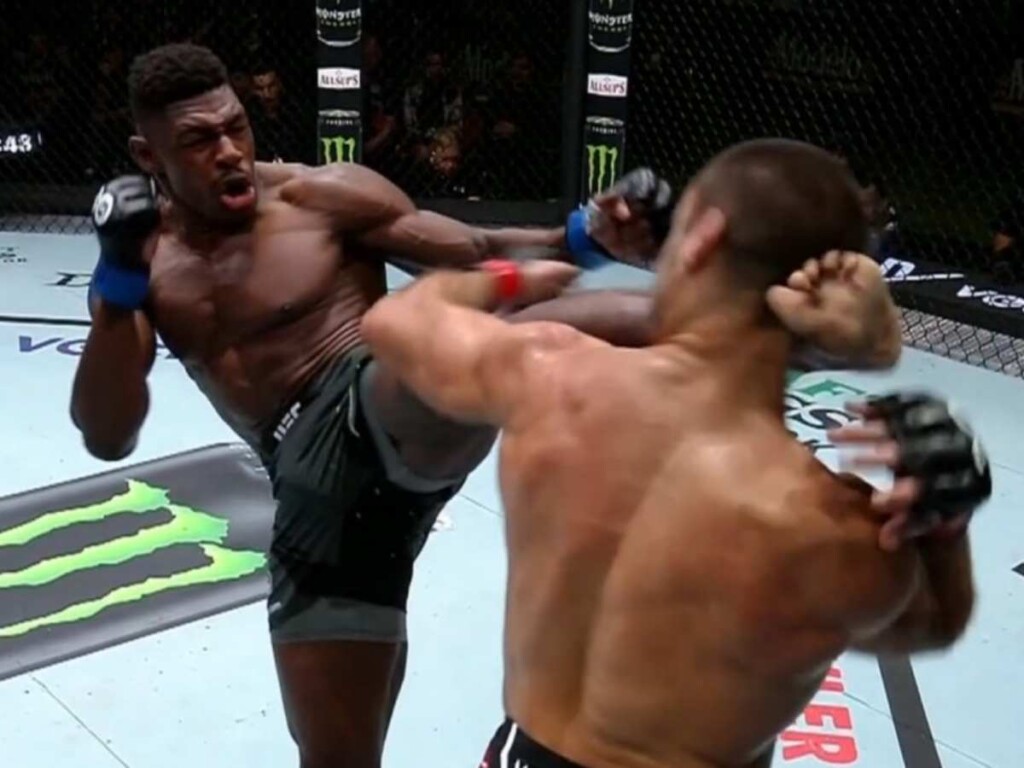 After his recent win over Andrea Fialho, welterweight fighter Joaquin Buckley has two highlight reels inside the octagon. Buckley, also known as 'New Mansa', became a crowd favorite after his viral spinning back kick against Impa Kasanganay. Joaquin went on to win another fight before going on a two-fight losing skid.
With the back-to-back failure in the middleweight division, Buckley dropped to 170 lbs. He fought Andrea Fialho at UFC Vegas 73 and scored yet another highlight knockout. Both fighters landed huge shots through the first round. The round ended with Joaquin scoring a couple of takedowns on Fialho. In the second round Buckley, landed a smooth head kick to Fialho, dropping him to the ground. Joaquin, still unsure of his victory, delivered a final shot and scored a victory in the late second round.
After his fight, Buckley went wild. He dropped the N-word, poured a bottle of prime all over him, and called out Logan Paul. Regardless, Joaquin was able to abolish his two-fight losing streak and scored yet another highlight. His performance was appreciated by fans and fighters, including Bantamweight champion Aljamain Sterling.
In case you missed :