The MMA world was rattled yesterday as Dan Hooker made some serious accusations against Islam Makhachev of cheating ahead of UFC 284. While everyone was in anticipation of a response from Makhachev to claims of him using IV, the Dagestani instead posted a hilarious video on his social media.
After the controversy surrounding Islam Makhachev's unanimous decision win over Alexander Volkanovski at UFC 284, Dan Hooker, a teammate of Volk and former opponent of Makhachev accused the Dagestani of using IV after his weight cut. Fans were shocked after such a serious accusation from a reputed fighter.
According to USADA, using IV to rehydrate could lead to a potential 2-year suspension. While Hooker did not back his claims with proof, Makhachev decided to pull off a cheeky troll. Just an hour after the accusation, the Dagestani posted a hilarious video on his Instagram.
Makhachev and his team, riding the bus, were caught doing the famous "Aussie Aussie Aussie" chant. He captioned the story, "Australia are you upset? But I told you will." Fans were left in splits after seeing the reigning lightweight champion's reaction.
Dumb cunt thinks he can fly to Australia hire a nurse to give him an I.V and we won't find out. Cheating dog.

— Dan Hangman Hooker (@danthehangman) February 13, 2023
Islam is a cheat. https://t.co/bIdk13C26P

— Dan Hangman Hooker (@danthehangman) February 13, 2023
Related: "He got f***ing robbed," Joe Rogan in disbelief as Islam Makhachev gets win over 'savage' Alexander Volkanovski
Fans explode on Twitter after Islam Makhachev's chant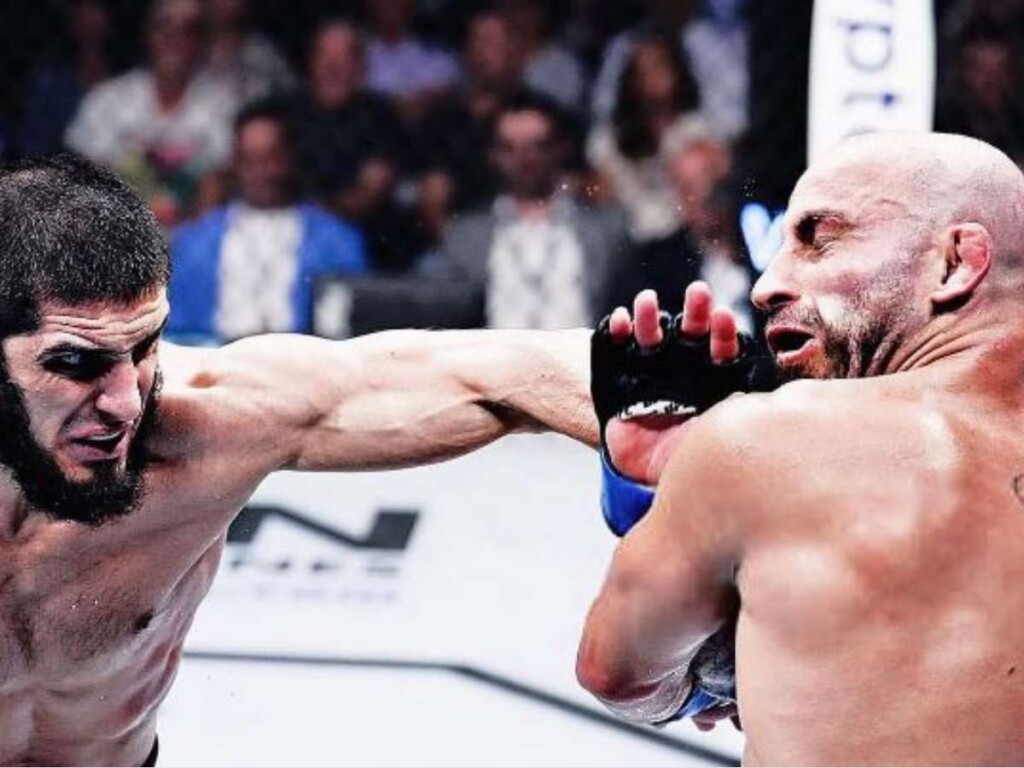 Many are split on the judges' decision to award Islam Makhachev the victory. Volkanovski, the featherweight champion put an absolute beating upon his opponent in the final rounds of the fight to convince several fans that he deserved to be the next double champ.
🤫🤫🤫🤫 https://t.co/Fu5KQUASU6 pic.twitter.com/TPXNBtwwcn

— General⚡Usman (@UsmanTime) February 13, 2023
Islam Makachev took their winstreak, their smiles, and now their chant. 😂😂 https://t.co/YG19aju3m9

— AWUREDO (@AOUREDOO) February 13, 2023
I busted out laughing. Islam is so disrespectful 😭pic.twitter.com/NdcugFH2eg

— Sarah ☽ (@flairsnia) February 13, 2023
Dan in shambles right now he's gonna lose his next 5 fights to protest this

— StephxBetter 🇵🇸 (@LFCredNation) February 13, 2023
I love Islam for his content

— 🌍 (@O_igggy) February 13, 2023
Lmao Islam is hilarious

— Terrance McKinney (@twrecks155) February 13, 2023
However, judges scored the contest, 48-47, 48-47, and 49-46 in favor of Makhachev at UFC 284. Following claims of 'robbing' the victory, Makhachev is now accused of using IV to rehydrate after a bad weight cut. The Dagestani, however, doesn't seem to be bothered by the accusations.
Incase you missed it:
"He was not being a diva," Second highest-paid UFC fighter Israel Adesanya supports Francis Ngannou's decision to leave promotion
"Will never watch UFC again"- Rapper Lil Wayne and Nate Diaz join hands to diss Islam Makhachev's win against Alexander Volkanovski