Dan Hooker is widely advertised as one of the most entertaining fighters in the company. Hooker's legendary war with Dustin Poirier still remains one of the best lightweight brawls we've ever seen. But after that fight, Hooker's career took a different turn, and he went 1-4 before getting another win at UFC 281.
His last loss against Arnold Allen came in the very first round, and he knew he had to change some things to revive his career. Hooker took on the rising prospect, Claudio Puelles at UFC 281, and he proved once in for all that he's very much still in the game.
Puelles is a submission specialist, but Hooker implemented a perfect game plan and stopped him in round number 2. Adesanya was in the building during the event and Hooker's mentality at UFC 281 reminded Adesanya of his debut. Talking on the Flagrant podcast, he said, "When I was watching [Hooker] fight, I was like, 'This reminds me of Dan's debut because Dan fought this guy who's a leg lock specialist. The guy took his legs and Dan's bendy, he's bendy as f**k."
He added, "Dan said to himself at his UFC debut in Auckland, if this guy gets to my legs, and he cranks – Dan made an agreement with himself to just let it go like okay, he's gonna break my legs, cool. He's a psycho."
Also read – Alexander Volkanovski vs Islam Makhachev is booked to headline UFC 284 in an epic 'champ vs champ' contest
Israel Adesanya discusses Alex Pereira's insane corner advice that helped him get a finish at UFC 281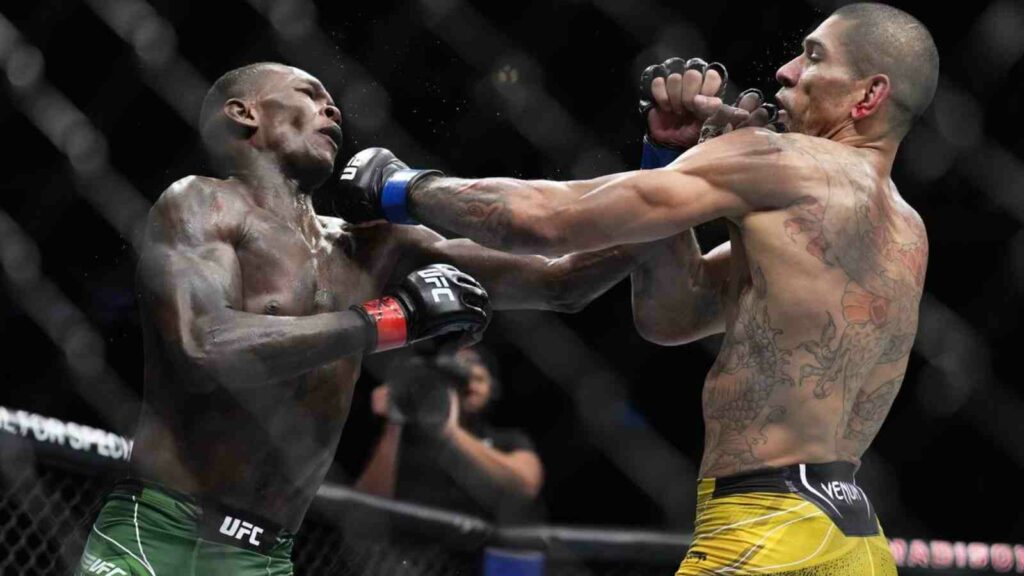 Israel Adesanya lost his middleweight title against Alex Pereira in the main event of UFC 281. Pereira had two wins over Adesanya in the kickboxing circuit, but it was their first meeting inside the octagon. Pereira was very confident moving in this fight, but Adesanya's skills were on full display, and he was cruising away to the victory until the 4th round of the contest.
Pereira knew he had to turn things up, and his corner clearly told him that he was losing the fight. A knockout was necessary to realize his dream of becoming a UFC champion, and Pereira obviously rallied and got the win.
Related – "Time for Round 3" – Eddie Alvarez calls out old foe Michael Chandler for a trilogy fight
Adesanya acknowledged the corner work in the same interview, and he said, "His corner just gave him this f**king motivating speech, but I was like 'Okay, you have to be in this, you have to focus.'" While Adesanya accepted his loss, he is very confident about getting his belt back. Given his resume, he'll get an immediate rematch, and the 4th encounter between these two is going to be epic.
Related – "He's fighting cancer?" – Israel Adesanya leaves fans shocked as he compares his medical condition with late actor Chadwick Boseman at UFC 281