'Podcast King' and UFC commentator Joe Rogan is joined by former Welterweight King Kamaru Usman on the recent instalment of the JRE's MMA show. Rogan and Usman discuss the Nigerian's recent loss, criticism against Israel Adesanya and many more.
Usman recently suffered his first loss in the UFC at the hands of Leon Edwards in the main event at UFC 278. Although the Nigerian was winning the fight with ease on the scorecard. At the very last minute of the fight, a head kick landed by the challenger changed the fight as the dominant champion came crashing onto the mat.
On the JRE's MMA Show #128, Usman described his loss against Edwards, and how the loss was a relief to him, he also addressed PED allegations against him. Joe and Usman went on to review the Memes on the internet about them after the UFC 278 KO loss.
Related: "Just the casuals" – Joe Rogan and Kamaru Usman blast "blood-thirsty" MMA fans who call Israel Adesanya's fighting style "safe"
Joe Rogan and Kamaru Usman laugh hysterically at the memes aimed at them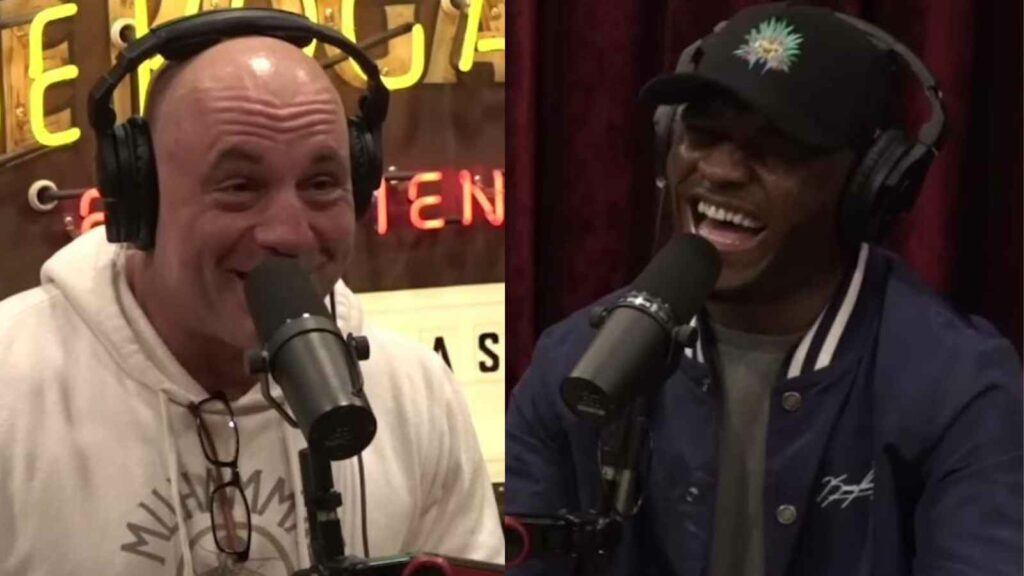 As a famous saying goes the Internet is unforgiving and that's the case with the former champion. As he was KO'd brutally by Edwards memes of his KO started to go viral on the internet. Memes of Rogan also started popping up on the internet. As the UFC commentator has been previously trolled brutally for his post-fight octagon interview.
Usually, high-profile celebrities do not like the memes on the internet. Although the former champion and the podcaster didn't seem even a bit offended by the memes. Usman and Rogan even stated that some of the memes were pure genius.
Also Read: "Didn't HEAR SH*T from you," Kamaru Usman and Joe Rogan react to Jorge Masvidal demanding title fight against Leon Edwards
While discussing his loss the Nigerian touched on the subject of people trolling him on the internet for his loss, "People would screen grab that and make a fake page with that as the avatar. For them to take time out of their day, I'm like 's**t I'm special. They think that it bothers me, but it's funny to me, it made me laugh."
Rogan chimed in, "Did you see the photo of me interviewing you in the middle of the head kick? That was hilarious." The former champion laughingly replied, "I almost posted that yesterday! I'm gonna post it. Joe's gotta get that interview."
Also Read: "I was never attached to the title" – Kamaru Usman tells Joe Rogan he was relieved after losing the belt to Leon Edwards at…