Jordan Leavitt faced Chase Hooper in UFC Vegas 82. He lost the fight via submission in the very first round. Both fighters were highly regarded for their grappling skills. As such, Leavitt initiated wrestling, and grappling as soon as the fight started. However, Hooper got the better of the 'Monkey King' and came out as a victor. Now, Leavitt revealed his thoughts of not fighting again.
Jordan Leavitt talked about his loss on his YouTube channel. He said that he was embarrassed about his performance and stated that he felt like not fighting again in the heat of the moment. Further, he said that this loss hurt more than any of his losses in the UFC. His mom and pregnant wife were present to watch Leavitt fight for the first time and he lost. Here is what he said:
"I lost! It s**ks, and I'm embarrassed. For the first 15 minutes after the loss, I was like I'm not fighting again. I can't do this again. I'm not gonna lie. This loss hurts more than Paddy loss and the Claudio loss because I felt like all the stars were aligning."

Jordan Leavitt on his YouTube channel
'The Monkey King' earlier stated that his wife was pregnant and he was expecting a baby just four days after the fight. He even mentioned that he would pull out from the fight if his wife went into labor before the fight. However, the fight went down as planned. But, Jordan Leavitt didn't get the desired result.
Jordan Leavitt made it to the UFC through Dana White's Contender Series in 2020. He's put on great performances and has only lost to Paddy Pimblett and Claudio Puelles. But now, Chase Hooper joined the list of Leavitt's losses. However, this was Leavitt's first fight in a new contract, he admitted that he made more money from this loss than some of his wins.
Chase Hooper did not expect an early finish to the Jordan Leavitt fight in UFC Vegas 82
Chase Hooper fought Jordan Leavitt in the main card of UFC Vegas 82. He finished the fight by locking in a rear naked choke in the first round. He was ready for the fight going the whole 15 minutes and was surprised to get a quick finish. As such, he was happy to get a submission win over a good grappler in Leavitt.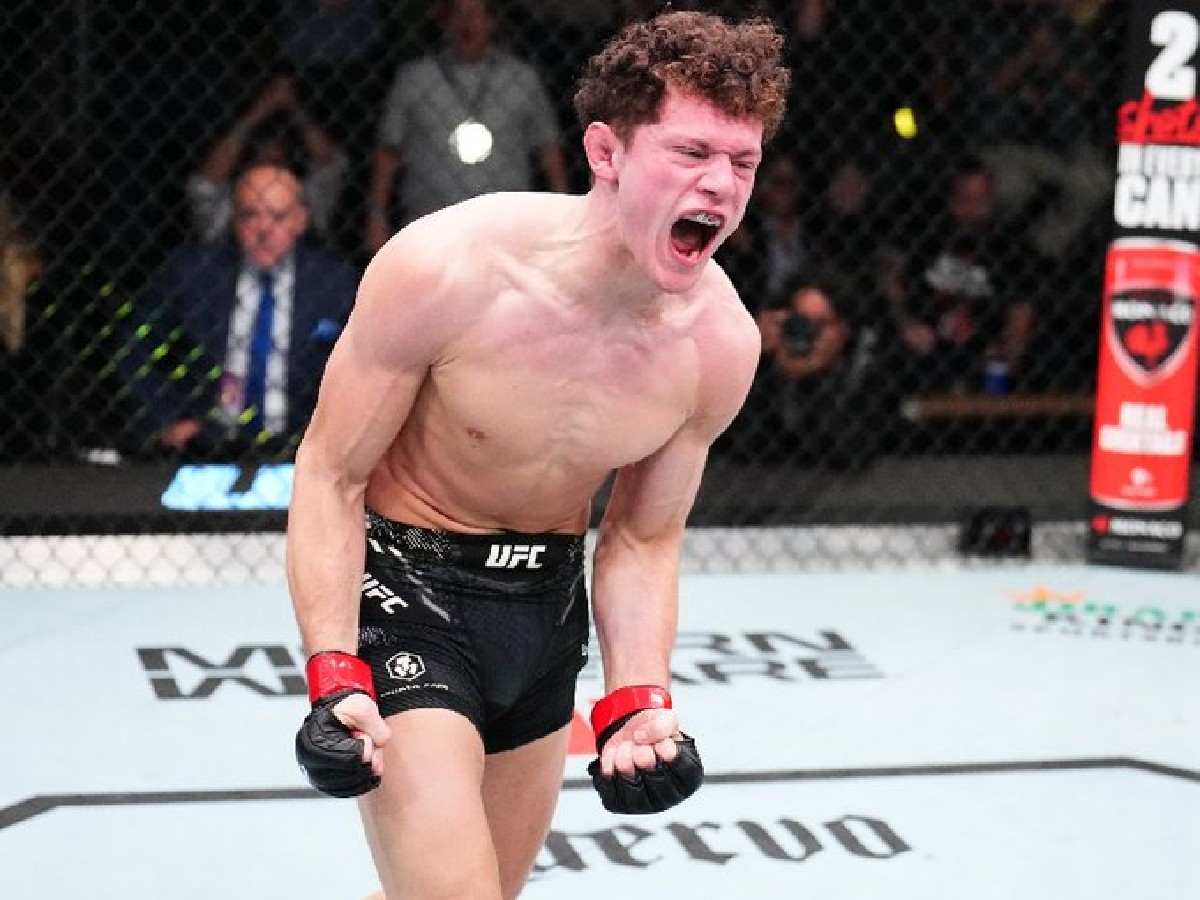 In an interview with the UFC after his fight, Chase Hooper reviewed his performance against Jordan Leavitt. He said that he was pleasantly surprised about Leavitt tapping to his choke so early. Further, he mentioned that he was expecting a standup game as the grappling skills of both of them would nullify each other. Here is what he said:
Honestly, I thought we were gonna strike a little more. It's fun because he got a very similar style to me...I'm always kinda surprised when I'm able to sink in a submission. I threw in that choke and I was like, what? Is he really gonna tap to that? like this quickly? I was not expecting like to get out early. I was happy. I was ecstatic to be out of there early.

Chase Hooper (via X)
Chase Hooper much like Jordan Leavitt got to the UFC through Dana White's Contender Series. But, he struggled to put up a winning streak as he always earned a win and a loss alternatively. Finally, he moved up to lightweight from featherweight and now he has got two consecutive wins in the UFC.
In case you missed it: