Michael Chandler shares his training regimen for the fans to follow and be more athletic. UFC fighters are some of the best athletes in the world. The fighters train their body throughout their life with extensive training programs. Some of these fighters are so well built that they almost look like male models or men's physique contestants and Michael Chandler is one of them.
Chandler has established himself as one of the best athletes in the UFC roster. The fighter has incredible explosiveness, conditioning and strength. Agility to evade shots and counter power to knock people down. On top of all that, the fighter can do multiple backflips too which are amazing to see.
Chandler is so well built that he is often trolled by fight fans for using steroids. While there is no solid proof of these claims, it is surely a topic that is being discussed a lot lately.
Read More: "You have Dana White privilege" – Aljamain Sterling responds to Michael Chandler defending the UFC on fighter's pay
Michael Chandler fitness routine for his fans and followers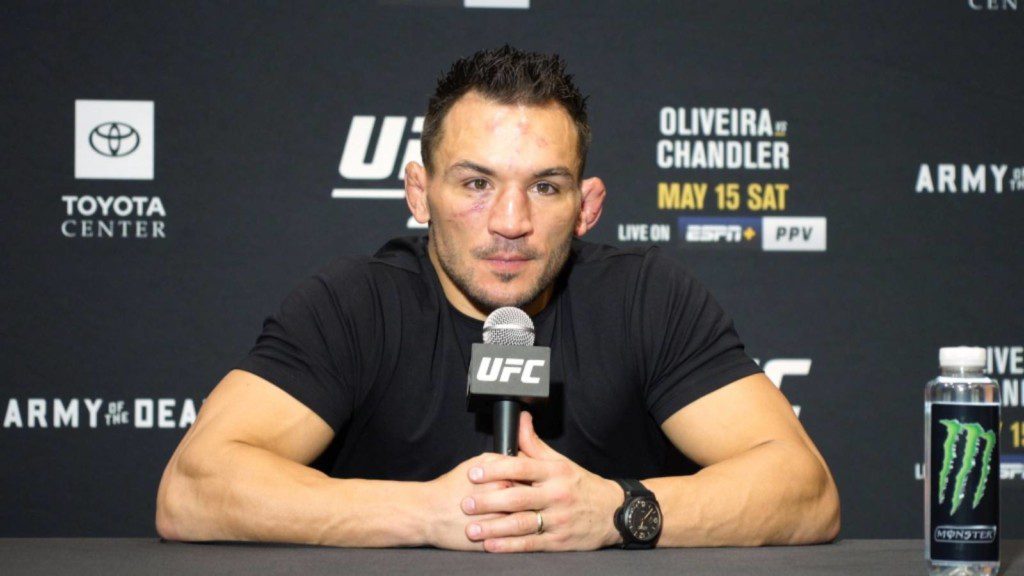 Chandler recently posted a snippet of his training regimen. In the clip, the fighter can bee seen doing a tossing med ball and jumping hurdles.
In the caption, Chandler explained that this is his initial part of the training he does frequently in order to start things off. Chandler listed down the exercises and revealed that to be athletic, one will have to train like an athlete.
"#workoutoftheday-get fibers fit to fire. Ready or not. This is a good little "wake up" drill we do before we really get deep into training.
Medball toss x 4
Hurdles x 5
3 sets
No break, the break is the jog back
If you want to be athletic, train athletic movements. See you at the top!."
Chandler in his last fight at UFC 274 defeated Tony Ferguson with possibly the biggest knockout of the year. After that fight, Chandler solidified his image as one of most entertaining fighters in the current generation of UFC fighters. Fight fans are excited to see him inside the octagon and fight again.
Also Read: "He will fight Michael Chandler," Daniel Cormier on who will Conor McGregor return against if the Nate Diaz trilogy falls apart