TJ Dillashaw had enough of the bantamweight champion Aljamain Sterling accusing him of using steroids for his upcoming fight against UFC 280. The former champ claps back a fiery response as they go off about steroids.
Aljamain Sterling vs TJ Dillashaw is a fight that you don't want to miss out on at the amazing UFC 280 pay-per-view event. The fans at the Etihad Arena in Abu Dhabi are in for a treat this weekend as they get to see two amazing bantamweights go at each other for the undisputed bantamweight title.
Today's pre-fight press conference was a little preview of how fired up the two fighters are. Dillashaw is slowly coming to terms with his dark past with steroids but the champ Sterling won't let it slide past in the lead-up to their fight.
"I haven't seen TJ in any of those Embedded episodes. That's how he got caught last time. I wonder if there's something going on again that might be a little fishy, TJ," said Sterling in the presser. Sterling speculated that Dillashaw might be juicing once again given he didn't appear on any of the UFC Embed episodes ahead of UFC 280.
He can test these nuts in his mouth.#UFC280 pic.twitter.com/8Ykr2H9Rxr

— Jed I. Goodman © (@jedigoodman) October 20, 2022
"You are going to get your a** whooped by a cheater, motherf***er. He can come test me himself, he can come test these nuts in his mouth…this DJ Jazzy-Jeff looking motherf***er," responded Dillashaw as the crowd went wild. Fans were extremely impressed with Dillashaw's trash talk at the presser and had huge praise for him on Twitter.
Related: Why was TJ Dillashaw banned from fighting?
Fans are caught off guard by TJ Dillashaw's witty line toward Aljamain Sterling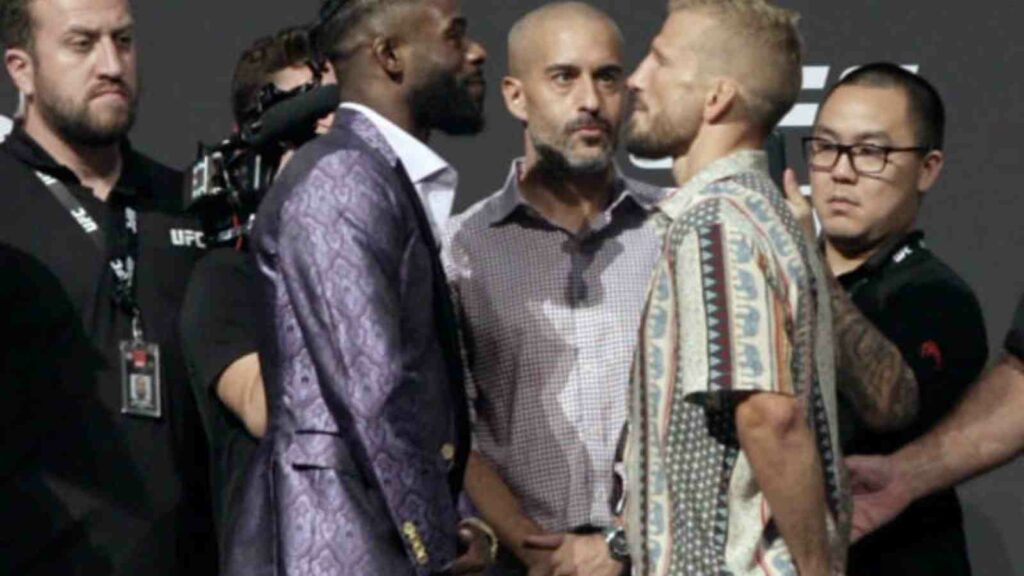 Lmao broo shut Aljo right up 😂

— Bryan Schecter (@BryanSo63005140) October 20, 2022
October 20, 2022
Also read: "Like a wh*re on the side of the road" – Petr Yan's BRUTAL comment leaves Sean O'Malley speechless at UFC 280 press conference
October 20, 2022
LMAO!!! i dont like TJ but i have to admit that was GOOD!!!!!

— yasmani (@yazman666) October 20, 2022
LMAO!!! i dont like TJ but i have to admit that was GOOD!!!!!

— yasmani (@yazman666) October 20, 2022
LMAO!!! i dont like TJ but i have to admit that was GOOD!!!!!

— yasmani (@yazman666) October 20, 2022
Dillashaw leaning into it and I'm here for it

— Cesar (@mexicancardio) October 20, 2022
Dillashaw leaning into it and I'm here for it

— Cesar (@mexicancardio) October 20, 2022
Also read: WATCH: Sean O'Malley gets shoved by FURIOUS Petr Yan at UFC 280 press conference