Islam Makhachev recently met with Chechnya's head of state Ramzan Kadyrov to celebrate his victory at UFC 280. The leader of the Chechen Republic has gained infamy in MMA circles due to his deep ties with fighters hailing from the caucuses region.
At UFC 280, Makhachev displayed his dominance in a destructive fashion, neutralizing and submitting Charles Oliveira, to bring back the belt to Dagestan. This was the same belt his friend and now coach, Khabib Nurmagomedov had vacated 2 years ago in the very same building. The long road from Nurmagomedov's retirement due to his father's passing to Makhachev regaining the belt was a huge story for many in the region.
Kadyrov has always been tied to MMA fighters and gyms out of the post-soviet states that are still under heavy Russian Influence. He runs a successful stable called Akhmat MMA, which has its own gym and league where fighters can display their skills for the patronage of Kadyrov. Makhachev's teammate, Nurmagomedov was earlier on the good side of Ramzan with him even receiving a luxury car from Kadyrov.
Keeping alive the tradition of associating with these figures, Makhachev recently made a visit to Kadyrov in what seems to be in the Trophy Room of Akhmat MMA. Situated in Grozny, Chechnya, Makhachev was seen in pictures along with him holding his UFC lightweight belt. Other pictures show Makhachev posing with the dictator and a few of his lackeys.
Related: "AK-47 Behind the Camera" Fans react to Ramzan Kadyrov settling the fight between Khamzat Chimaev and Khabib Nurmagomedov's team
Has Islam Makhachev been seen with Ramzan Kadyrov in the past?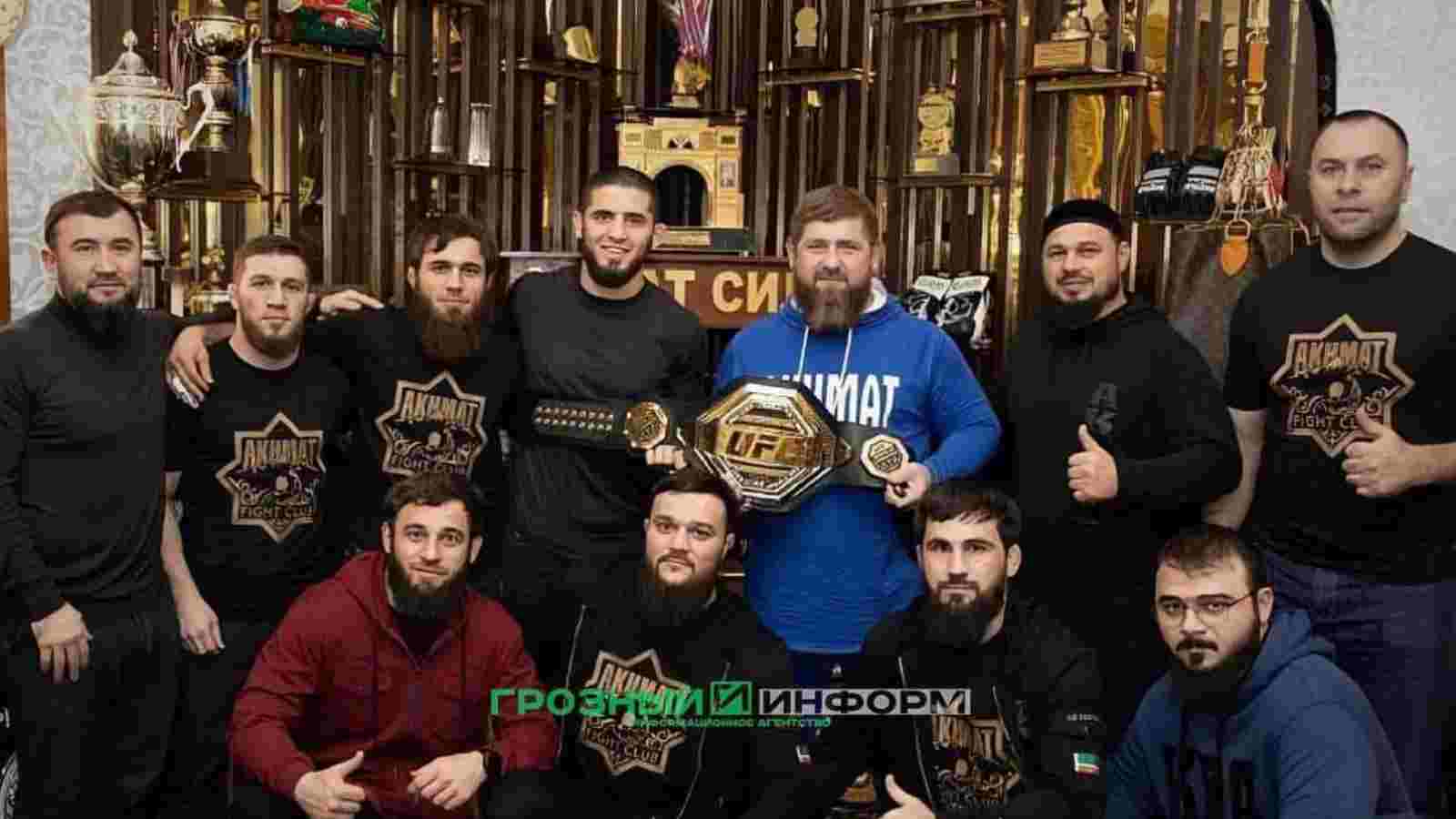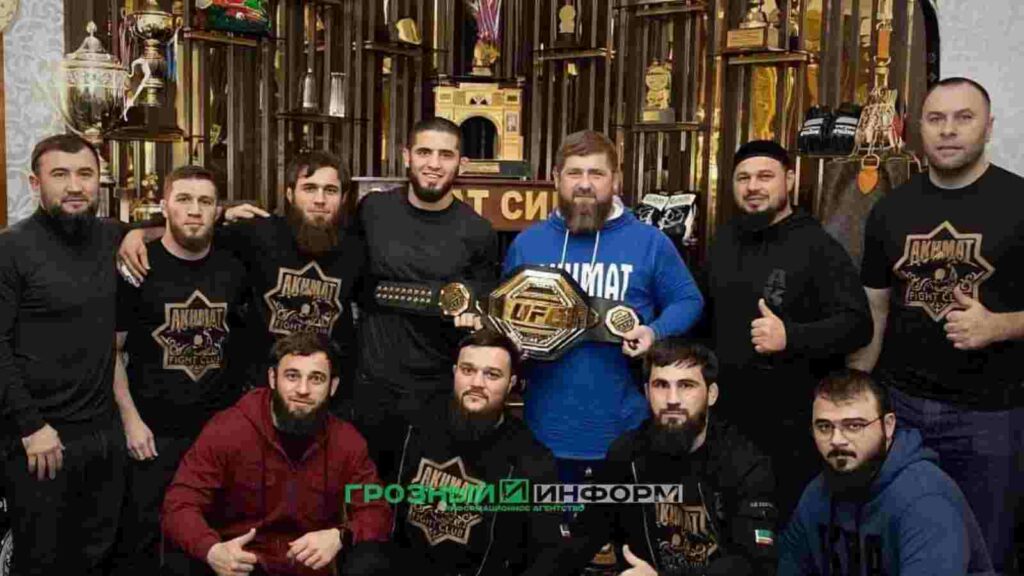 This wasn't the only recent association that Makhachev had with Ramzan. Unfortunately, the night that Makhachev secured the belt to his name, another fighter under Kadyrov's patronage, Khamzat Chimaev got caught up in a brawl along with some of Makhachev's teammates.
Though the fight was stopped by UFC security before it could spill out, it was a PR disaster for Chimaev nonetheless. Chimaev who seems to currently be the dictator's favorite fighter, him hailing from Chechnya as well, had his men quickly patch up the situation.

Also Read: "These rankings are a joke" – Fans in SHOCK as Islam Makhachev passes Leon Edwards in P4P rankings after beating Charles Oliveira
The entire Nurmagomedov team was seen hosting Chimaev for dinner a few hours after the incident. Ramdan later bragged about how he personally saw to it that the dispute was closed on Instagram.
In the video that the clan released a few of Kadyrov's lackeys can be seen, praising Akhmat MMA at the end of the video. Some of these men can be seen in the picture taken in the Akhmat Trophy Room as well.
Also Read: Dana White was spotted beside the son of Ramzan Kadyrov, as the dictator rants about Petr Yan's controversial loss at UFC 280