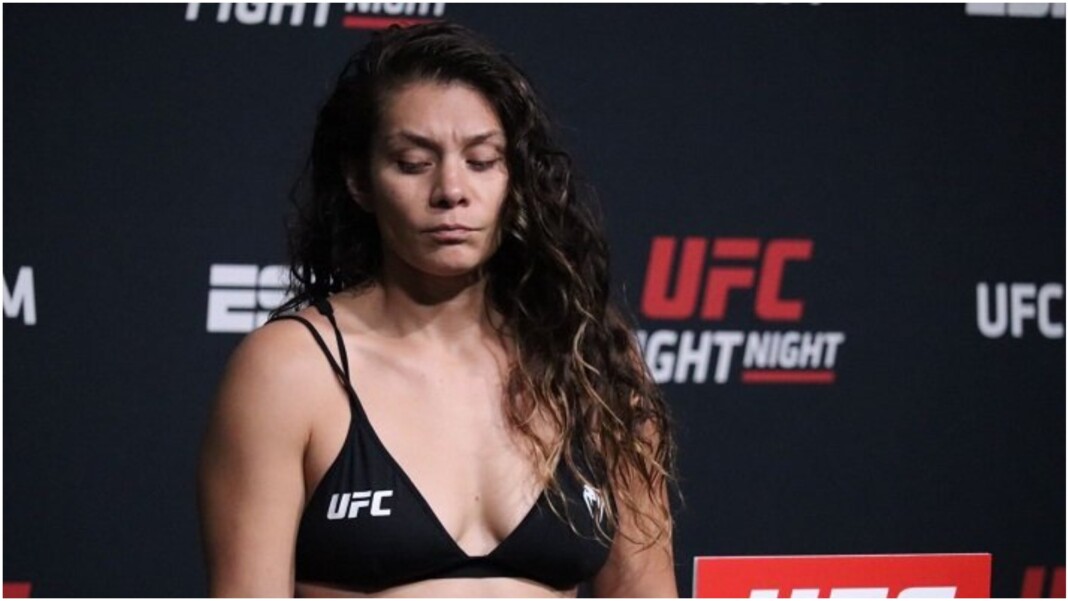 Former UFC women's flyweight champion Nicco Montano missed weight by a staggering 7 pounds. UFC Vegas 33 kicks off soon in a couple of days. The event is headlined by a middleweight bout between Uriah Hall and Sean Strickland. The weigh-ins for the event just went underway, and both Hall and Strickland made weight successfully.
The only issue arose in the prelims card. A women's bantamweight fight between Nicco Montano and Wu Yanan, had to be cancelled after Montano missed weight by an unbelievable 7 pounds, coming in at 143 pounds, with the limit at 136 pounds. This is not the first time this has happened for Montano.
"I was dedicated through camp to this fight" – Nicco Montano
Montano, the inaugural UFC women's flyweight champion was scheduled to defend her title against the current women's flyweight champ Valentina Shevchenko at UFC 228. But, Montano withdrew from the fight after weight-cut related complications. She was stripped of the flyweight title, then.
Following her debacle at the weigh-ins, Montano released a statement on Instagram. She claimed that she did all the hard work, but still found herself short. Montano blamed it on her metabolic system not catching up.
She wrote, "I was dedicated through camp to this fight, training four hours a day, including my fasted 4-5 mile runs and unfortunately after years of cutting hard my metabolic system is not catching up with what efforts I've been putting in. So I've been eating less for my workout sessions, training up until I had to come to the quarantine bubble and had to start my cut pretty high."
She continued, "I have done this cut before but unfortunately it just didn't work out this time around. I think the most important thing for me to do is focus on getting my weight down healthily. Believe me I didn't want this to happen and did everything in my power to make sure it didn't but sometimes life kicks you in the balls over and over and over. But I'm learning that it's only making me stronger and more resilient for what's to come."
Montano has an MMA record of 4 wins and 3 losses. Her last fight was against Julianna Pena, more than two years ago, which she lost via. unanimous decision. She has just fought seven times in her career, despite making her debut in 2015. Health issues and weight-cut related complications have been the reason for the same.
Also Read: Tai Tuivasa vs Walt Harris set for UFC 267 in Abu Dhabi
Also Read: "It's a monopoly that the UFC is running" – Jake Paul tears into the UFC in the wake of the raging fighter pay issue