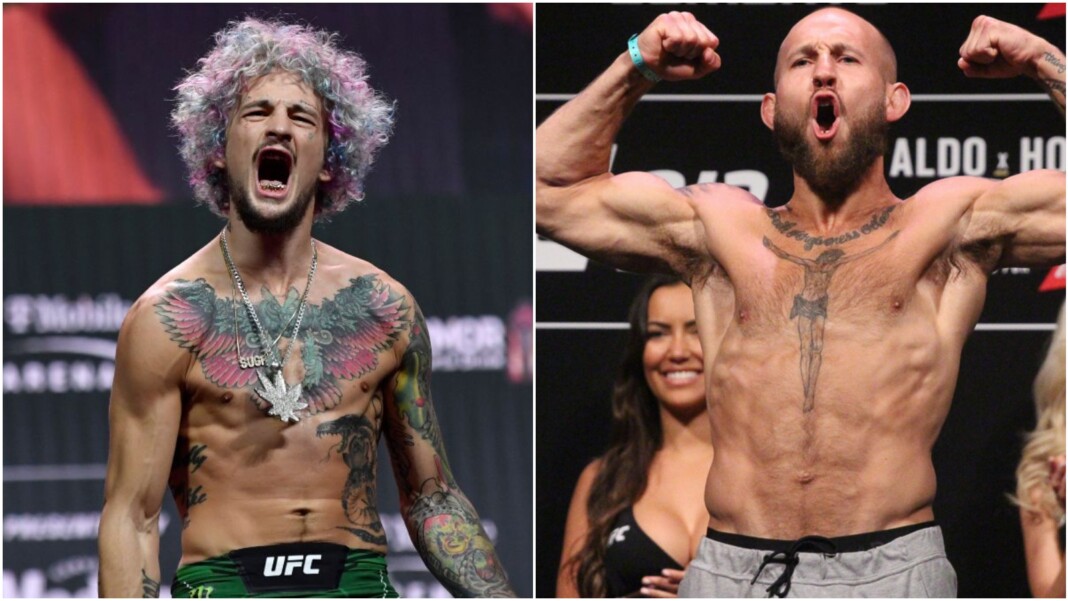 Sean O'Malley will be kicking off the UFC 264 main card on the 10th of July, tomorrow. He was initially set to fight Louis Smolka in the same card, but Smolka withdrew from the fight due to an undisclosed infection. A truckload of fighters offered their name into the mix to fight O'Malley. Giga Chikadze, Brian Kelleher were a few of the notable names who offered to fight 'Sugar'.
Finally, it was Kris Moutinho who got the opportunity to fight Sean O'Malley. A few eyebrows were raised since Moutinho will be making his UFC debut, and had no prior fighting experience in the world's greatest MMA promotion. O'Malley comes into the fight as the overwhelming favourite, with a few websites reporting odds of almost -1000 in his favour. Moutinho is the clear underdog with +550 and above on several odd books.
'Who is Sugar Sean O'Malley fighting?' – Diego Sanchez
More recently, newly-released UFC veteran Diego Sanchez posted a series of tweets exposing Sean O'Malley. He posted tweets from the year 2018, following UFC 224, which took place in May 2018. It all started when O'Malley posted a tweet appreciating John Lineker who had beaten Brian Kelleher via. knockout at UFC 224.
The series of tweets then showed Kelleher calling O'Malley privileged. They then proceed to have a nasty exchange. The reason Sanchez has brought it to life is due to the fact that he felt Kelleher deserved a fight against O'Malley. He tweeted, "Who is @SugaSeanMMA fighting? @brianboom135 should have got the fight IMO."
A pleased Kelleher replied, "Thank you Diego. It will happen at some point I'm sure. Hope all is well." Brian Kelleher last fought Ricky Simon, earlier this year at UFC 258 and lost via. unanimous decision.
Also Read: Instagram Rich List 2021: Conor McGregor and Floyd Mayweather feature in the top 100
Also Read: Sean O'Malley Net Worth, MMA Career, Income, Personal life, earnings and more