Brock Lesnar is known to be a very serious guy. He does not joke around much but had a wholesome interaction with Ariel Helwani ahead of his fight against Mark Hunt at UFC 200. Helwani always asks intriguing questions; this time, it was directed at Lesnar at the UFC 200 press conference.
Ariel Helwani wanted to know how many rounds Lesnar had sparred before his comeback fight against Mark Hunt. The first time Helwani asked the question, Lesnar remained quiet and exchanged words with Daniel Cormier and Dana White. This made Cormier tell Helwani that Lesnar would not answer him. Then Lesnar proceeded to ask Helwani what he said. After repeating the question, Lesnar immediately said, "Three Thousand", leaving everyone laughing, including Daniel Cormier, who could not stop.
Brock Lesnar is an intimidating presence, and seeing him have a laugh about things was unusual for MMA fans. Ariel Helwani always asks "tough questions" that bring memorable moments. At UFC 200, Lesnar defeated Mark Hunt by unanimous decision.
Since then, Brock Lesnar failed a drug test that led the UFC to overturn the decision to a no-contest. Lesnar contemplated returning to MMA in 2018 when he crashed Daniel Cormier's Heavyweight title victory to talk some trash about a future fight between them. Unfortunately, the fight did not materialize, and Lesnar never competed in the UFC again.
Related: WATCH: Internet sensation Hasbulla looks to slap Hollywood star Mark Wahlberg as Dana White watches amusingly
Rumors circulated in 2017 about Brock Lesnar Fighting Jon Jones and Daniel Cormier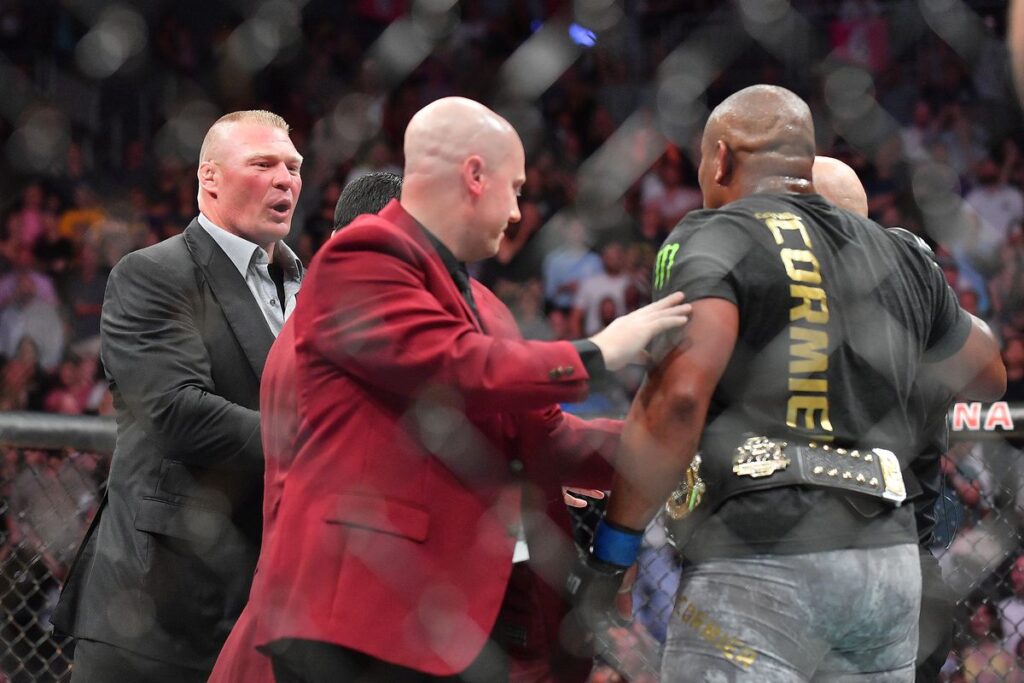 In 2017 and 2018, there was a lot of speculation about Brock Lesnar fighting in the UFC. First, when Jon Jones called him out after beating Daniel Cormier at UFC 214. After that, Daniel Cormier won the UFC Heavyweight Champion, and Lesnar came to the Octagon and talked trash, Cormier.
However, it did not lead to his UFC return, and it appears the door is forever closed after Dana White talked about it. White said, "Brock and I have a great relationship, and we always have, but I don't think Brock wants to fight any more. Brock's made a lot of money. He came into the UFC and won the heavyweight title. He's got nothing left to prove. I don't think he'd want to do it."
Brock Lesnar is 45 years old and will be 46 in July. It appears too late to make UFC return, as the sport of MMA is harsh. Fight fans would have loved to see a potential fight between Lesnar with Cormier or Jones but it looks like those doors are closed.
In Case You Missed It
Jon Jones vs Brock Lesnar? Dana White answers if heavyweight super fight is a possibility after failed Francis Ngannou matchup
"Ghetto Hillbilly" – When Conor McGregor silenced heavier Daniel Cormier with savage response in interview