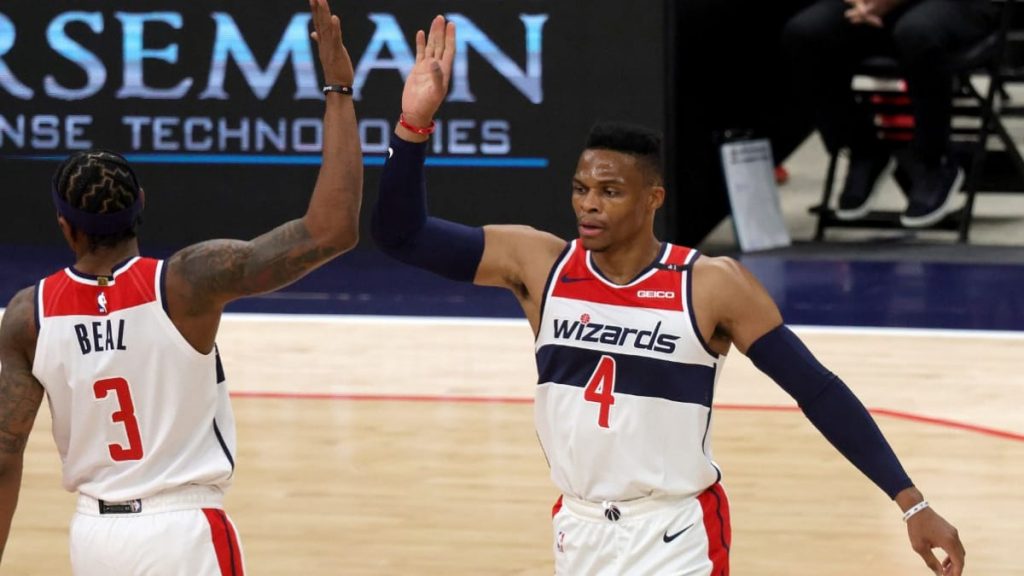 This is surely not the same Washington Wizards who started off the 2020-21 season, not just hitting teams devastatingly with points, the Wizards have changed their mental ability which is evident on the court. In their latest match against the Minnesota Timberwolves, the Wizards cruised past to victory having led the game all the time after the 1st quarter. 
Bradley Beal scored game-high score of 34 points, while Russell Westbrook struck his 10th triple-double of the season with 19 points, 14 rebounds and 12 assists. The Wizards seem to be coming into the playoff contention after winning their 7th in 8 games, after a 6-17 start.
Russell Westbrook and Bradley Beal lead Washington Wizards convincingly past Minnesota Timberwolves
Talking about the Minnesota Timberwolves, Karl-Anthony Towns had 23 points and 11 rebounds for the Timberwolves. Who dropped their 7th straight, matching their longest slide of the season. Anthony Edwards added 21 points for NBA-worst Minnesota, as starting guard Malik Beasley served the first of a 12-game suspension. 
The Wizards scored nine straight to start it, with Westbrook's running dunk and Beal's 3-pointer from the top of the key giving them a 72-67 lead and coaxing newly installed Minnesota Timberwolves coach Chris Finch into a timeout. 
Davis Bertans scored 12 of his 19 points in the third quarter, including four of his five 3-pointers. Garrison Mathews scored 18 points in Washington's first home game following a four-game West Coast trip.
"It's big for everybody, confidence-wise," Bradley Beal said of the recent surge. "But at the same time, we still know we haven't done much. We haven't done anything. That's what I keep telling our guys." 
Also Read: Utah Jazz bounces back after loss to beat Orlando Magic