Alexa Bliss has been one of the leading female superstars who has achieved it all in her main roster run. She wrestled her last match at Royal Rumble in January 2023. Ever since then, the 31-year-old has been absent from WWE programming. Alexa Bliss recently took to social media to reveal the delightful news of her pregnancy.
The former Raw Women's Champion got married last year to American singer Ryan Cabrera on April 9, 2022. And after nearly a year since their wedding, Alexa Bliss has announced her pregnancy on Instagram and Twitter. She posted the images of a baby outfit and a board stating "Baby Cabrera Arriving, December 2023."
Alexa Bliss posted these images with a caption stating, "Best moments in life are completely unexpected." Moreover, the Instagram post had an image of the couple holding the sonography image of their baby. The other image showed the couple kissing and drinking wine.
The wine glasses were stuck with a clever note that read,"Do not refill until December". The Twitter image of the couple showed Ryan wearing a hilarious T-Shirt with the words "We're pregnant. But mostly her." Bliss and Cabrera look elated to share this wonderful news with the world.
Alexa Bliss has been on, hiatus and is not likely to make her WWE return anytime soon taking into consideration her good news. The WWE star said that she is in the second month of her pregnancy. The couple acknowledged that this news was a total surprise for themselves that they got in late March.
Related: Alexa Bliss' return likely to 'decide' former WWE Champion's fate in the company
Alexa Bliss expresses her surprise at learning about her pregnancy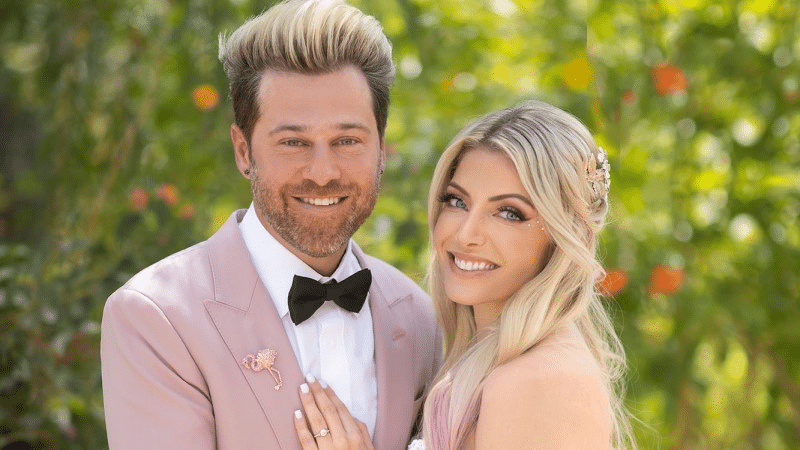 During an interview with E! News, Alexa Bliss and Ryan Cabrera stated the good news of their baby was a surprise for them and they weren't expecting it. The couple was shocked when they learned about the baby's expected date earlier this year in March.
The couple tied the knot last year, and the delightful news came as a surprise to them. Ryan Cabrera said that he was "one million percent surprised, couldn't be more excited!". Alexa added to it by saying that they face timed her mom immediately and then shared the news with Cabrera's family.
Alexa Bliss and Ryan Cabrera started dating back in 2020 and got married in April 2022. Now in 2023, they have got the bigger news. Bliss celebrated the news with her closed ones with hosting a reveal party across both coasts in L.A. and Orlando with their friends and family.
In case you missed it: