Unlike the weekly programming, wherein the WWE superstars have to adhere to the cue and script rigorously, things are a bit different in house shows. In the latter, the superstars, whether they are heels or babyfaces, get to interact with the fans. In one such instance, Bayley recently got involved in a confrontation with little kids booing her at a live event.
Earlier this week, on November 19, WWE hosted a Sunday special house show in Jonesboro, Arkansas. In the event, the Role Model took on Shotzi. However, the latter clinched the victory over the former Women's Champion. But the 34-year-old hit the headlines for an entirely different matter. Bayley got involved in an argument with the kids in attendance who were booing her.
Taking to her X handle, the 34-year-old shared a glimpse of her petty squabble with the young kids. As Bayley was making her way to the ring before her match against Shotzi, a bunch of kids were showing thumbs down at her. Noticing the kids booing her, she insisted they put their thumbs up. Bayley seemingly wanted them to cheer for her. Watch the video below.
However, the kids didn't budge an inch and continued to boo her. As a result, she screamed at the young fans and eventually made her way to the ring. Nonetheless, this was certainly not the first time that the Role Model had gotten involved in a conflict with the WWE Universe. She has hit the headlines numerous times in the past for her hilarious interaction with the WWE fanbase.
Is Bayley's babyface turn on the horizon?
Bayley began her career in WWE, portraying a lovable "hugger" persona. During the height of her career in NXT, she was the most popular female superstar in the company, particularly among the young kids. However, she gradually began losing her popularity and momentum after her main roster debut. As a result, she turned heel in mid-2019.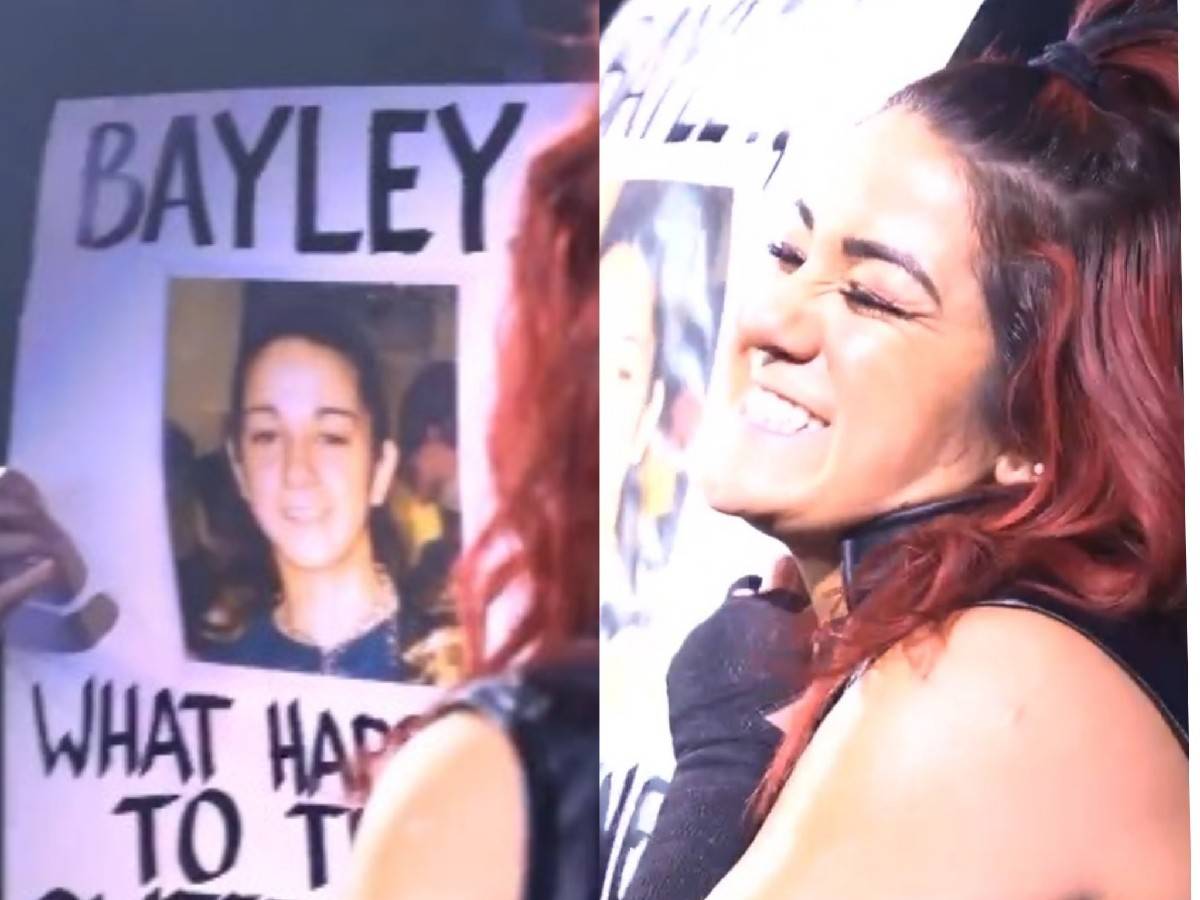 Since then, she has dubbed herself The Role Model. From someone who inspired the little kids to breaking the hearts of the same kids, she has had quite a journey. The 34-year-old eventually took her career a notch higher by debuting Damage CTRL at SummerSlam 2022. Now, almost a year and a half later, fans have started speculating that WWE is planning to turn the superstar babyface.
Bayley could often be seen bickering with the fans at house shows. However, she has had quite a change in attitude lately. Instead of tearing her fan sign apart, the 34-year-old was flaunting it at a recent live event in Jonesboro. She was grinning ear to ear while holding the board. Moreover, the latest additions of Kairi Sane and Asuka to Damage CTRL add weight to the possibility of the former's imminent face turn.
In case you missed it: