Kenny Omega is undoubtedly one of the biggest names in pro wrestling. He worked in various independent promotions in the early days of his career. Besides, Omega is known for his phenomenal NJPW run, where he gained mainstream attention. However, Kenny Omega is currently signed to AEW and is a significant star in the promotion. Furthermore, there have been rumors that the AEW star's contract is about to expire. WWE Hall of Famer 'Booker T' commented on Kenny Omega's universality at WWE.
WWE legend Booker T stated on the most recent podcast that WWE is looking to bring Kenny Omega into their company. He added that WWE is aware of the star power Omega has. Therefore, they would do anything to sign him to their company once his AEW contract expires. However, the WWE Hall of Famer said Omega is one of the driving forces behind AEW's promotion. Thus, losing him would be devastating. However, Booker T also believes that AEW would recover from it, although it might be strenuous for someone to fill his void.
The WWE HOF'er stated that WWE would make him a megastar if the AEW wrestler ever stepped foot inside the company. Without a shadow of doubt, WWE is the biggest pro wrestling company currently, with a global audience. As a result, Booker T believes the 39-year-old would shine brighter in WWE than in any other wrestling promotion. Furthermore, Omega's presence in WWE would elevate him in the mainstream media, he added. "I don't know how many years Kenny Omega has left in the ring. WWE would make Kenny Omega's star shine brighter than any other place he ever could be in," he said.
The arrival of Kenny Omega in the WWE would open the possibility of many dream matches for the fans. Booker T stated that WWE would involve him in some major WrestleMania matches. Moreover, he believed that Kenny Omega vs. AJ Styles would be at the top of the list for Triple H. However, the prospect of dream matches is endless for the AEW star in WWE.
Kenny Omega is one of the top stars at AEW and is also the Executive Vice President. He was suspended from AEW in September following a backstage altercation with CM Punk. However, he was back in AEW TV programming two months later, in November. According to reports, Omega's contract with AEW will expire in early 2023. Furthermore, given the time he missed during AEW, the company might extend his contract. However, WWE might potentially try to sign Kenny Omega once his contract expires.
Related : "I'm done this time," Booker T squashes down the possibility of competing at WrestleMania 39
Booker T comments on Tony Khan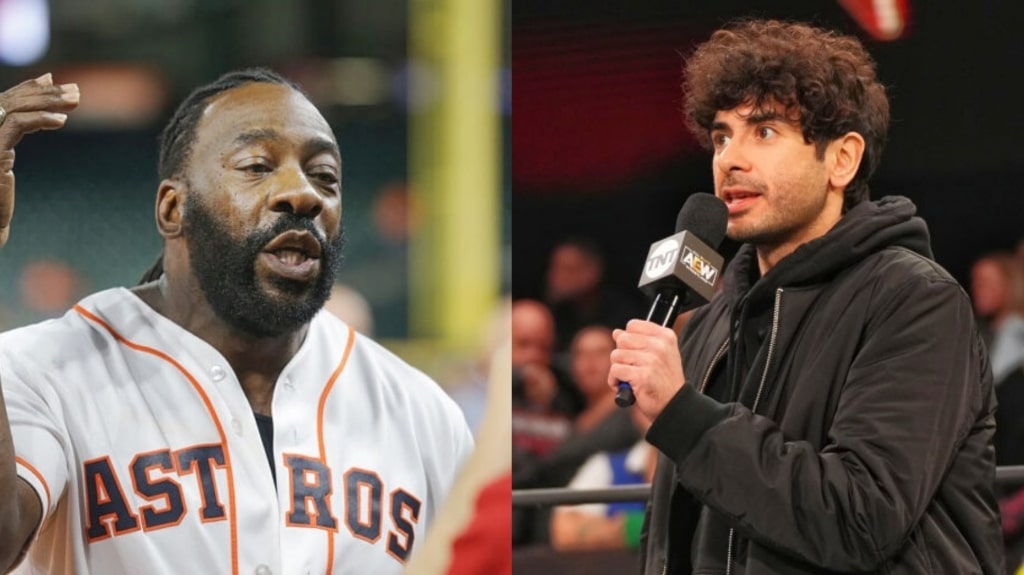 Ever since its inception, AEW President Tony Khan has never failed to attract the attention of the fans and media through his obnoxious comments. However, there was quite a commotion recently when Tony Khan made some sarcastic remarks about Ariel Helwani after the latter's appearance in WWE programming. As a result, WWE legend Booker T expressed his own thoughts on the matter.
Booker T commented on Tony Khan and said that it seemed like high school stuff. He added that it did not seem like something a boss would ever think about. Moreover, the WWE legend referred to the actions of Tony Khan as immature. He said, "If you're gonna be the boss, you got to act like the boss; you got to play that role."
Moreover, Booker T stated that he believes Tony Khan does not have what it takes to be the president of a company. Over the past few months, many wrestling veterans have also commented on the obnoxious acts the AEW President does every time to become the headline. Therefore, it's not surprising to see Tony Khan sticking his nose into the business of his rival promotion, WWE.
In case you missed it :