Charlotte Flair is one of the most popular WWE Superstar of the current generation. Flair has been a decent mouth runner and possesses an incredible in-ring ability. She has clinched every women's singles Championship in the WWE and has been the winner of the Royal Rumble once. Charlotte Flair has been voted as Top Female wrestler of the year in 2016 by PWI and has won the RAW and SmackDown Women's 6-times each, the most by any women on the roster.
Charlotte Flair has been out of action May of this year, when she lost the SmackDown Women's Championship to Ronda Rousey at WrestleMania Backlash. Flair had managed to defend the title at WrestleMania 38 against Ronda but lost it at Backlash. Charlotte even participated at Royal Rumble this year as a SmackDown Women's Champion this year and managed to stay until the last but was eliminated by Rousey ultimately. Flair took time off from wrestling to marry her boyfriend Andrade. She is said to return to WWE soon.
RELATED: "It's OK not to be the MAN at all times" When Charlotte Flair took the responsibility of her family on her shoulders
Charlotte Flair shares details about her match with Ronda Rousey in 2018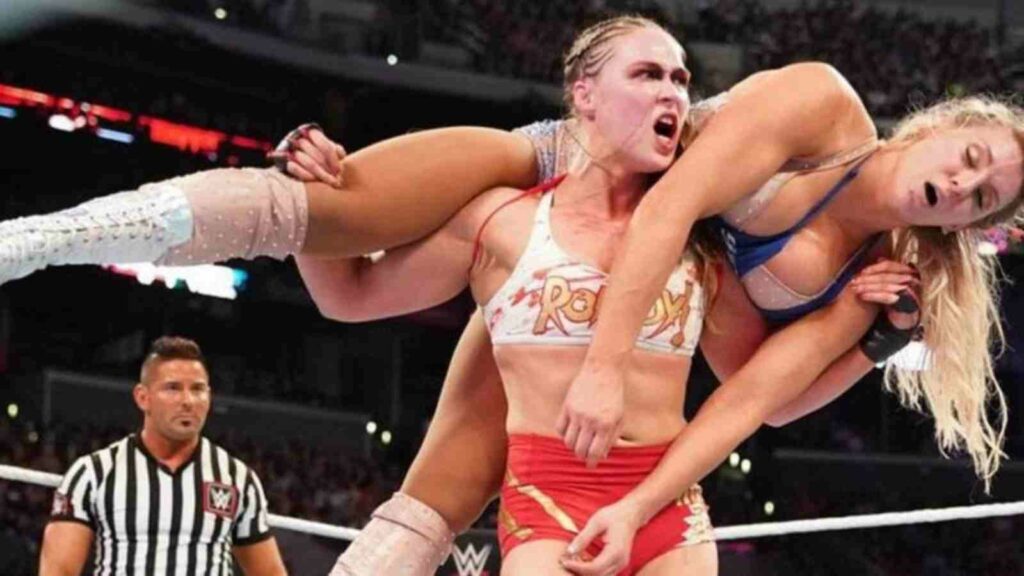 Charlotte Flair faced Ronda Rousey in 2018 at the Survivor Series and during her recent appearance on Steve Austin's show Broken Skulls, she shared some details about her encounter with Rousey. Flair said that there were three things in her mind which were that she and Ronda have no story, no build but Ronda was her dream opponent. Flair said that she was about to lose her Mania spot because of talks like she is having a prompted match and put herself next to a best player.
She said that she had to remind people that she isn't letting anyone take her spot and that was her mentality. Charlotte Flair stated that she just needed to show people that she is not timid. Flair stated that the match worked very well and Ronda was awesome and that she couldn't have asked for a better match.
In the same show, Flair talked about Asuka and her encounter at WrestleMania 34. She said that Asuka had nothing to prove because Asuka had wrestled all over the world and the person who had to prove was her. Flair said that even if she was the champion and Asuka was coming from NXT, which isn't the main roster, she took Asuka seriously and followed the storyline.
"She [Asuka] had nothing to prove, I did. Well, 'cause she had wrestled all over the world, had the longest streak. Having her background from Japan and what she had done, she didn't have anything to prove, I did. I mean, I know it's maybe the wrong way to think about it because here she is coming from NXT and NXT isn't the main roster and I was the champion, but that's how I went into the match."
Asuka will team up with Alexa Bliss and Bianca Belair to face Bayley, Iyo Sky and Dakota Kai at the Clash at the Castle Live event on September 3rd.
ALSO READ: "Maybe we were each other's Crutches at one point"; Charlotte Flair discusses her relationship with Becky Lynch in WWE