The 2023 men's Royal Rumble winner, Cody Rhodes, is gearing up for his first-ever WrestleMania main event against Roman Reigns. Since his Rumble win, the American Nightmare has been making the rounds for interviews with wrestling journalists. In one of these interviews, the former AEW star revealed his intentions of having his brother, Dustin Rhodes, at the Show of Shows.
Recently, Cody Rhodes was in a conversation with Alex McCarthy of Inside the Ropes. When asked if he would love to have his brother be a part of his celebration at WrestleMania, Cody said, "Dustin and I have a very unique relationship. It's almost like we're at our optimum, at our peak as brothers when we're together in the ring… We're at a point where I love my brother so much and as I get closer to this, I think about him every day, I really do and that would be special, it would. It would take some people getting along to agree."
If Dustin Rhodes does show up at WrestleMania, he wouldn't be the first AEW superstar to come out to support the American Nightmare. At the Royal Rumble event, AEW star Ricky Starks was seen backstage, where he came to wish his friend well before the Rumble. Cody Rhodes talked about this recent visit from the Absolute in the interview. The former AEW EVP just hoped that Ricky didn't get into any trouble because of him. He also states that his friends across the promotion should avoid doing such things.
Related: "Get out of that fu*king shadow," WWE legend thrashes Cody Rhodes for dedicating his current run to his father
Will Cody Rhodes and Dustin Rhodes reunite in WWE?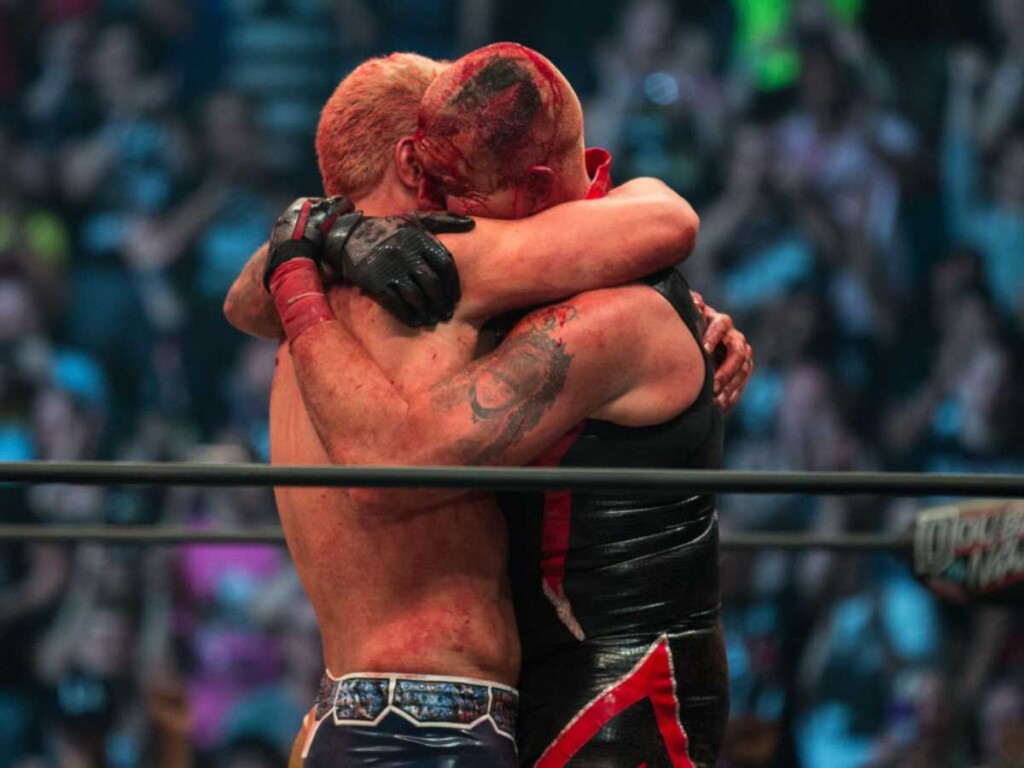 The story of the Rhodes brothers in wrestling has been an emotional ride for all the fans. The two of them have competed as a tag team and as opponents in their careers. In the interview, Cody Rhodes talked about his experience teaming up with his brother. He said, "I think we've both settled on the idea that, A, we never wanna tag team with each other ever again because as much fun as we had, we were at each other's throats."
It seems that the dreams of seeing the brothers compete in the ring, in any capacity, are dying out. While Dustin Rhodes' AEW contract is up in July later this year, it seems it will also bring the curtain down on his wrestling career. In December, during the tapings of Blizzard Brawl, the Natural announced that 2023 is going to be his last year as an in-ring competitor. He would continue his role as a backstage coach, but he doesn't want to get more fatigued at his age. Thus, it would be more emotional to have Dustin at the Grandest Stage one last time and watch a Rhodes finally headline WrestleMania.
In case you missed it!