Dominik Mysterio, the son of potentially the greatest luchador ever, Rey Mysterio is currently a part of the Judgment Day. His current character highly resembles the late great Eddie Guerrero's Latino Heat character. The Latino heat had Chyna's back all the time. Similarly, Rhea is fulfilling the need of Chyna to completely resemble Eddie Guerrero's character from 2000 with that of Dominik Mysterio.
Since joining Judgment Day, Dominik's career has skyrocketed. Dominik betrayed his father, Rey Mysterio at Clash at the Castle after Edge and the Master of 619 defeated Finn Balor and Damien Priest. From there, the 25-year-old's career took a pace that is still not stopping. Even the WWE universe has now started praising Dominik's work. However, WWE recently posted a video on their Twitter handle, where they were showing the fans the hate Michael Cole has for Rey Mysterio's son.
Following the video, Dominik Mysterio replied to the WWE's tweet with a famous meme of the Rock that quotes "Shut up b*tch." It also looks like the fans are loving this new side of Dominik Mysterio. Interestingly, Michael Cole's hate towards Dominik Mysterio was also a resemblance to Jim Ross' hate towards Triple H.
As of now, It is safe to say that who looked like nothing but a spoiled brat is actually showing his charisma to the world. Dominik's improvement as an overall wrestler has been impeccable. It will be very interesting to see how things go for the young Mysterio in the future.
Discover more: WATCH: Dominik Mysterio shoves his dad on WWE SmackDown, Rey Mysterio restraints at the last second
What is WWE's plan for Dominick Mysterio at WrestleMania?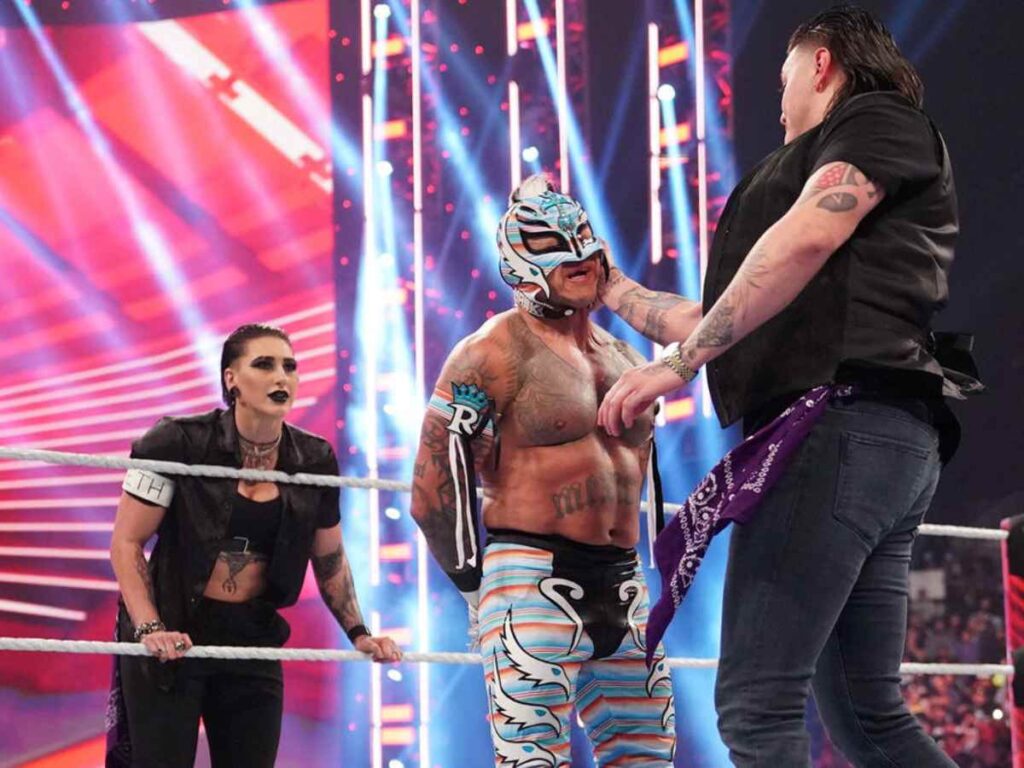 At Clash at the Castle 2022, Dominik Mysterio betrayed his father, Rey Mysterio, and joined forces with The Judgment Day. After a few weeks, Rey Mysterio asked the WWE staff to transfer him to SmackDown so that he wouldn't have to bother about his son. Even after getting drafted to SmackDown, Dominik keeps on invading the Blue Brand and sometimes, he even throws a few moves on his father.
The possibility of WWE plans for Dominik is to make him face his father, Rey Mysterio at the Grandest Stage of Them All. This is not an official confirmation as it is only speculation. However, fans have been waiting for Rey Mysterio to face off against Dominik at the weekly episode, but it hasn't happened yet. Neither Rey Mysterio nor Dominik Mysterio has a path to WrestleMania other than the holistic rivalry between the son and father.
Hence, it is safe to say that WWE is planning to inflame the father-son rivalry for WrestleMania 39. It will be very interesting to see how the build for this long-term personal rivalry goes. Rey Mysterio was initially sent to SmackDown just to hold on to the rivalry so that it could take place at WrestleMania. Consequently, it's fair to say that the road to WrestleMania 39 is at its full pace currently. Dominik again hit a cheap shot on Rey in the last Smackdown. Hopefully, WWE will make the father-son match official very soon and this Mexican duo can finally finish what they started back in September 2022.
In case you missed it:
Potential title change to happen at WrestleMania according to the current plans
WATCH: Former United States Champion compels Austin Theory to kiss his boots