Dwayne Johnson is undoubtedly one of the greatest wrestlers of all-time. He along with his career best rival "Stone Cold" Steve Austin defined WWE's most extravagant period termed as the Attitude Era. Their Wrestlemania trilogy is considered as to be one of the very best till date. Johnson have encountered multiple opponents throughout his legendary career then be it Austin, Taker, Triple H, Mick Foley, John Cena, Hulk Hogan just to name a few of them.
His battle against Hulk Hogan in which the latter was playing the Hollywood Hulk Hogan gimmick was built as an "Icon vs. Icon" contest and after a grueling match, Johnson defeated Hogan. This match is also remembered as one of the best in terms of crowd reactions.
Hogan's legacy in wrestling needs not be explained an further as many fans were of the belief that wrestling can't come alone without mentioning the Hulkster's name in the conversation. He was the part of some of the greatest factions in WCW history namely The New World Order which originally consisted of Hogan himself, Kevin Nash and Scott Hall. After having a career that defined eras and created the term "wrestling" in many contexts, Hogan finally announced his retirement from in-ring competition on January 27, 2012.
ALSO READ – "Charlotte Flair has what it takes to make it in Hollywood" – When "The Animal" Batista claimed who could be the next Hollywood superstar from the house of WWE
Why Dwayne Johnson aka The Rock got disappointed by Hulk Hogan after a shocking revelation?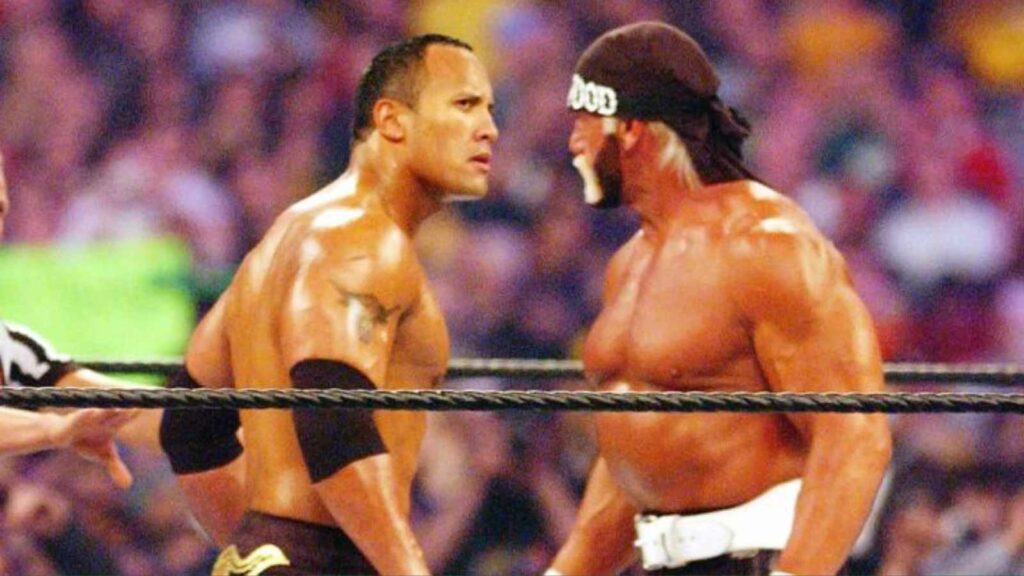 The Hulkster was inducted into WWE Hall of Fame back in 2005 in order to value the unforgettable contribution he did towards professional wrestling as a whole. The honour got snatched from Hogan fast forward 10 years I'm 2015 by WWE themselves due to a shocking revelation being surfaced about the legendary superstar.
Actually what happened was Hulk Hogan was found making some racial abuse in a leaked s*x video where he even used the heavily sensitive "N-word". The racist slur was said to be made for a black guy in a ranting manner about sleeping with his daughter. After making multiple apologies to various platforms and urging to get a second chance to eradicate his mistakes, WWE finally reinstated the wrestling icon back into the Hall oof Fame in July 2018.
Before this happened, his long time rival and friend Dwayne Johnson better known to be as The Rock expressed his disappointment over the poor deeds committed by Hogan saying "I have not known this man to be a racist". During a television critics meeting about his HBO series, Johnson expressed his views on the same and was clearly not thrilled by the looks of it. He told,
"I've known Terry for a lot of years, and my dad helped train him in Florida in the '70s when he was breaking into the business. I come from a very long line of lineage of professional wrestlers. I had not known the man to be racist"
ALSO READ – "I had never even seen a pe*is, yet I was no longer a virgin"- When Nikki Bella revealed that she was raped twice as a kid
ALSO READ – "Steph, never expected"- When Natalya revealed about the moment she drunk dialed Stephanie McMahon