The WrestleMania 39 card is filled with high-profile matches along with some long-term stories on the verge of conclusion. One such long-term story with a great build has been the father-son drama between Rey Mysterio and Dominik Mysterio. Hard-prison Dom has crossed every limit possible to incite his father to fight him. However, Rey has been tolerating his disgraceful son and refusing to hit him until this week.
On the latest episode of SmackDown, Rey Mysterio was set to square off against LA Knight following last week's challenge. Rey's wife Angie and daughter Aliyah were also sitting in the front row. During the match, just as The Master of the 619 was getting into his stride, he was interrupted by Dominik Mysterio, who remained at ringside the entire time.
Rey was closing in on a victory, as he was going for a 619. Nonetheless, he was stopped in his tracks by his son, who cost him another victory. Taking advantage of the distraction, LA Knight picked up a big win over the 2023 WWE Hall of Fame inductee. Following the match, Ex-Con Dom once again started instigating his father to accept his WrestleMania challenge.
However, Rey started walking away, putting down the challenge once again. Dom wasn't backing down as he started disrespecting the Mysterio family to provoke Rey. Moreover, he crossed the line by ridiculing Rey's wife and his own mother, Angie Mysterio.
Therefore, the ridiculousness of his son finally forced Rey to punch him in the face. The fans in attendance erupted, as this is what they wanted to see for months. Following the attack, Rey went on to accept Dom's challenge for a father-son bout at WrestleMania 39.
Related: Rey Mysterio's height
Wrestling Twitter goes wild over Rey Mysterio laying hands on Dominik Mysterio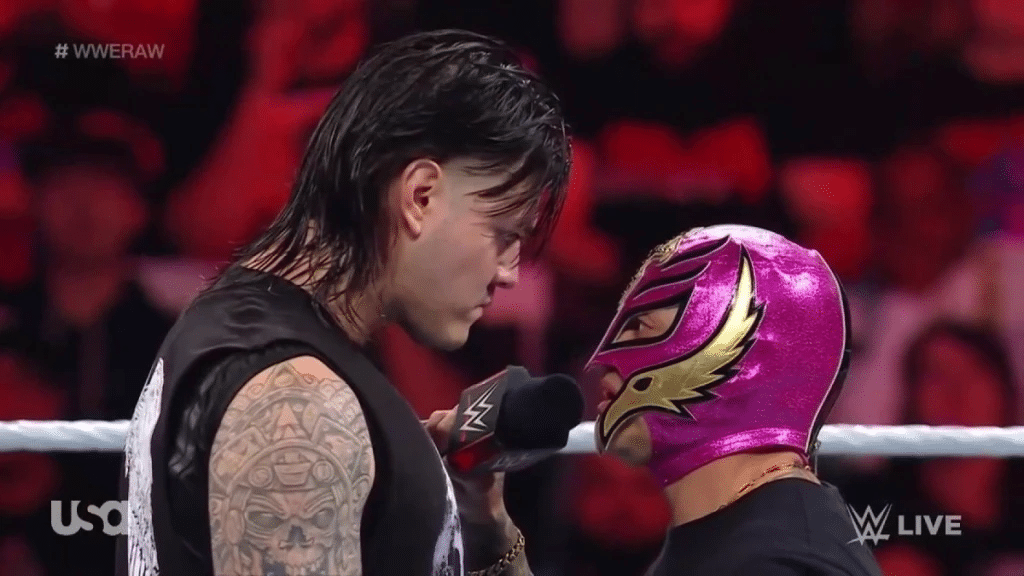 Ever since Dominik Mysterio betrayed his own father, fans wanted Rey Mysterio to teach him some respect. However, Rey kept avoiding it for months and months. Hard-prison Dom began to cross the line on road to WrestleMania, and fans begged Rey to stand up against it.
When The Master of the 619 finally got his hands on his pathetic son, the reaction from the crowd in Las Vegas was something to cherish. Apart from the live audience, fans on social media also cherished the moment. Let's take a look at some of the best reactions on Twitter.
In case you m missed it: