The Arrogant Aussie Grayson Waller is performing greatly as the ultimate heel on SmackDown. His talk show, Grayson Waller Effect, has been successful, with many big names as guests. His outspoken nature enables the audience to hate him, as do his heel tactics that get under one's skin. He maintains his character not only within WWE but also on social media to gain the required traction for his persona.
Waller recently took to X to reply to all the haters who make racist comments about him. He replied to a video that showed a gangster threatening an Australian person. But in response, the Aussie knocked him out as soon as he turned his back. The shared post had a caption describing the situation in exact words, establishing the attacker as an Australian. Grayson's reply wanted to imitate the Aussie's reaction, but only in a different context of racism.
The Dynamite from Down Under wrote that this would be his reaction next time he faced a racist comment. He wrote, "Next time someone calls me Kangaroo Jack." He often gets trolled for his heel persona in WWE, but racist insults are something that is not acceptable to him. His statement made it clear that he was very unhappy with the racial slurs and would take extreme measures the next time something like that happened.
The 33-year-old seems to have a bond with Austin Theory, yet another annoying heel on SmackDown. The duo has confronted fan favorites like LA Knight and Rey Mysterio to continue spreading disgust about them. Their path on the blue brand looks unclear, but a push to get into the main event scenario is likely to happen.
Related: "That poor brother," Grayson Waller reveals top WWE star gets easily overshadowed by Rhea Ripley
Grayson Waller continues his troll thread for John Cena
The return of John Cena on SmackDown has brought back the interest and viewership of long-lost fans. But the heel stars on the blue brand do not hold back from ruining his appearance. Starting with Jimmy Uso, who made a shocking return and insulted Cena to solidify himself as a heel.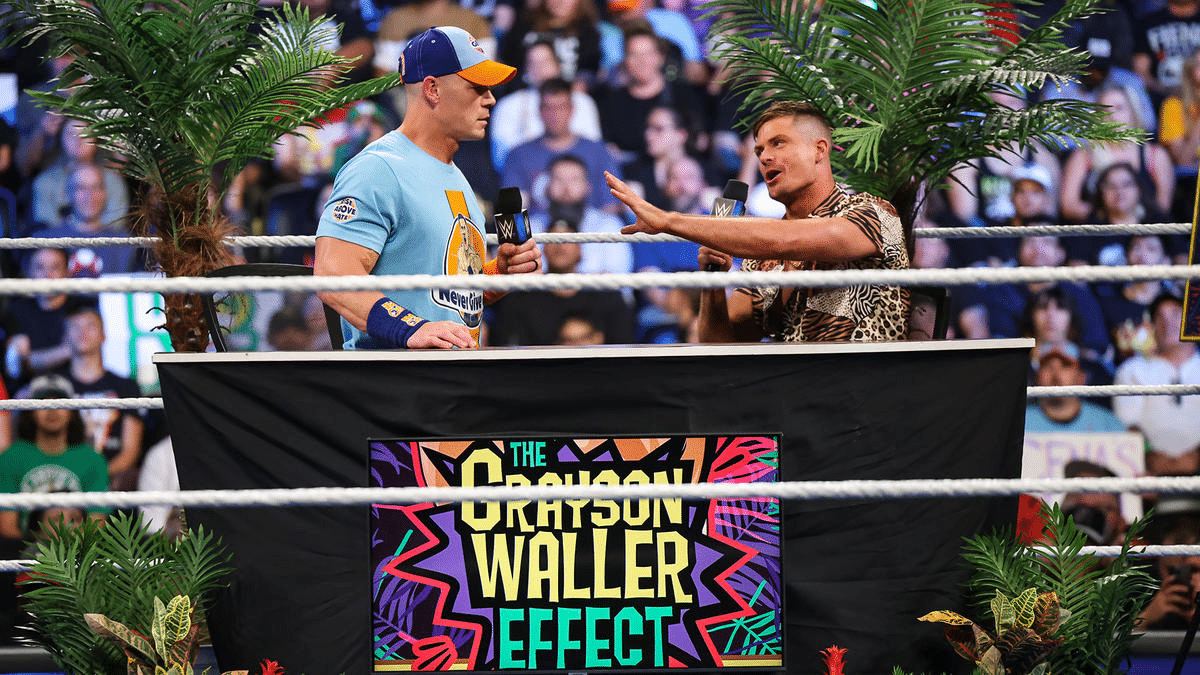 But the September 15, 2023, episode of SmackDown even saw him getting roasted by Grayson Waller. Waller made sure to show his heel colors on his talk show and trolled Cena for as long as possible. The same was continued by him on X by sharing an image of that moment and captioning it beautifully with Cena's theme song.
The post stated, "Your time is up, my time is now" stating that The Cenation Leader's era has ended. And Grayson's time has just begun on the blue brand with the talk show. The significant caption comes from the hook line of Cena's classic theme song, The Time Is Now.
In case you missed it: