Kurt Angle, the fifth-ever Grand Slam champion, is one of the finest superstars to have stepped into the squared circle. Angle's prior history and his performance on screen took him to the top of the company in very little time. The American Hero's huge honor speaks for itself in his comparatively smaller run. However, he regrets one particular thing that he missed out on, unlike other superstars.
While speaking on The Kurt Angle Show, Angle mentioned that he regrets not being able to sell enough merchandise like other superstars. The Hall of Famer said that he missed out on merchandising opportunities as he lacked a business mind upon his debut in WWE. He was filled with remorse as he used to observe his co-stars selling merchandise, unlike him.
The Wrestling Machine further said, "I didn't start [having merchandise ideas] until, like, my fifth year in the business." Angle wished to follow in the footsteps of John Cena and Stone Cold Steve Austin. He stated that Cena and Austin had innovative ideas for selling merchandise, which he lacked. Moreover, he said those two had amazing ideas even before they started their careers.
The Olympic gold medalist called himself an amateur wrestler with no marketing skills. He said that he could have ideas and believes Vince McMahon would've also agreed on them. Angle realized his mistakes later and felt horrible for not having had ideas in the beginning. He still regrets it to this day and believes he could have cashed in on the opportunity.
Related: "It was like self-abuse," WWE Hall of Famer reveals he almost quit professional wrestling on his first day of training
Kurt Angle regrets his storyline with Booker T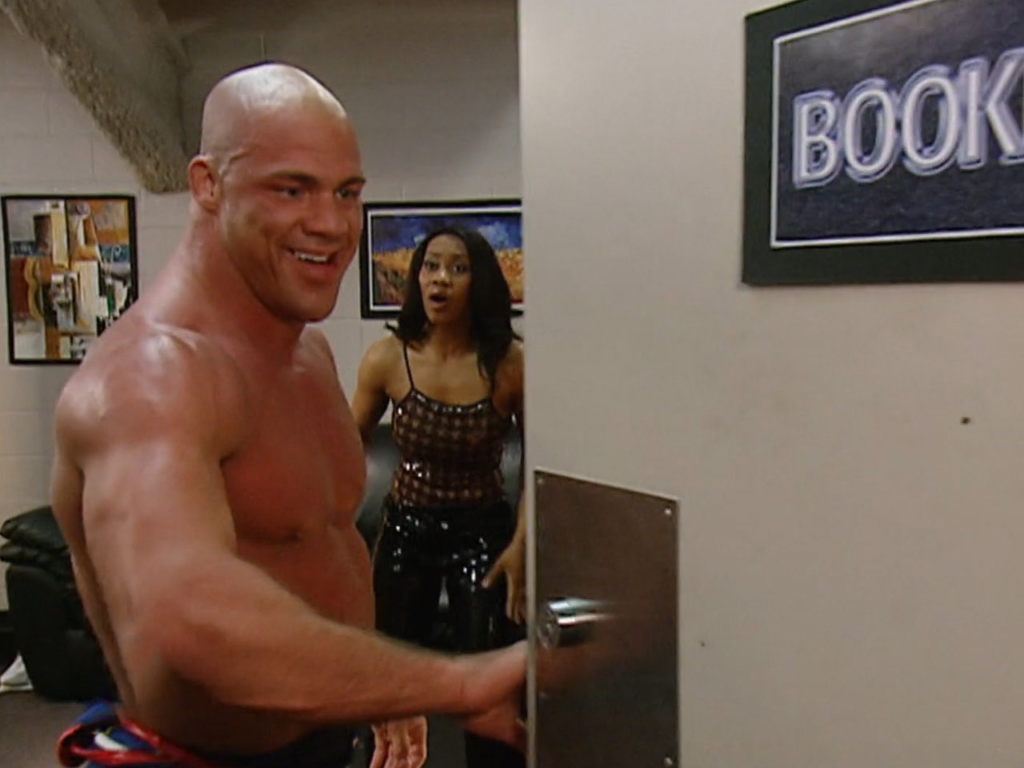 While speaking on his own show, Kurt Angle revealed one of his least-liked moments in WWE. The storyline showcased Angle getting attracted to Booker T's wife, Sharmell. The Olympic gold medalist didn't enjoy being a lurking character and expressed his discontent with the storyline.
The WWE Hall of Famer said, "I'd rather not wrestle Booker than do what I had to do with Sharmell." He believes that it was unnecessary for Sharmell to be involved in a feud that had received a fair amount of heat. This idea was from Vince Mcmahon, who wanted this storyline to be edgy.
WWE took chances on him, knowing they could rely on his versatility. Kurt Angle even believes that Vince asked him to do this as Angle had dated black women in the past. Nevertheless, this storyline made Angle want to be a pervert. Vince McMahon has always come up with bizarre storylines for the superstars.
In case you missed it: