The SmackDown Women's Champion, Rhea Ripley, has been a dominant force in the women's division. The Judgment Day's undeclared leader has taken her faction to the next level with her incredible performance. Her heel character with a strong presence intimidates everybody on the roster. But last week on Raw, Seth Rollins showed his guts when he put his arm around Ripley's neck.
Seth Rollins recreated a similar moment from Survivor Series 2006, which had Shawn Michaels and Melina. However, Rollins humorously apologized to Rhea Ripley for his act during an interview he appeared in. The Visionary also made sure to state that he did it out of fun and never had the thought of offending anyone. He specifically mentioned Dominik Mysterio and Ripley's real-life boyfriend, Buddy Matthews.
Speaking on the Battleground Podcast, Rhea Ripley revealed that she and Rollins' former protege, Matthews, had accepted the apology. But Dominik had a fire within him and couldn't accept it; instead, he wants revenge from The Visionary. The Eradicator mentioned that the incident made Mysterio unhappy, and he hasn't talked with her in the last 24 hours.
Rhea Ripley mentioned that following the incident Dominik and she had a conversation where Ripley questioned Mysterio. Ripley asked, "Why didn't you do something?" The Eradicator felt that Mysterio should have taught Rollins a lesson.
Dominik Mysterio didn't appreciate Rollins' gesture on Raw. He is looking to take revenge on the Visionary next week on Monday Night Raw. This thing could reignite their 2-year earlier feud, only this time alongside his faction and for the new World Heavyweight title.
Related: Rhea Ripley discloses the scrapped WrestleMania 39 plans with Chris Motionless
Rhea Ripley reveals the next move of Judgment Day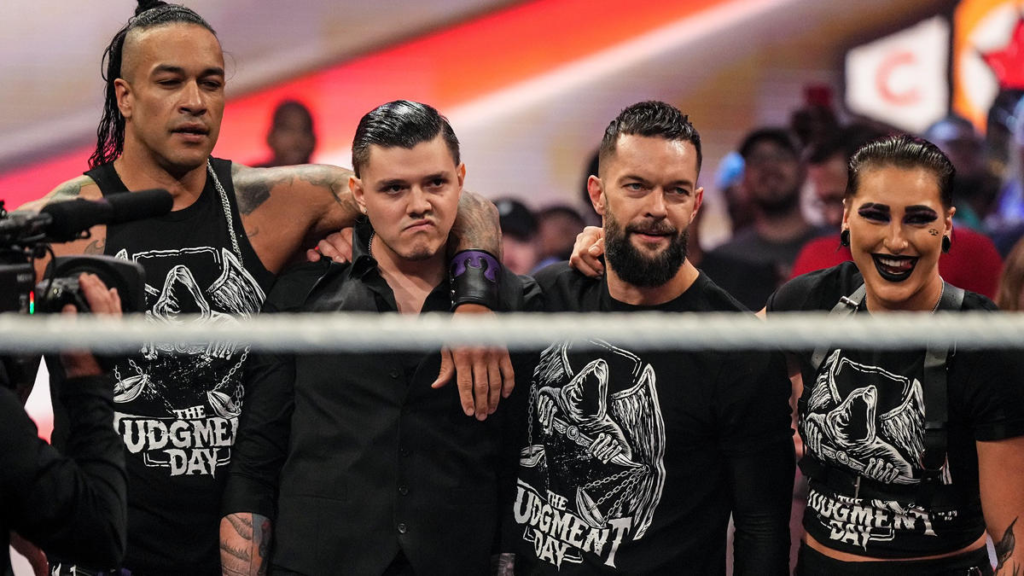 While speaking on the Battleground Podcast, Rhea Ripley spoke about the next plans for Judgment Day. The faction is looking for newer members to be a part of it. The Eradicator stated that she always looks for individuals who might prove credible as the ultimate heel.
Rhea Ripley said, "We've been looking at a few people" but didn't give away their names. She did mention other names that didn't make the cut, like AJ Styles and Liv Morgan. She didn't reveal her top picks for the faction or who could possibly be a part of it.
The Eradicator spoke about Judgment Day being more than a team but a supporting family. She said that the members got tied together as a close-knit unit, taking over WWE as a whole. Without a doubt, Judgment Day has been entertaining fans on WWE television.
In case you missed it: