Rhea Ripley continues her dominant run as the SmackDown Women's Champion. The Eradicator squashed Natalya in a match lasting just over a minute at Night of Champions. Ripley was accompanied to the ring by Judgement Day co-member Dominik Mysterio. He distracted Natalya before the match began.
The former NXT UK Champion has been having a spectacular year. Rhea Ripley began the year with a Royal Rumble victory, where she lasted for over an hour to win the match. She went on to challenge Charlotte Flair for the SmackDown Women's Championship at WrestleMania 39. The Eradicator defeated Flair after an excellent clash between the two.
Dominik Mysterio distracted The Queen of Harts before the match started. As a result, Rhea Ripley cashed in on the opportunity and attacked Natalya. The SmackDown Champion dominated the match before hitting the Riptide on Natalya for a cover. The match ended in a mere 70 seconds, leaving the fans in shock. The WWE Universe reacted to the match on social media.
The feud between the superstars came out of nowhere. Moreover, it didn't have any compelling storylines and the buildup of the match was poor. Therefore, the WWE Universe did not show much excitement for the feud between Rhea Ripley and Natalya. Besides, the two superstars only confronted each other in a handful of moments on Monday Night Raw.
Ripley is also currently a part of Judgment Day, which has been a must-watch on Raw. All members of the faction are dominating the show in their respective roles. Finn Balor has been a part of the World Heavyweight Championship tournament, where he lost in the semi-finals to Seth Rollins. On the other hand, Damian Priest had one of the best celebrity matches in the history of WWE against Bad Bunny at Backlash.
Related: Rhea Ripley hilariously reacts to LA Knight for staring at her while dining in Saudi Arabia
Fans react to Rhea Ripley squashing Natalya at Night of Champions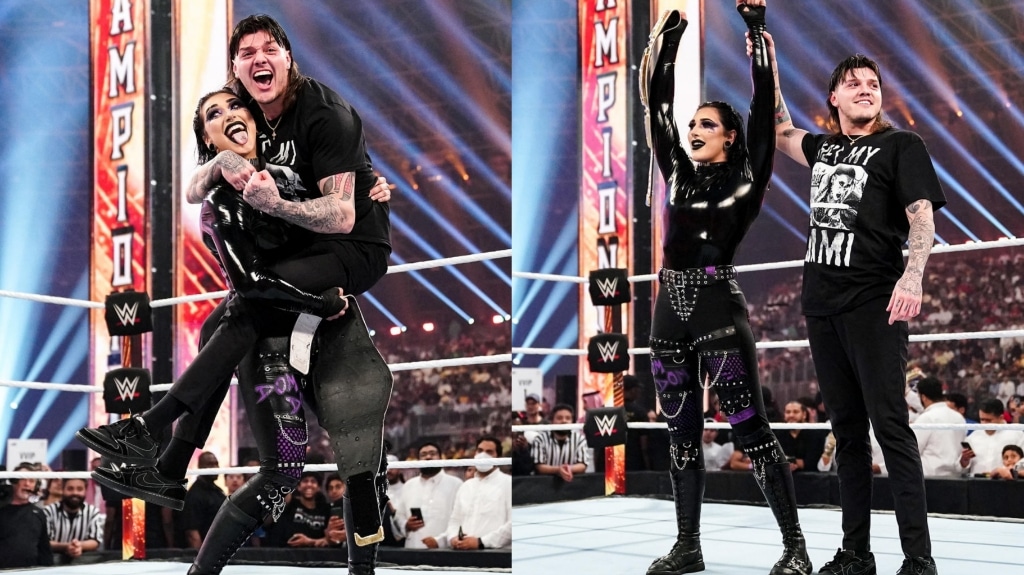 Rhea Ripley completely dominated the match, as she did even give Natalya a chance for any offense. The entire match ended in a matter of minutes as Ripley hit the Riptide to get the victory. Fans on the internet were quick to react to the match as Champion continues to dominate the women's roster.
This was Rhea Ripley's second title defense since winning the championship at WrestleMania. She defeated Zelina Vega in Puerto Rico when the two faced each other at Backlash. The Eradicator shows no signs of stopping anytime soon as she looks to enjoy a lengthy title reign.
In case you missed it: