WWE Raw live results: WWE's upcoming PPV, Survivor Series is just a couple of weeks away. The build-up to the event is expected to begin in this episode of the Red brand. We might also see the fallout from the last week's Fatal 4-Way ladder match. The WWE video kicks off the show and we see a highlight package from last week's segment between Becky Lynch and Bianca Belair. We go live into the arena.
Stay tuned for the live results from the Red brand.
WWE Raw live results: Big E def. Kevin Owens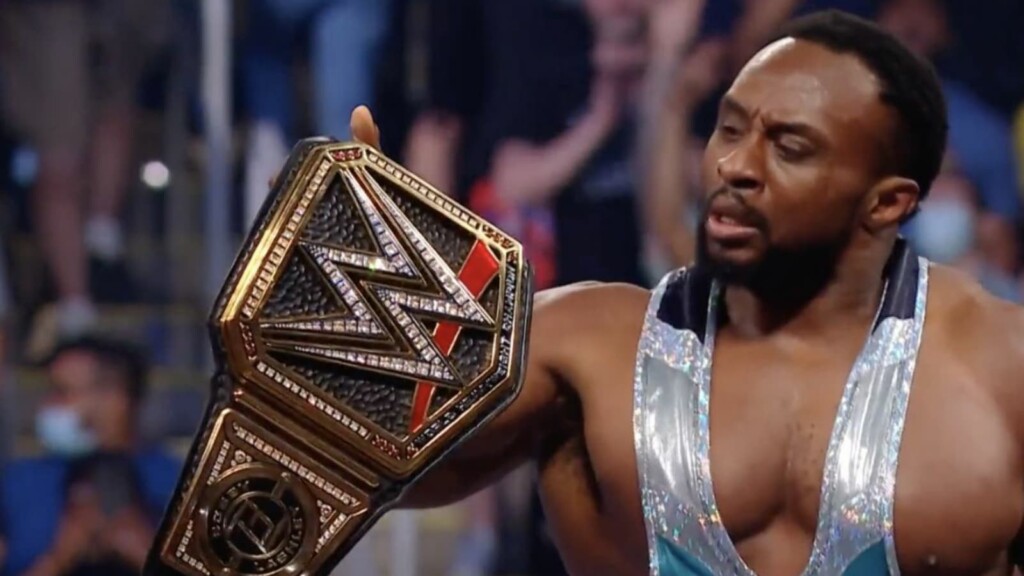 WWE Champion Big E makes his way to the ring. Kevin Owens comes in next. The bell rings and they lock up. Owens goes for the pinfall attempt. They lock up again and Big E is down. He fights back up but is elbowed down by Owens. Owens goes to the top rope and dropkicks Big E.
The WWE Champion hits back with a series of belly-to-belly suplexes. He places Owens on the apron, but falls face first into the apron. Owens hits a couple of cannonballs outside the ring, but Seth Rollins comes out to the stage.
Back in the ring, Owens superplexes Big E from the top rope. Thy exchange punches and soon start slapping each other. They try to double clothesline but both of them remain on their feet. Big E finally clotheslines Owens down, followed by a belly-to-belly. Owens superkicks his opponent followed by a senton off the top rope.
Owens knees Big E's face but the WWE Champion counters. He places Owens on the top rope but Owens pushes him off. He climbs the top rope and goes for the Senton but Big E got his knees up. Big E spears Owens outside the ring. Back in the ring, both men are down, and Rollins punches Big E. Owens is conflicted but goes for the cover, somehow Big E manages to counter it into a pinfall of his own and pick up the win.
Result: Big E wins
Big E and Kevin Owens argue in the ring. Owens says that he didn't see that Rollins punched Big E. Owens calls Rollins a son of a b****. Owens apologizes to Big E and challenges Rollins to a match next week. But Big E picks up Owens and connects a Big Ending.
WWE Raw live results: Becky Lynch's segment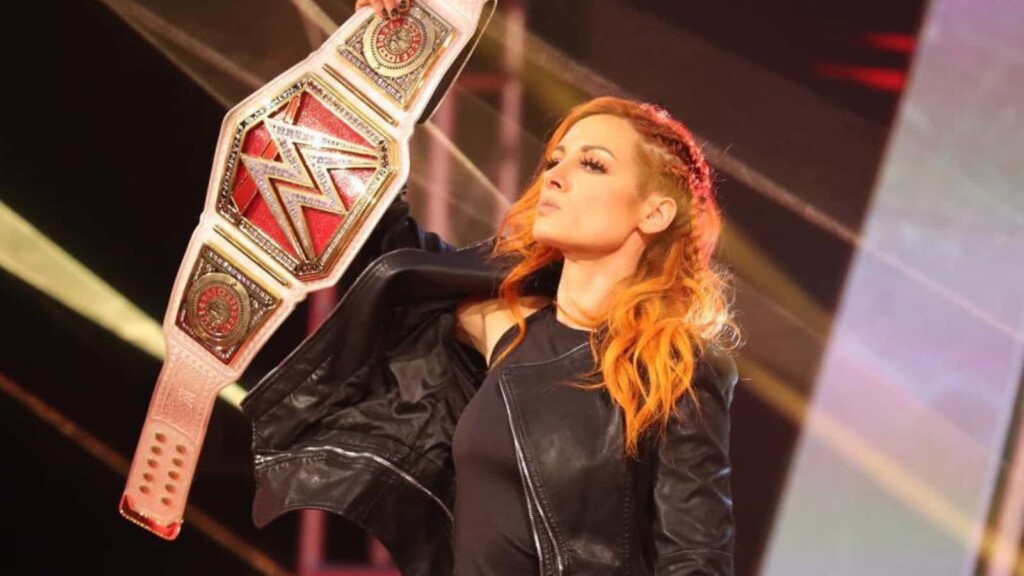 WWE Raw Women's Champion Becky Lynch comes out to the ring, to address her big win in the opening match of the night, against Bianca Belair. We see a replay from their match. Lynch says half of the audience is fickle, because they were booing her. They were cheering her earlier, but now they boo her, when she is on top. Lynch says she wants a new challenger to step up. Liv Morgan appears.
WWE Raw live results: Damian Priest def. T-Bar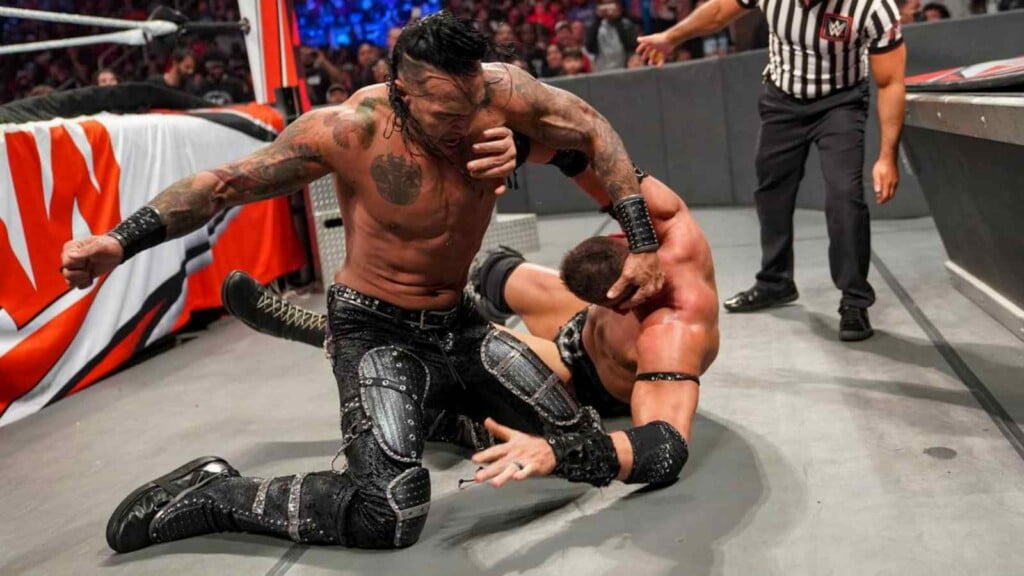 This is a No-Disqualification match. United States Champion Damian Priest makes his way to the ring. Priest starts slapping T-Bar down as soon as the match begins. They go outside the ring, and slam each other into the apron. T-Bar is sent into the barricade. Priest takes out a table and places it in the ring.
T-Bar takes Priest down with a kick to the face. He places the table outside the ring. Priest hits back and goes for a chokeslam, but T-Bar fights back. He picks Priest up and sends him face first into the ring post. They get back in the ring and Priest climbs the top rope.
T-Bar kicks him into the face and picks him into a Fireman's carry. Priest is dropped inside the ring. T-Bar goes wild and punches Priest down. The United States Champion hits back with a series of uppercuts and a Heel kick. He claps the ears and goes for the cover, but T-Bar kicks out.
A backbreaker by T-Bar. T-Bar takes out a couple of steel chairs and a kendo stick. He slams Priest's abdomen with the sticks. The stick breaks. Priest hits back with a clothesline. He grabs the steel chair and goes wild onto T-Bar. A wild chokeslam through the table.
Priest gets T-Bar back into the ring. He connects a Reckoning for the win. Apollo Crews walks out next with Commander Azeez. He says what a proper match that was. He says they are there to breathe life into Monday Night Raw. He says soon Priest will have the privilege to fight him.
Result: Damian Priest wins
WWE Raw live results: Dirty Dawgs def. Street Profits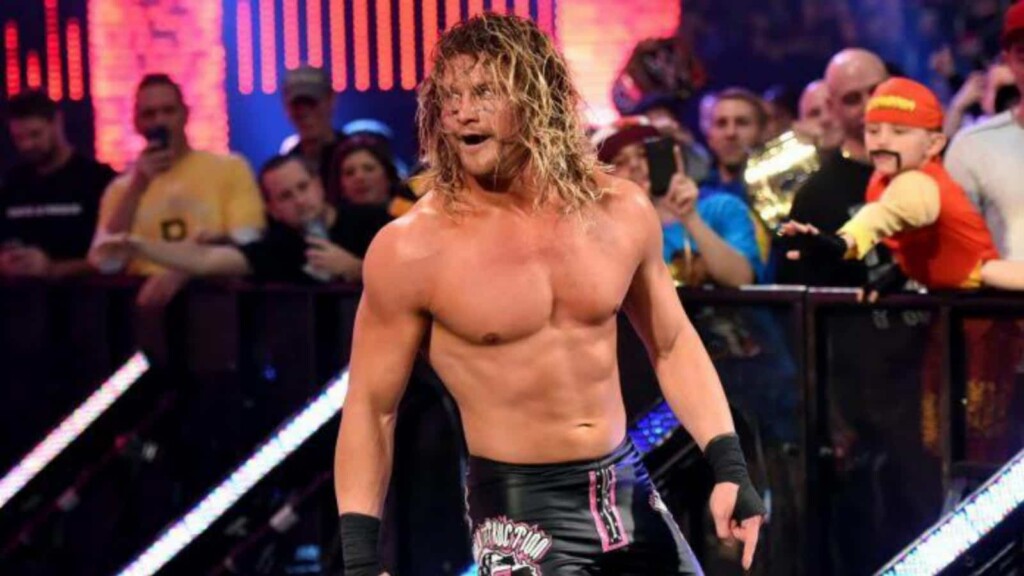 Randy Orton and Riddle has been dominating the Tag Team scene on the Red brand since Summerslam. They will be on commentary for this match. The two teams make their way to the ring. Roode starts off against Ford and locks him up. A Randy chant picks up.
Dawkins tags in and they double team on Roode. Roode fights back and tags Ziggler in. Crowd is cheering We Want Randy. Ziggler dropkicks Dawkins down. Roode goes on to copy Orton's DDT, but is quickly taken down. The Street Profits go face to face with RK-Bro.
Back in the ring, Roode gets the momentum against Dawkins. Ziggler tags in. He distracts the referee, while Roode attacks Dawkins. Ziggler goes for the Superkick, but Dawkins hits him with a Silencer. Roode tags back in and connects a suplex. Ford tags in and a high-flying crossbody slam connects.
Ford takes down both his opponents and does push ups in the ring. He goes for the cover, but Ziggler breaks it up. He is sent outside the ring. Ford and Roode exchange pinfall attempts. Ziggler tags in and connects a DDT. He goes for the cover but Dawkins breaks it up. The Dirty Dawgs send Dawkins into the ringpost.
Ford flies outside onto his opponents. Omos walks in and the referee is distracted. We cut to see Ziggler pinning Ford for the win.
Result: The Dirty Dawgs wins
After the match, Omos takes down the Street Profits and Riddle.
WWE Raw live results: Finn Balor def. Chad Gable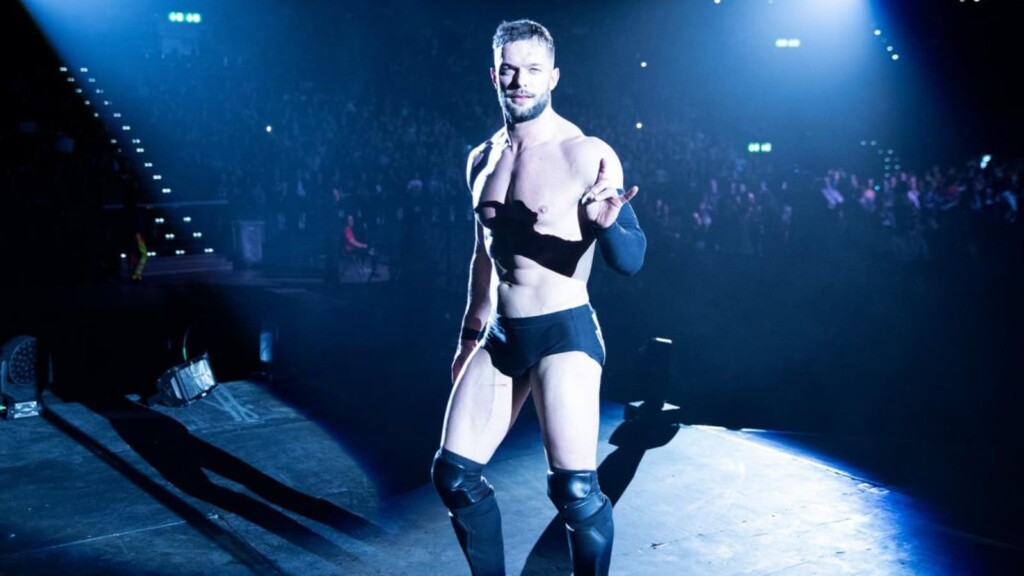 Finn Balor makes his way to the ring. Gable comes in with his Alpha Academy partner Otis. The bell rings and we are under way. They lock up and both men exchange submission holds. Gable head-butts Balor. Gable delivers a sunset flip, but Balor counters with a dropkick.
Gable aims to attack Balor's knee. But Balor applies the abdominal stretch and connects a double stomp. Gable sidesteps a dropkick from Balor. Gable applies a submission hold onto Balor's leg, but The Prince counters with a double stomp.
A couple of suplex by Gable onto Balor, but Finn manages to kick out of the pinfall attempts. Balor is limping and yet he climbs up the top rope. Gable connects a superplex, but Balor turns it into a pinfall attempt to secure the win.
Result: Finn Balor wins
WWE Raw live results: Carmella and Queen Zelina def. Nikki A.S.H and Rhea Ripley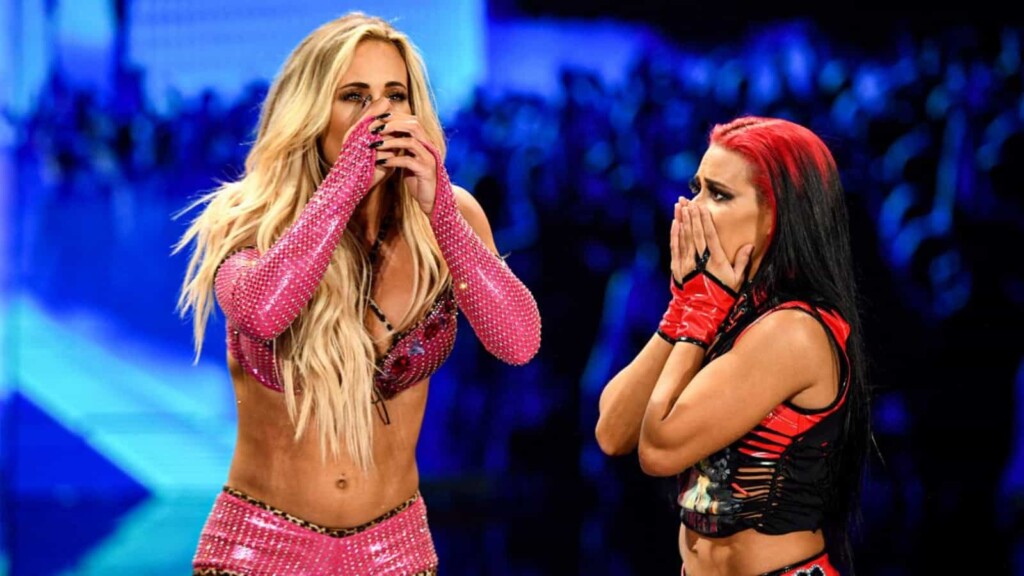 This is a Championship Contender's match. Ripley and Queen Zelina kicks off the match. Vega is immediately taken down and she tags in Carmella. Carmella slaps Ripley. Ripley head-butts Carmella and hits a dropkick to the shoulder. Nikki tags in and takes down Carmella. Zelina comes in and is taken down.
Carmella and Vega roll outside the ring. Nikki connects a crossbody onto Queen Zelina. Back in the ring, Carmella is seen dominating against Ripley. Queen Vega tags in and they double team on Ripley. Nikki tags in and goes wild. Taking down both her opponents.
Nikki goes for the cover, but Carmella comes in and breaks up the pin. Ripley attacks Carmella but she sends Ripley face first into the ringpost and into the barricade. Vega and Carmella team up and pin down Nikki.
Result: Carmella and Queen Zelina wins
WWE Raw live results: Seth Rollins's segment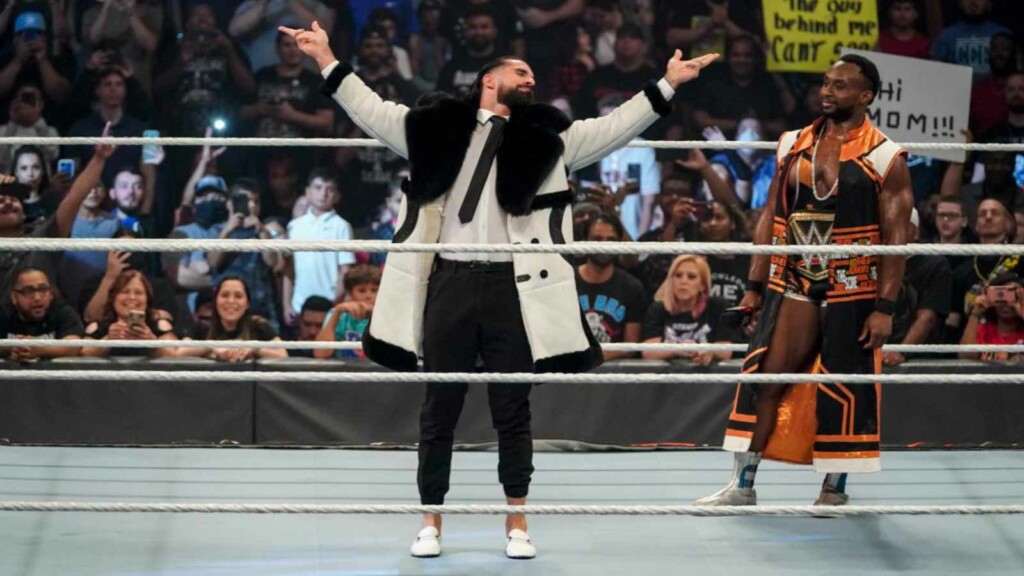 No.1 contender for the WWE Championship, Seth Rollins, reveals his plans against WWE Champion Seth Rollins. We see a highlight of the last week's ladder match. Rollins walks down to the ring with his contract. Rollins says people know him. People know that he is not going to toot his own horn. He has come out with a purpose.
But while he is out here, he is on top of the world. Rollins feels on cloud nine, after defeating 3 former top-tier Champions. The only thing now missing, is a title around his weight. He says that his contract guarantees that he is the next Champion. WWE Champion Big E comes out to the ring.
Big E says last week he came out to congratulate Rollins, but Rollins did not shake his hand. Big E was bothered but he realized Rollins is not normal guy. Rollins says he remembers Big E telling him that he has to earn the Championship, and it was Big E who did not shake his hand. Rollins lost all his respect for Big E.
Rollins says he is a fan of a good Money in the Bank cash-in. But Big E is not on his level. He says Big E can go back to being a joke – King Woods and Kofimania. E says respect the King and one of the greatest WWE moments. Big E challenges Rollins, with the title on the line, tonight!
Rollins says Big E to slow down and think about it. The crowd cheers loudly. But Rollins says that he is not 100% after his brutal bout. He will have the match on his terms – the crowd boos. Kevin Owens walks out, and says Big E is a great Champion. Whereas Rollins is a delusional man. But Lynch and Banks also call them themeselves the faces of Raw.
Owens says Rollins might've won last week, but people were talking about his performance. Things have not worked out for him lately but he will keep fighting. He asks Rollins to get the hell outside the ring. He asks for Owens vs Big E for the first time ever. WWE Champion says Owens makes a good point. Big E says it is on.
WWE Raw live results: Austin Theory def. Rey Mysterio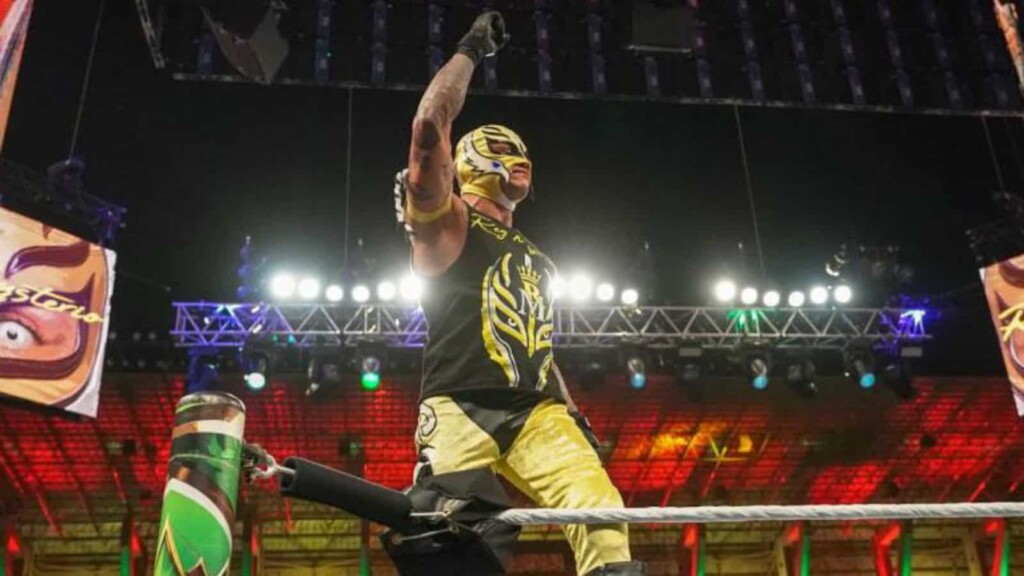 Rey Mysterio makes his way to the ring with Dominik. Theory comes in next. The bell rings and we are under way. They lock up and Mysterio is taken down. He hits back with a series of punches and connects a hurricanrana, followed by another. Theory hits back with a suplex.
Theory connects a back breaker while constantly teasing Dominik. A dropkick takes Mysterio down. Rey manages to send Theory outside the ring but Theory sends him into the barricade. With a little help from Dominik, Rey manages to take down his opponent.
Back in the ring, Theory connects a backbreaker. He places Mysterio on the top rope and tries to connect a superplex. Mysterio escapes and sends Theory face first into the turnbuckle. Mysterio sends Theory into the ring post with a hurricanrana, followed by a high-flying crossbody slam.
Another dropkick by Theory, but Mysterio connects his own dropkick. Theory attacks Dom, who is outside the ring. A 619 by Mysterio, and Theory is slapped by Dom. Mysterio goes for the cover but referee does not count and asks the bell to be rung due to Dom's actions.
Result: Austin Theory wins via disqualification
WWE Raw live results: Raw Women's Championship match: Becky Lynch retains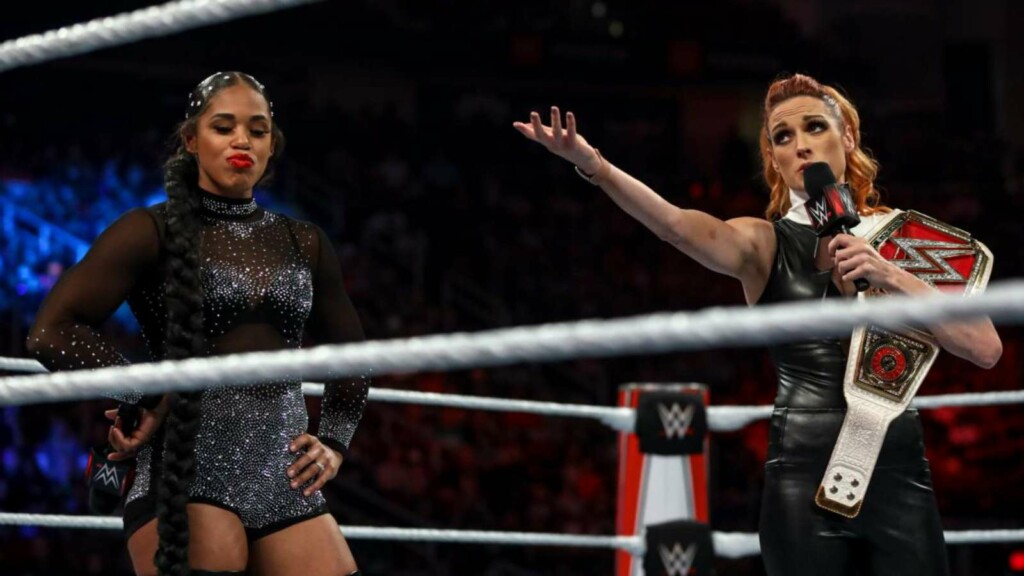 Bianca Belair comes after the Raw Women's Championship, in a match against The Man. Belair makes her way to the ring. The EST of WWE mentions in a backstage segment that she is confident of winning the title back. Lynch mentions, before making her entrance, that people do not realize how hard it is to be her. The Raw Women's Champion makes her way to the ring.
The ring announcer introduces the Champion and the Challenger. The bell rings and we are under way. Lynch pushes Belair in the corner, but is soon pushed down. The Man slaps EST of WWE. and then tries to escape. Belair picks Lynch from her waist and spins her around. Belair shoves Lynch down and goes for the cover.
Lynch goes outside the ring. Belair goes out and connects a vertical suplex at the ringside. Back in the ring both the Superstars exchange blows. Lynch connects a DDT but Belair kicks out. A Becky chant picks up. Lynch connects a Dis-Arm-Her. But Belair manages to get out of it – she goes for another vertical suplex, but Lynch manages to get out.
A series of dropkicks by Belair, followed by a couple of suplexes. But Lynch still kicks out from a pinfall attempt. The two Superstars exchange pinfall attempts. Lynch tries to go for the Dis-Arm-Her, but Belair again picks Lynch up. Both the Superstars crash outside the ring.
Back in the ring, both the Superstars exchange their signature maneuvers but neither of them is able to get the upperhand. Lynch goes to the ropes, but Belair picks her up and sends her slamming into the mat. Lynch connects a Manhandle Slam, but Belair manages to get a rope break. Belair goes outside the ring, Lynch goes to attack but Lynch sends her into the announcer's table.
Belair grabs her and goes for the cover and 1..2..Lynch kicks out. Belair sends Lynch Lynch face-first into the mat. She goes to the top rope and jumps but Lynch sidesteps. She picks Lynch for the KOD, but Lynch takes out the turnbuckle! She sends the EST of WWE into the corner face-first, and 1..2..3 LYNCH WINS!!!
Result: Becky Lynch retains
Also Read: WWE Raw Spoilers, Preview and Prediction for November 1, 2021