Floyd Mayweather and Conor McGregor went against each other for a 12 round boxing match-up back in 2017. The fight was considered one of the biggest crossovers in both the boxing and MMA world. The fight gathered humongous attention from combat sports fans from all around the world. And millions tune in to watch 'The Notorious' take on the undefeated boxing legend.
For Mayweather, it was his return from retirement and for McGregor his first-ever boxing bout. The fight took place inside the T-Mobile Arena in Paradise, Nevada. Mayweather won the fight via TKO in the first round and broke the record of Rocky Marciano for the longest active unbeaten streak in a professional career at 50–0.
with this win, Mayweather retired from professional boxing and ended his career with a clean record. However, many feel that his last win against McGregor doesn't make sense when counted as a professional fight. But, McGregor being a MMA fighter also was praised from around the world for fighting tough against onevof the best boxers.
Related: Watch: Joe Rogan brutally trolls Floyd Mayweather for his beard Transplant
"It's kinda weird" – Joe Rogan comments on Floyd Mayweather's professional record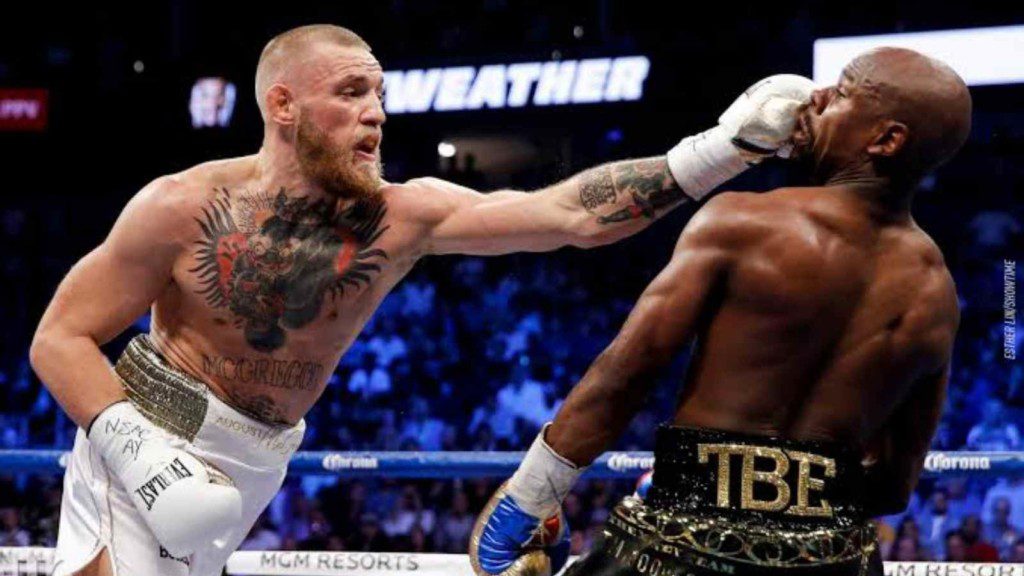 Joe Rogan was having a conversation with UFC fighters Travis Lutter and Kevin Holland. It was the #101 Joe Rogan Experience MMA show and the trio were discussing boxing.
During the conversation, Holland asked Rogan about Floyd Mayweather being the best boxer of all time. "He's not the greatest boxer of all time, right ?".
While responding to the question, Rogan made it clear that indeed Mayweather is the best of all time. Rogan explained the fact that Mayweather has been hit only four times in his long professional career. This proves that he is the greatest defensive boxer of all time. Rogan stated that Mayweather is the fighter who has everybody and has beat them. He went against Manny Pacquiao, Canelo Alvarez etc. Rogan totally discounted the fact that Mayweather has the perfect record of 50-0. According to Rogan, after everything he has done, Mayweather is 49 and Conor McGregor.
"It's arguable he is. He's been hit hard maybe four times his whole f* career. You stop and think about how many fights he's fought against elite guys. Not just great defence. Like the best defence of all time…you are talking about the guy who's fought everybody, he fought Canelo, he fought Pacquiao…at the end of the day, the f guy is 50 and 50, well 49 and Conor McGregor. That's what I say. Yeah because it's kinda weird," said Rogan.
For Rogan to comment like this makes a lot of sense as McGregor cannot be considered as an elite boxer on the same level as Mayweather. Even though McGregor has impressive boxing skills and managed to go 10 rounds with Mayweather it's hard to compare him to a professional boxer. For many fight fans, it was more like an exhibition bout for entertainment rather than a professional boxing match.
Also Read: "I'm pregnant," Joe Rogan mockingly responds to a latest UFO story