As a competitor, Floyd Mayweather has done a better job of getting the most suitable fights for the biggest paycheck in his career and continues to do so even after his retirement, that too very smartly. Mayweather is widely considered by many as the greatest boxer of all time, the claim is largely backed by his professional record of 50-0 with 27 knockout wins which include the likes of Canelo Alvarez, Oscar De La Hoya, Arturo Gatti, Shane Mosley, Conor McGregor, Miguel Cotto, Manny Pacquiao and many more.
In a special segment in one of the videos on his Youtube Channel, Daniel Cormier talks about the hottest topics of the week associated with the world of combat sports. Cormier talks about Bo Nickal's callout of Khamzat Chimaev, the potential Khamzat Chimaev vs Colby Covington matchup and Luke Rockhold's desire to un-retire. In the end, Cormier comments on Mayweather's exhibition boxing venture.
"I actually agree with Jake Paul," says Cormier. "I know this is a week passed the date, but it's time for the champ Floyd Mayweather to stop fighting like he's the man now he's fighting these Youtube guys and really saying what it is, 'I will fight guys that don't present a challenge.' You're the greatest boxer of all time, we love you…" continued Cormier. Cormier also confesses to the fact that he is not aware of who is Mayweather fighting in his next exhibition fight.
Also Read : "Don't WANT him having good time-" Chael Sonnen shows JEALOUSY for Floyd Mayweather's success in exhibition boxing venture
WATCH: Floyd Mayweather disrespecting Manny Pacquiao before his last exhibition bout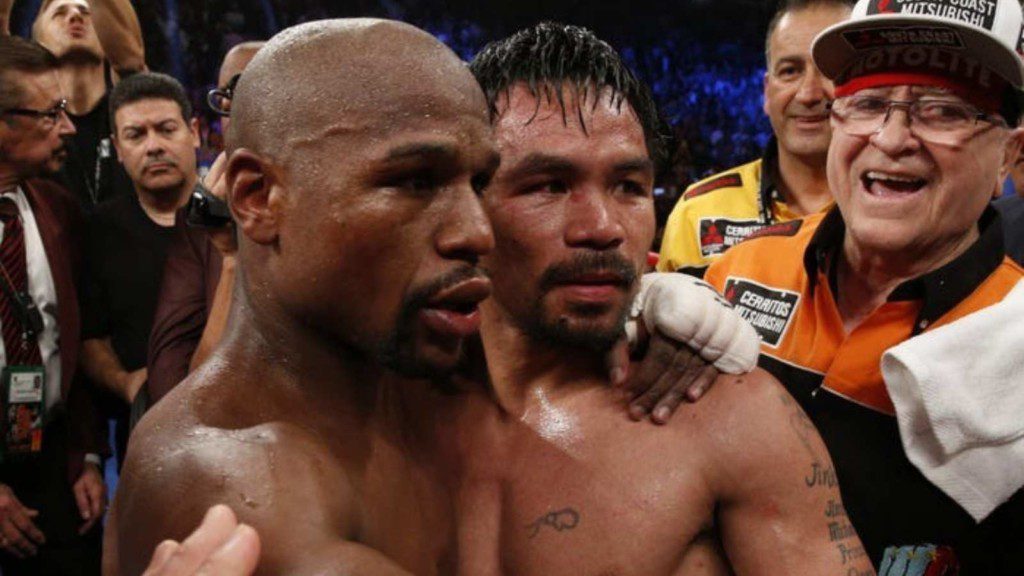 Recently, Floyd Mayweather had a spectacular exhibition boxing bout on his end against a Japanese mixed-martial artist Mikuru Asakura. Mayweather was able to finish Asakura during their fight. However, before the night of the fight was the press conference, where Mayweather's former opponent Manny Pacquiao came out to support Asakura.
So Mayweather had a little extra boost to flaunt his style of fighting and said "There's no blueprint on how to beat Floyd Mayweather, he [Pacquaio] can tell you that himself. He's a Hall of Famer, but no one has the blueprint on how to beat Floyd Mayweather. Don't let them trick you into getting your ass whooped again."
Also Read : "Please don't come back-" Daniel Cormier attempts to put a leash on Luke Rockhold's sudden urge to un-retire
In return, Pacquiao said "He's older than me, I'm still young so… what I have done and accomplished in boxing is one of a kind. To win [world titles in] eight different weight divisions is not easy, I'm not trying to boast about what I've accomplished in life; I'm just saying this in case you forget that. The best fighter in the world has humility."
What do you make of Cormier's words on Mayweather's exhibition boxing stint? Are you as much done with Mayweather's exhibition boxing career as Cormier? Where do you put Mayweather amongst the greatest boxers of all time? What do you make of Mayweather's interaction with his former opponent Pacquiao before his last exhibition bout against Mikuru Asakura?
Also Read: "That's my idol" – Deontay Wilder showed his love and appreciation towards Muhammad Ali