Jake Paul is determined to make it big in the boxing world. If not as a fighter, Paul is fully invested as a promoter and manager of legendary boxer Amanda Serrano. The YouTube sensation has offered Eddie Hearn and his fighter, Katie Taylor a deal to which the Matchroom Promoter has given a response.
Katie Taylor vs Amanda Serrano is considered the greatest women's boxing match of all time. The two amazing boxers took the center stage at the beginning of 2022 and etched their names in the history books by putting on stellar performances. Taylor vs Serrano was the first-ever female boxing match to headline a card at the historic Madison Square Garden in New York. Following the amazing success, Jake and Eddie are both interested to book the rematch.
Jake has done nothing but the best for the Serrano and has once again come out to defend his fighter. Jake recently called out Eddie and Katie to book the rematch for a 126-130 pound boxing match. "Amanda Serrano is the greatest P4P female fighter of all time. @Serranosisters fought @ 140 pounds once in her career (138 pounds) & then four months later fought @ 115 pounds. P4P GOAT. Offer stands, $2M for Katie (2x what Eddie offered Amanda for the rematch). 126 or 130 lbs," wrote Jake in his recent tweet.
Related "Come down to 126"- Jake Paul calls upon Katie Taylor to offer Amanda Serrano a fight at her weight class
Eddie Hearn responds to Jake Paul's challenge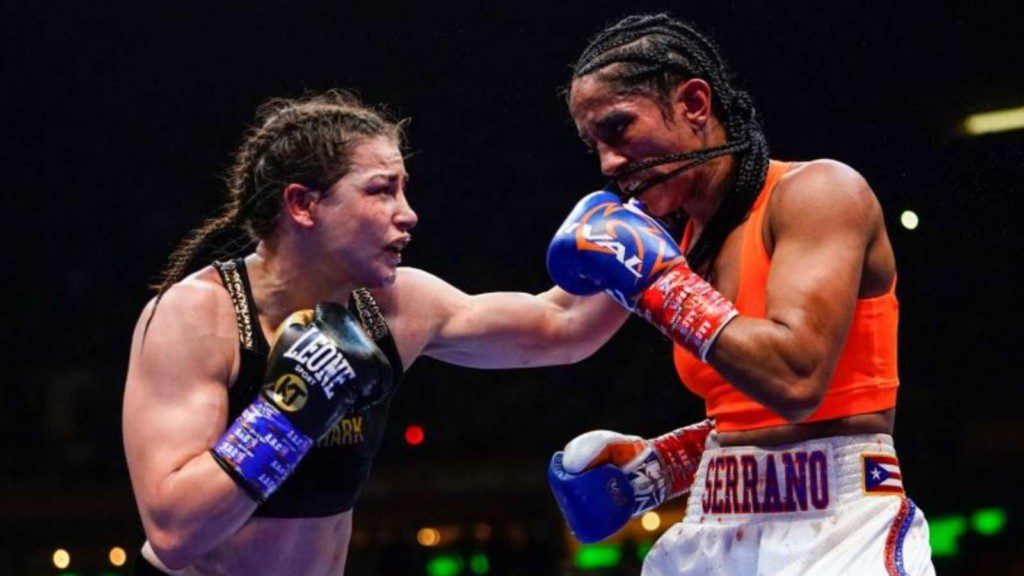 Jake in an interview said that he was ready to offer the Irish women's boxer $2 million if she was willing to come down to 126 pounds and fight his boxer, Amanda Serrano. "She [Amanda] came up to fight you, come down to 126 lbs, see if you're really the pound-for-pound best," said Jake in his DAZN interview. The fight between Amanda and Katie took place at 134 pounds. Katie is the undisputed world champion in the lightweight division.
After Jake's offer, Eddie responded by basically shutting down Jake's requests. "135 lbs is the lowest she'll go," said Eddie responding to Paul asking Taylor to drop down to 126 pounds. Though Eddie and Jake have gone back and forth with their banter throughout their meeting, the historic Katie Taylor – Amanda Serrano fight would have never come into existence without the two promoters' efforts.
Eddie has appreciated Jake for using his platform to promote a fighter like Serrano and give her the biggest pay-day of her life. Jake is planning to make the rematch even bigger than the first fight.
Also Read 'Numbers don't lie'- Jake Paul disputes the results of the Katie Taylor vs Amanda Serrano scrap
Also Read "They don't want a rematch"- Eddie Hearn rules out the possibility of Amanda Serrano vs Katie Taylor
Do follow us on Google News | Facebook | Instagram | Twitter