Popular podcaster Joe Rogan alongside UFC Welterweight Champion Jorge Masvidal had their opinions about one of the best boxers of all time Floyd 'Money' Mayweather. They look back on his 'pretty boy' days, the Manny Pacquiao fight, and, his money-making.
Joe Rogan and Jorge Masvidal reminisce on the Floyd Mayweather fights and how 'good' he was in his heyday. They referred to the 'pretty boy Floyd' days when he beat masters in the sport like Miguel Cotto and Diego Corrales. Jorge recalled the fight saying, "When he [Floyd Mayweather] fought Diego 'Chico' Corrales which is one of my favorite fights. There was nothing Diego could hit." Jorge also said, "That's the Mayweather that I think nobody could possibly beat."
Joe then talks about how 'unfortunate' it is that the fans won't get a prime Mayweather fighting prime Manny Pacquiao and how their fight went with Pacquiao's shoulder injury. To which, Masvidal says "I just wish the Mayweather-Pacquiao fight would have taken place many years before." To that, Joe agreed and said "Well, it also took place when Manny went into the fight with a f***ed up shoulder"
Rogan also touches on how 'smart' Floyd is by saying "He[Floyd] has these MMA guys lined up. He goes over and fights these exhibitions, it's amazing." Jorge also talks about Floyd's disciplined lifestyle, he said "I heard he lives a very disciplined life, doesn't drink, doesn't smoke. He'll wake up and train and it hasn't left his system."
Related: Not a fluke! Jorge Masvidal stuns Joe Rogan by revealing how he predicted iconic fastest KO in UFC history
Joe Rogan thinks Floyd Mayweather is the 'best-ever' boxer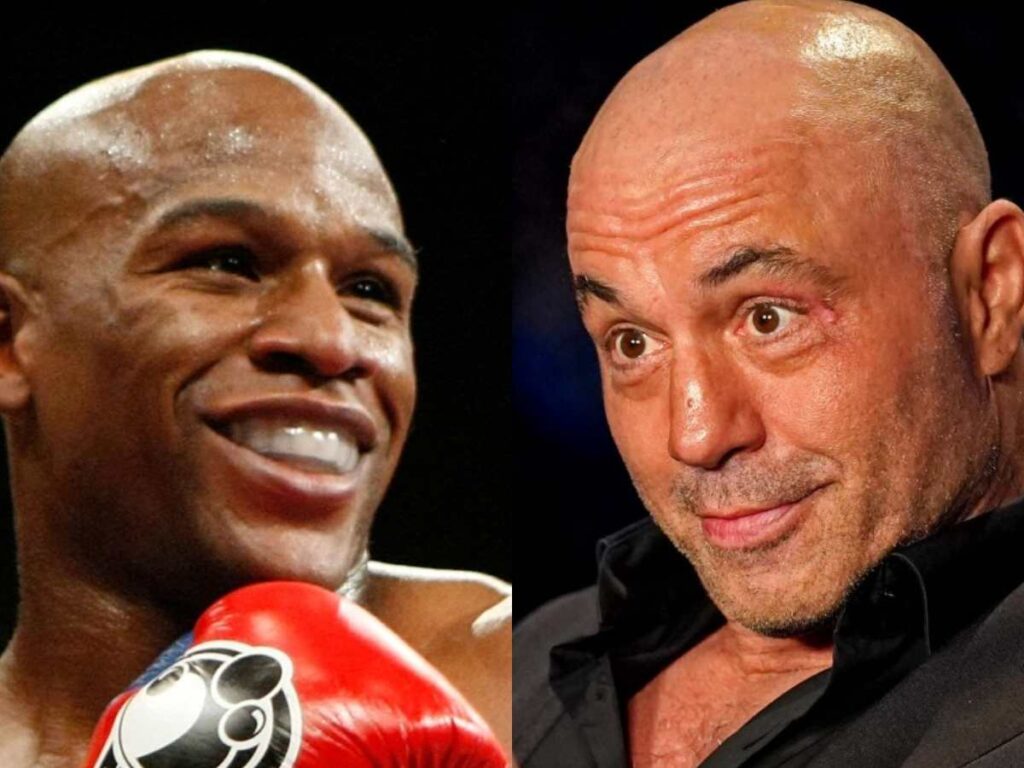 In an episode of the JRE MMA Show #79 with Vinny Shoreman and Liam Harrison, Joe Rogan talks about how good Floyd Mayweather is as a boxer. He recalls his swift movements, and his elusiveness in the ring and discusses how 'pretty boy Floyd' and 'Money Mayweather' are two different fighters.
Joe Rogan goes on to say "Because the fact that he's won decisions, playing it safe, people don't get excited about him and recognize him with the all-time greats but he's the best ever." When Shoreman brought up the Canelo Alvarez fight against Floyd about how he 'schooled' him in the ring to which Joe says "He [Floyd]changed Canelo's style. If you look at the way Canelo fought against Daniel Jacobs, so much head movement and so elusive now".
Joe Rogan has always been a fan and has reminisced over Floyd Mayweather and his fighting style. In the JRE Clips Channel, one can notice an impressive amount of Floyd Mayweather videos clipped from his podcast episodes.
Incase you missed it:
WATCH: Merab Dvalishvili channels inner rock-climber to attack fan accusing him of ducking Aljamain Sterling
'Got my hair done,' Donald Cerrone jokes on impossible return from retirement after admitting to steroid use