If you have followed the career of legendary boxer Mike Tyson, you know his success not only comes from his knockout power but also from his elite boxing IQ. The legendary heavyweight's brutal knockouts have often shadowed his defensive skills and his swift movements which have aided in one of the most impressive boxing careers of all time. A video on the internet shows the legendary boxer showcasing his amazing technique to a two-division champion from the UFC.
One of Mike Tyson's stunning moves in boxing was the famous "Peekaboo" style that was passed on to the heavyweight by his boxing guru Cus D'Amato. If you go back and watch Tyson's training clips or his fights, the "Peekaboo" movement was a very important part of his fighting style. Post-retirement, Tyson has not had the urge to pick up his boxing gloves but very rarely you can catch him coaching friends from his fighting circle about his amazing techniques.
Tyson is now friends with a lot of the UFC personalities and has been associated with MMA promotion for quite some time now. He even had a former two-division champion, Henry Cejudo, co-host his podcast, Hotboxin' with Mike Tyson. Cejudo is a former flyweight and bantamweight champion in the UFC and has announced to come back from his retirement. Cejudo is taking all the advice he can from "Uncle Mike" before he makes a return to the UFC octagon.
Related Joe Rogan geeks out about Mike Tyson's "most DESTRUCTIVE best" fight in his prime
Mike Tyson shows off his signature move to Henry Cejudo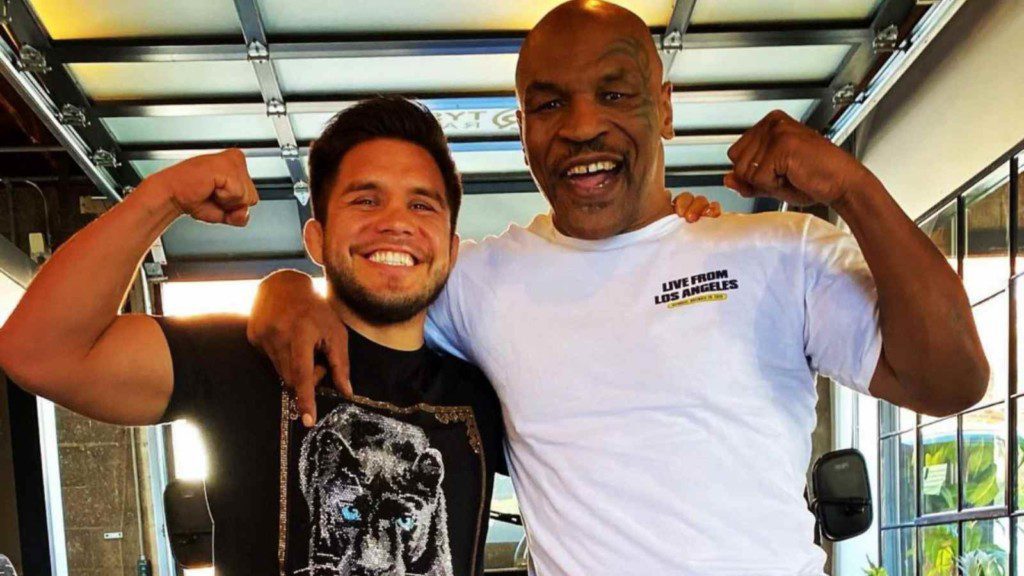 In a video uploaded by the YouTube channel, Boxing Central, you can see a 55-year-old Tyson showing off his technique. The boxer has a training session with 'Triple C' and coaches him on some boxing techniques. Though Cejudo is not a bad striker necessarily, a wrestler like him could surely use a special one-on-one coaching from the great Tyson.
Also read Henry Cejudo reveals Mike Tyson struck his in-flight aggressor with '30 combinations' before he was filmed
The legendary boxer with the help of another coach shows Cejudo how to execute the peekaboo technique. In this technique, Tyson likes to maintain his distance after landing a punch and use his short stature to dodge the strikes thrown his way by his opponents. Cejudo is completely fanboying over the legendary Tyson's words of advice as he watches him move swiftly despite his age.
Tyson has recently developed a very good rapport with several UFC champions. He has had fighters like Khabib Nurmagomedov, Francis Ngannou, and others on his podcast from the UFC world. Tyson is good friends with Dana White, the UFC president. If you had an opportunity to get coached by Tyson, what would you want to learn first?
Also read "I'll squash this deal" – Dana White puts friendship with Mike Tyson over business deal with Hulu