Tommy Fury was scheduled to fight Paul Bamba in the co-main event of the Floyd Mayweather vs. Deji boxing card at Coca-Cola Arena in Dubai. However, Fury missed weight by six pounds beyond the limit of 175 pounds. Consequently, Bamba chose to step out of the fight. The promoter Global Titans found a replacement for Fury, a cruiserweight fighter Rolly Lambert agreed to fight Fury in an exhibition fight.
The fight was lackluster and boring as neither of the opponents took the fight seriously. After the fight, John Fury tore off his shirt and went up to Jake Paul, who was ringside and commentating on the action.
Tommy quickly joined him, and they both demanded Jake enter the ring with them or leave it. "You're a miserable old man. Come fight me right now then," Paul shouted at John Fury who replied: "Forget my son, I'm the king of the bare-knuckle man." John was then joined by his son who said, "There's a certain b* from ringside that I want in the ring now. Tell him to get in here because he would never have the b*** to get in here and fight a man of this calibre on a few hours notice."
The argument was eventually resolved, but rumors of a clash between Tommy and Paul persist. Tommy and Jake had two fights scheduled before, but on both occasions, Fury was forced to withdraw due to injuries—first from a fractured rib in December of last year and then again three months later due to being prohibited from traveling to America for a press conference.
Read More: "Ain't getting beat for a long time"- John Fury hints a possible return for Tyson Fury as he showcases his shadowboxing skills in France
John Fury reflected on his altercation with Jake Paul amid the latter's dispute with Tommy Fury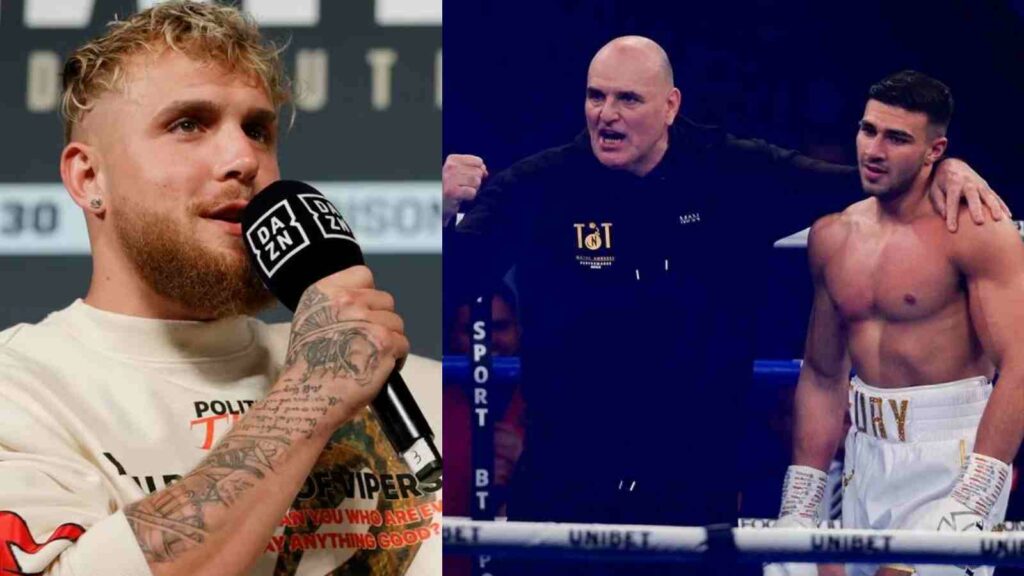 After the event, John Fury spoke about the altercation in a post-event press conference. John said that despite his old age he can go down with anyone. He explained how he might not be as good as his son Tyson but he exercises daily and holds the capability to fight anyone.
John said, "I am not the best in the world, I have had hundreds and hundreds of fights outside of the ring in car parks…I train every day, I don't look like I do because I am a fat man genetically …so I know what I am capable of… I know I am capable of tearing limbs of people like that"
Also Read: "Capable of being a 3-time champion"- John Fury believes Anthony Joshua possesses the ingredients to make a comeback once again
The real fight at the event was overshadowed by this entire situation. In the foreseeable future, Jake Paul and Tommy Fury are certain to clash. With a six-match winning streak that included victories over Tyron Woodley and Anderson Silva, Jake Paul has already achieved tremendous success in the boxing world. Tommy, though, boasts an 8-0 record inside the ring. When they do enter the ring together, this clash between the two could be amazing.
Also Read: "You're going viral, baby!" Logan Paul films Roman Reigns as he dominates the ring at Crown Jewel