Tyson Fury is still the baddest man on the planet in boxing! The Gypsy king returned from retirement with a spectacular performance against Derek Chisora on December 3rd. The Gypsy King wasted no time to shoot his next call out toward Oleksandr Usyk, who was sitting in the stadium for this boxing match.
Tyson Fury vs Derek Chisora was one of the least competitive boxing matches in recent times. The fight was completely leaning towards Fury as he beat down his former rival as though he was training on the heavy bags. After 10 rounds of proper beating, the referee decided to call a mercy stoppage to award the Gypsy King a victory on his return.
The 60,000 people in the crowd inside the Tottenham Hotspur Stadium in London also got to witness Fury take his time on the microphone and call Deontay Wilder, Joe Joyce, and Oleksandr Usyk. The Ukrainian boxer was in the crowd for this fight and was unfazed by both the performance and also the British boxer's insults toward him after the fight. Fury asked for Oleksandr Usyk to step into the ring and called him out to be the next opponent.
"Usyk! You're next you little b**ch! You're next. You are next! Me and you shall connect. Me and you! You're getting it, little sucker. Rabbit. Horsey. Look here: 15-stone little midget beats a bodybuilder. Well, I ain't a bodybuilder, sucka. I'm gonna write you off. I already got one Ukrainian in Klitschko and I'll do you as well," Fury went off to Usyk's face as the Ukrainian menacingly stared back into Fury's eyes unbothered by the insults flying towards him.
Read more: "Never Say Never" Tyson Fury discusses a hypothetical matchup with WWE Undisputed Champion Roman Reigns
Fans react to Oleksandr Usyk being unbothered by Tyson Fury's raging call out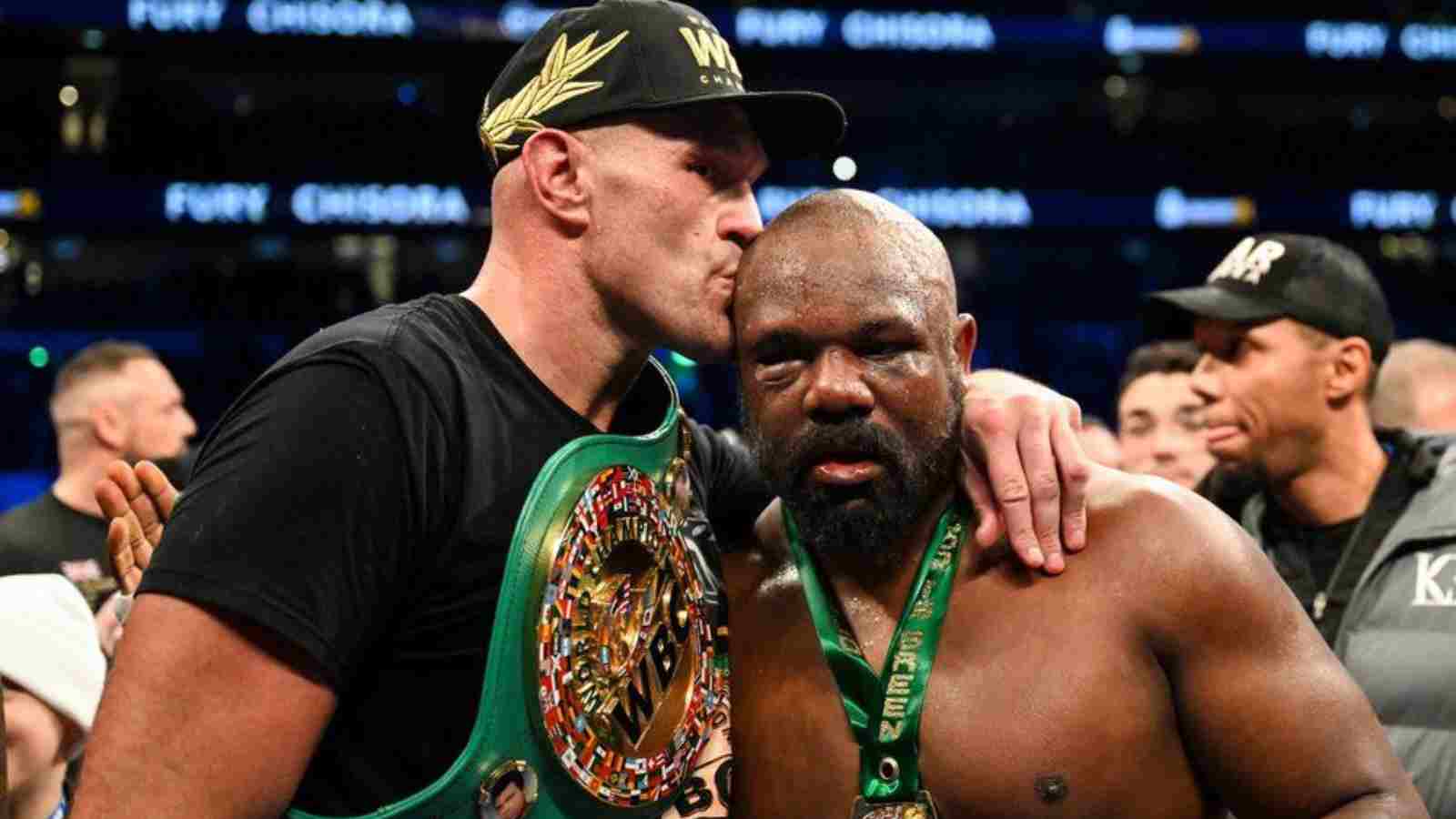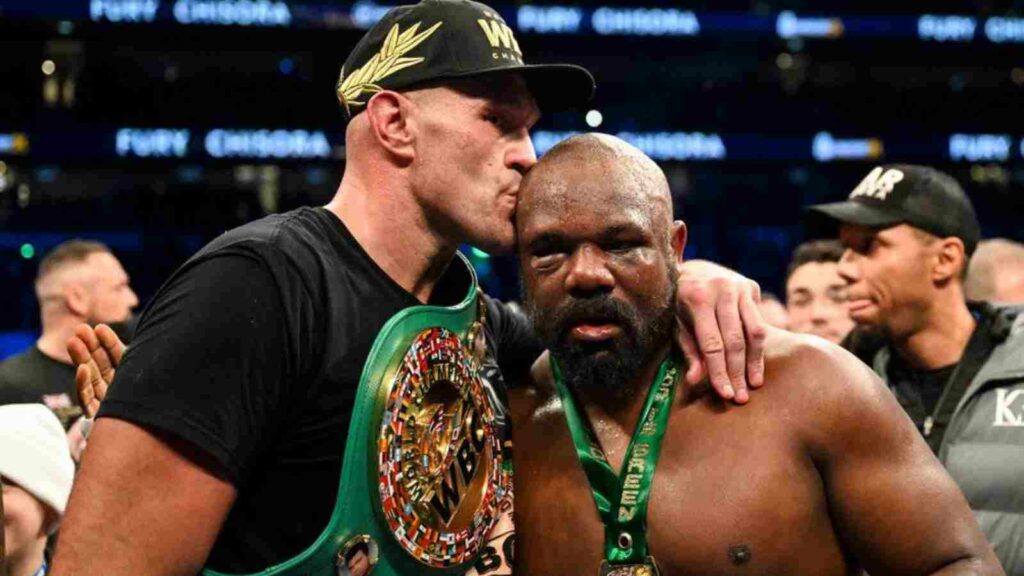 By beating Derek Chisora, Tyson Fury retained his WBC heavyweight belt. The Gypsy King seems to want the WBA, IBF, WBO, and IBO heavyweight titles from Oleksandr Usyk. The Ukrainian fighter who is returning from war is ready to box again and was happier than raged about Fury spitting insults to his face. If the two do end up fighting, Fury has done the promoters a favor by already cutting a fantastic promo.
Usyk is too cold. Tyson doesn't have that.

— Will (@will_oufc) December 3, 2022
Ice in the veins of Usyk.

— Ryan McKean (@ryanmckean) December 3, 2022
Tyson Fury – " U little rabbit, ugly f**ker, 15 stone midget"

Usyk – pic.twitter.com/w8Kn40fci1

— Sufyaan (@MSSajid_) December 3, 2022
Lawd!!! I was wrong! Usyk looking at Tyson Fury LIKE FOOD pic.twitter.com/zVl1k0CL5c

— 2ToneDaSupastar (@2ToneDaSupastar) December 4, 2022
Also read: "He's had enough" – Frank Warren confirms Tyson Fury has called off super fight against Anthony Joshua
Ugly? Fury needs his eyes checked. Usyk is the best looking bloke in boxing.

— Mary Harris (@maryharristw) December 3, 2022
Fury is an embarrassment. Usyk showed to be the bigger man just by not stooping to his level.

— Goshinby (@Goshinby) December 3, 2022
All noise, Fury will duck the fight like he always does

— Jack 🦍 (@JackGriff92) December 3, 2022
Love Usyk just staring into his soul. Cracking fight that will be

— Adam H (@adamlhk9) December 3, 2022
Death stare

— Heavyweight Thanos (@MMAThanos) December 3, 2022
Tyson Fury's last two wins have come against Derek Chisora and Dillian Whyte. Despite the two spectacular performances, fans are growing impatient as they wait to see the Gypsy king fight another superstar in boxing. Oleksandr Usyk vs Tyson Fury is the fight that seems to be a fan-favorite currently and there is no doubt it would be box office if it materializes.
Also read: "Get the F**k out of that door," Tyson Fury doubles down on dropping F-bombs to upset offended journalists ahead of Derek Chisora fight