Tyson Fury is one of the best heavyweights in the modern boxing era. Standing 6 feet 9 inches, Fury has dominated opponents with his size and technical ability. Outside his boxing career, Fury is known for his charitable endeavors. However, few know his alleged connection to Irish crime boss Daniel Kinahan.

Tyson Fury developed severe cocaine and alcohol addiction and went into a state of depression after defeating Wladimir Klitschko. He managed to overcome his addiction and depression. However, he was denied entry into the US due to his alleged connections to the Kinahan Crime family.
Related : Floyd Mayweather kids: How many children does the undefeated boxer have?
Who is Daniel Kinahan and his connection with Tyson Fury?
Daniel Kinahan founded the management and promotion company MTK Global. Kinahan has promoted fights generating millions of dollars and was an advisor to many British boxers. He advised professional boxers like Carl Frampton, Liam Smith, Michael Conlan, and Tyson Fury. However, Daniel Kinahan also has another side to his story.
The High Court of Ireland recognized Kinahan as a threat due to his involvement with organized crime. He has a major controlling interest and managed the Kinahan Cartel. The Cartel is infamous for smuggling drugs and firearms into England and Europe. The Kinahan Cartel also facilitated criminal operations in Europe, the Middle East, Asia, and South America.
Daniel Kinahan's MTK Global represented Tyson Fury briefly in the past. After promoting Fury's bouts, the crime boss made around $2 million in consulting fees. Daniel Kinahan also helped arrange a fight between Anthony Joshua and Tyson Fury for the undisputed heavyweight title. "The Gypsy King" expressed his gratitude towards Kinahan through a social media post even after the fight failed to materialize.
Why is Tyson Fury banned from entering the U.S.A?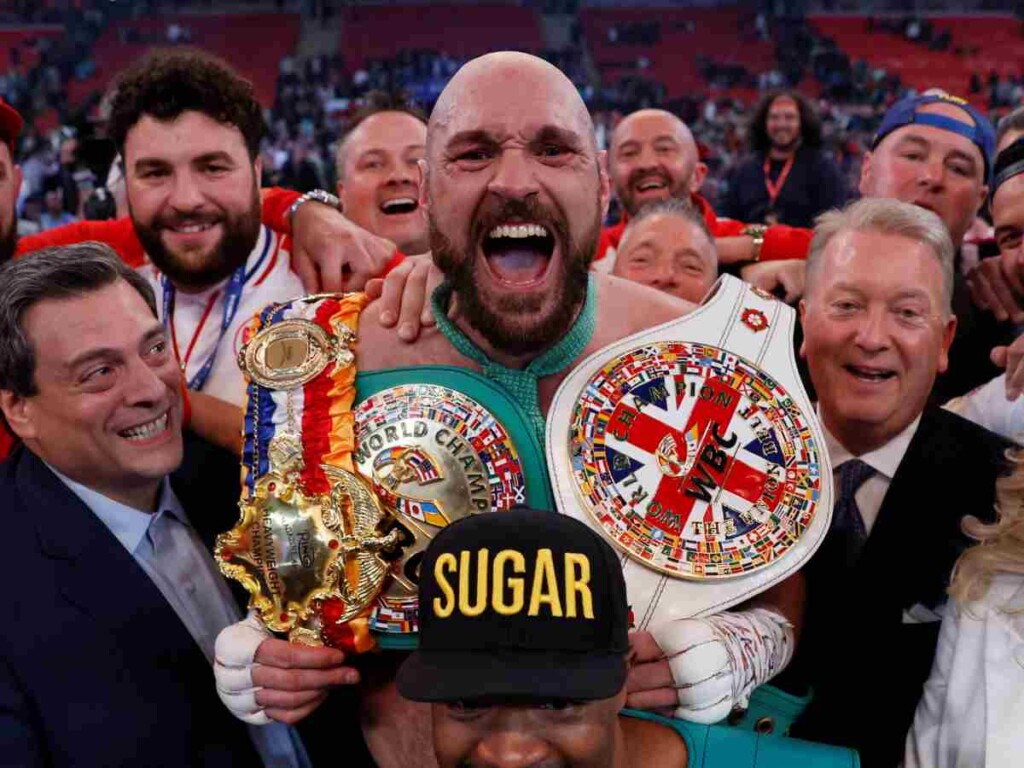 In November 2022, The United States Treasury imposed sanctions on the Kinahan Cartel. US Officials had announced a $ 15 million reward for any information on Daniel Kinahan and his family. Kinahan's MTK Global ceased all their operations after the US Government placed sanctions and bounties. This led boxing promoter Bob Arum to cut ties with Daniel Kinahan and MTK Global.
Tyson Fury and other boxers started seeking legal counsel for their past relationship with the kingpin. While Tyson Fury has made no comments on the matter, his brother Tommy Fury stated they were denied entry into the US. According to Tommy Fury, the Fury brothers were prohibited from setting foot on US soil due to their involvement with Daniel Kinahan.
Fury, his brother, and other boxers seek to resolve the issue. However, no one knows how long it would take them to reverse the ban imposed by the US Government. Meanwhile, Daniel Kinahan remains on the run from U.S. officials with a $5 million bounty on his head.
In case you missed it: