F1 driver Carlos Sainz went full-on fanboy mode on the GOAT Tiger Woods, as he boldly stated that he'll be most nervous in presence of the 15-time Major Champion. He admitted that he has met many legends in the sports field, including Michael Schumacher and Rafael Nadal, but no one makes his knee weak than Woods.
The Ferrari driver noted how desperate and nervous he would be in presence of the golf legend. Sainz states how Woods was able to change the whole look of the sport of golf even after going through challenges both on and off the green field.
Sainz believes that Woods is not only a legend for golf but sports in general. He also noted that all of Woods' wins or losses have always affected him, as he took notes on the way of his living. Sainz himself is a golf lover. He has often played with the club with fellow F1 drivers Lando Norris and Charles Leclerc.
Also Read| "I thought it was impossible," Roger Federer reveals that he thought dominating like Tiger Woods and Michael Schumacher was impossible
Carlos Sainz in awe of golf legend Tiger Woods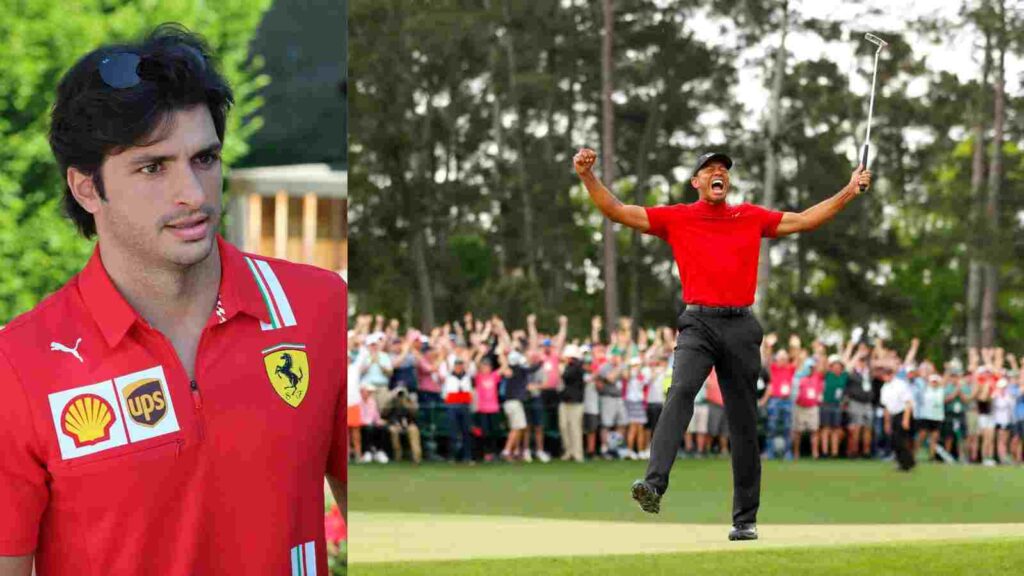 During his career, Tiger Woods has made remarkable achievements, while adding numerous trophies to his self. His challenges whether be it private or professional have always been broadcasted and discussed by golf lovers all over the world.
The most notable ones were his 2021 accident and his divorce which affected the golfer mentally. Carlos Sainz is in awe at how he still carried on with his life and despite his challenges, his fans have always got his back. Even with the recent foot injury, Woods fans have been relentlessly supporting him.
Some even wanted the golfer to rest or retire till his full recovery. Sainz stated, "It is the aura he has around him, the charisma". Even Woods was shaken up after his well-documented divorce and the criticisms that followed, but the way he picked himself up was applauded by Carlos Sainz.
Sainz further asked, "Tell me an athlete that has this aura. No one". He sees Woods as an interesting character and has been following his stories as a case study. Hopefully, Sainz meets his idol and we get to see further expressions from the 28-year-old F1 driver.
Also Read| "Coolest thing he'd ever seen in golf," John Daly once freaked out Tiger Woods
Also Read| "His hands are bigger than mine", Tiger Woods believes his son Charlie Woods can beat him on the course soon
Do follow us on: Facebook | Instagram | Twitter