India's medium pacer Deepak Chahar 'Mankaded' Zimbabwe opener Innocent Kaia who was standing at the non-striker's end and India would have gotten it's first wicket without even bowling. But Chahar didn't make the appeal and the umpire called it a dead ball.
This happened in the very first over when Chahar was starting to deliver the first ball but before doing it, he removed the bails after seeing Kaia out his crease. Chahar though showed magnanimity and didn't make an appeal for Kaia's wicket. He meant it was a warning for the Zimbabwean opener.
Watch Deepak Chahar Mankads Kaia but refuses to appeal for wicket:
'Mankading' is used when a bowler runs out a batter who is at the non-striker's end but is outside the crease. But this dismissal has been allowed in the cricketing rule book though many have refused to claim it as legal dismissal and that it's against the 'spirit of the game'.
ALSO READ | WATCH: "Rabba ne tujhko banane mein…"- Irfan Pathan dedicates romantic song 'Kesariya' from film 'Brahmastra' for his wife
India whitewashed Zimbabwe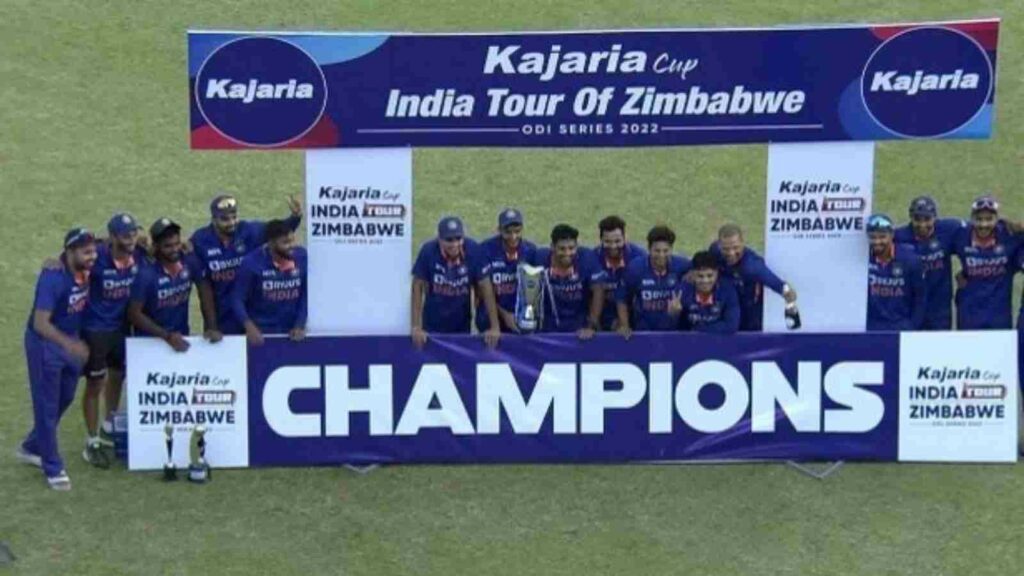 Meanwhile, in the match, India had won the toss and opted to bat first. With the help of Shubman Gill's knock of 130 runs, India were able to score a challenging total of 289/8 in their alloted 50 overs.
Zimbabwe responded by a special knock from Sikandar Raza. Raza's 115-run knock nearly snatched India their clean-sweep of the host but Shardul Thakur's delivery finally ended Raza's knock in the 49th over which helped India win the third ODI by 13 runs. Shubman Gill was adjudged the Player of the Series. Now, India will clash against its arch-rivals Pakistan on August 28 in Asia Cup 2022.
ALSO READ | WATCH: Fan holds up poster asking for Shikhar Dhawan's shirt; check Dhawan's hilarious reaction
ALSO READ | Dhanashree Verma signs off as "DVC" in her "Real life updates" amid rumours of separation with Yuzvendra Chahal