YouTube icon Jimmy 'MrBeast' Donaldson recently appeared in a Flagrant podcast, giving fans a gala time as they got an insight into a lot about the YouTuber, such as his future projects and ambitions. However, he also revealed why he decided to turn down a billion dollar offer.
Currently the second individual content creator on the red platform who amassed 100 million subscribers, Jimmy Donaldson has made some crazy and unique videos, but fans were astonished when the creator revealed that he himself got a crazy offer once.
Read More: Ludwig announces new venture Offbrand, hints at retirement from streaming
MrBeast rejected a billion dollar offer despite being an 'enticing' amount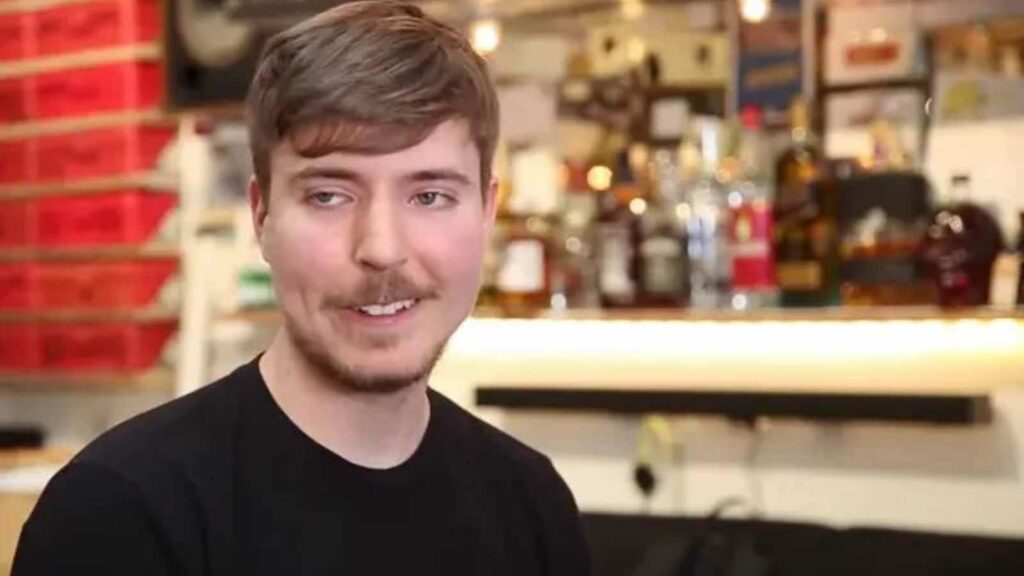 Hitting 100 million subscribers with 1 million people celebrating it with him, bagging the first position at Forbes Top Creators List, MrBeast has had a golden year so far, even getting the opportunity to interact with global business giant Elon Musk. Considering the massive viewership he holds, he can arguably be the richest content creator currently.
However, there was a time when he decided to reject an offer of a billion dollar that could have made him the youngest self made millionaire. This information was revealed in the latest podcast of Flagrant that is now trending on YouTube.
Talking about his plans to run for the president and future video ideas and his ambitions in life, MrBeast was asked whether he had ever been offered the "craziest cheque in history" by Disney who are on a roll to buy several streaming services. Answering this quest, the 24-year old YouTuber stated-
"Well, I have. I have been offered a pretty crazy one. Umm... like, there's people, not like official term sheets, but you know? People like, that would actually like, be able to afford it. Like, 'Yeah, you know, a billion dollars, if we could own the channel and the companies, and stuff like that."
Also Read: "She's the N-word user": Knut explains why everyone hates Pokimane
This was enough to leave everyone astonished, but Jimmy Donaldson's next statement was more shocking as he stated that he decided to turn down the offer despite the offer being quite enticing-
"Oh! That sounds enticing! But I don't know if I want to work for my own YouTube channel."
While one of the podcast host asked MrBeast if he was offered the massive amount for his main channel on YouTube, the content creator stated that the offer was made for his entire YouTube empire and if he had accepted it, it would have made him the youngest self-made billionaire.
Following the requests made by the hosts, MrBeast also revealed the amount of money made from his YouTube business. He disclosed that the figures went up to $20 billion, to which host Aakash Singh joked that he will probably surpass Whatsapp. Surprisingly, the content creator explained that it could happen four or five years from now.
Fans want MrBeast to make a comeback on the podcast
The Flagrant podcast featuring MrBeast has procured more than a million views at the time of writing, and fans expressed their elation on being able to see the YouTube giant as the podcast guest. Almost every fan wanted him to make a comeback on the show in future.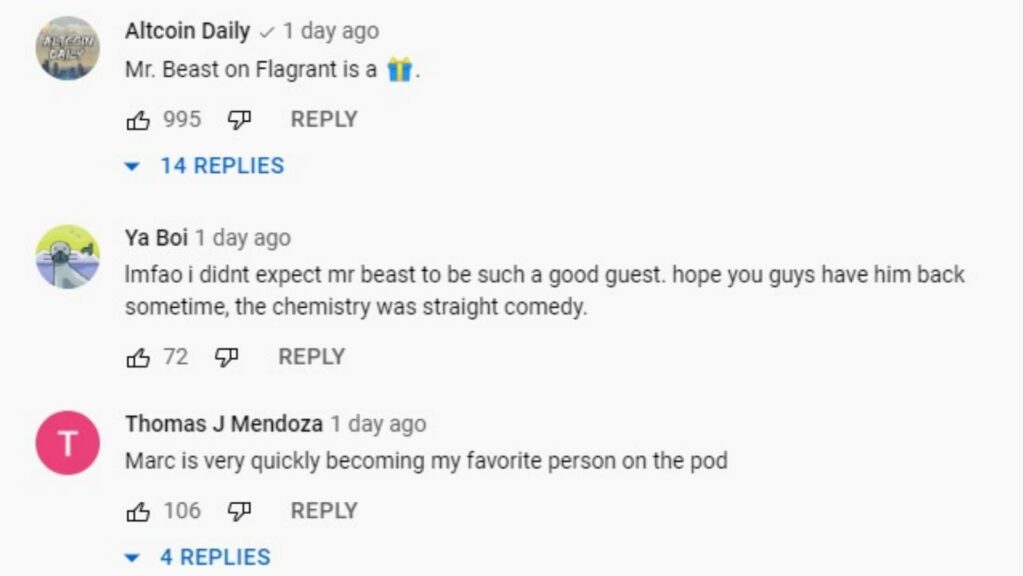 Others also showered their praise on Marc and other hosts for hosting such an entertaining podcast and expressed their wish to see more such content again.
Also Read: "I am deeply disappointed in my judgment: Maya Higa opens up about her involvement in the Adrianah Lee-CrazySlick controversy