In a surprising twist of sentiments, Red Bull's crowned champ, Max Verstappen's perspective on the inaugural Las Vegas GP, underwent a complete transformation, evolving from initial criticism to newfound excitement. The Dutch driver had openly disapproved of the race at the outset, particularly emphasizing F1's emphasis on entertainment rather than the racing itself.
Verstappen's initial discontent was evident as he expressed dissatisfaction with the Las Vegas circuit and the overall approach to the weekend. He had remarked, "I did not enjoy driving on the circuit," and criticized F1 for its perceived focus on spectacle over the essence of competitive racing. His skepticism was palpable as he conveyed his sentiments about the event's priorities, setting the stage for what seemed to be a challenging weekend ahead.
However, the narrative took an unexpected turn as the race unfolded. Despite facing early setbacks, including a collision a subsequent five-place penalty, and a broken front wing, Verstappen showcased his prowess on the track. The Dutch driver's resilience became evident as he not only navigated through adversity but also emerged victorious, securing his 18th win of the 2023 F1 season. Verstappen's about-face from criticism to genuine enjoyment was highlighted in his post-race remarks, claiming he was "already excited to come back" next year. 
"VIVA LAS VEGAS" 🎶

Max Verstappen singing after his #LasVegasGP win 🏆 pic.twitter.com/u0KXjZR44i

— Sky Sports F1 (@SkySportsF1) November 20, 2023
In the post-race celebration, Verstappen took to the radio and serenaded listeners with Elvis Presley's iconic "Viva Las Vegas." This unexpected musical interlude added a touch of glamour to the evening, showcasing Verstappen's enthusiasm. Christian Horner, his team boss chimed in on the radio laughed at it, and congratulated the Dutchman for a sensational 18th win. 
Fans call Max Verstappen's radio song 'cringy as fu*k'
The emergence of a Red Bull radio clip on the internet sparked a polarized response from fans. Some labeled the audio as "cringe as f***," while others expressed sheer delight and called for more similar content. Critical voices branded the race a "joke," while those weary of the Dutchman's dominance conveyed their frustration with memes, urging for an end to what they perceived as relentless domination.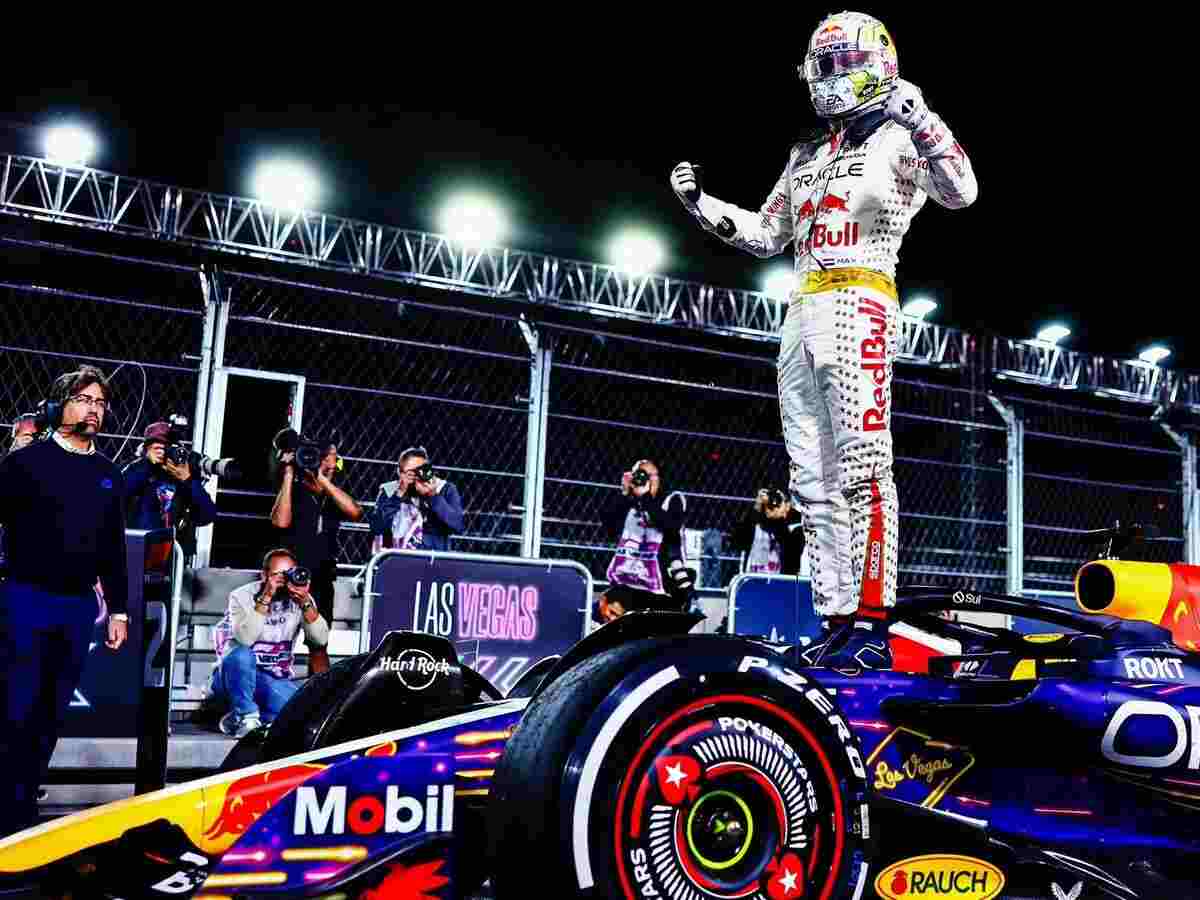 Following Verstappen's triumphant turnaround at the Las Vegas GP, some fans seized the opportunity to criticize him, branding him a "hypocritical tw*t." They pointed out the stark contrast between his weekend-long complaints about the race and his later singing on the radio, deeming it unnecessary after his continuous criticism. Additionally, there were hardcore Elvis fans who dismissed Verstappen's singing, asserting that the "jackdaws in my garden were more tuneful."
What a hypocritical tw4t 😂😂😂
Has he forgot about saying if he was a fan he'd tear the place down 😩

— andy roberts (@ajsloggster) November 20, 2023
8 laps to decide if it was a penalty on first corner. What a joke.

— Fly100 (@FlyFly100) November 20, 2023
"too much about the show and not enough about racing"….. "vivaaaaa! las Vegas!"

— MikeJRW (@mjrw85) November 20, 2023
Cringy as fuck

— rb1504MOT (@rb1504MOT) November 20, 2023
Now it is 'viva Abu Dhabhi'..

— Chambii (@AmChambi) November 20, 2023
Unsure whether that was worse than crofts line about what papers in vegastappen, it was close. Both horrifyingly cringy pic.twitter.com/5ruZqZQQvI

— Andrew Norrby (@ANorrby) November 20, 2023
Newsflash⚡️ That wasn't singing. That wasn't even a little bit like singing. The jackdaws in my garden are a lot more tuneful.

— Avril Jones LRPS 🇪🇺☮️📷🌹🚴‍♀️4️⃣4️⃣☮️ (@AvrilJonesPhoto) November 20, 2023
after slating the event non stop since he arrived

— Sandra #F1mydna 💜 (@Sandra24Jan) November 20, 2023
Haha, Max and his singing moments! 🤩😆😍

— TheAceMaker🐧💥🤖 (@TheAceMaker) November 20, 2023
November 20, 2023
In conclusion, Max Verstappen's Las Vegas GP journey, from initial discontent to triumphant victory and a serenading radio moment, exemplifies the unpredictability of motorsports. His resilience and unexpected joy underscored the dynamic nature of racing.
In case you missed it: