Sergio Perez won out in Jeddah last weekend, having started on pole position. That makes for an interesting statistic: Perez has taken multiple poles, but all (2) of them at the Saudi Arabian GP. It was a relatively comfortable victory in the end, though he was jumped by Fernando Alonso at the start. After a while, he got the lead back. Apart from Alonso, for some time, Max Verstappen also looked to be mounting a challenge, but it didn't work out.
The Dutchman had started the race P15 after a driveshaft issue ended his qualifying early. During the race, he made very good progress, until a timely safety car helped him get a cheap pit stop. This basically reset the race, and after some time, he climbed to P2. Verstappen hoped to win, of course, but it didn't work out. Unfortunately for him, Perez mostly seemed able to match his pace. A recurrence of the driveshaft issues (though not terminal) didn't help either.
But the two-time world champion was able to take the fastest lap – right on the last lap. This was some consolation, of course, and also meant he would keep the lead of the world championship. However, it also led to a rather awkward moment with his teammate in the cooldown room, and there's the possibility of tension there. Perez also had an awkward moment with Verstappen's father, who looked rather stoic and unimpressed as the Mexican driver celebrated in front of him.
Speaking after the race, as per Formule1.nl, Verstappen Sr. claimed that he knew his son would go for the fastest lap. He said: "I just knew he was going to do it. Nice is not it? In any case, he will remain leader in the championship. Of course we all want to win. But that was not possible today. The margin was too small for that." and also commented that Perez went for it, as: "I don't think he (Pérez) gets the chance that often. He sees that too and then goes for it."
Read More: Max Verstappen convinced he "should have" defeated Sergio Perez in Saudi Arabia if not for reliability issues
Jos Verstappen: Max would have 'easily driven' to pole position (over Sergio Perez) if not for Q2 issue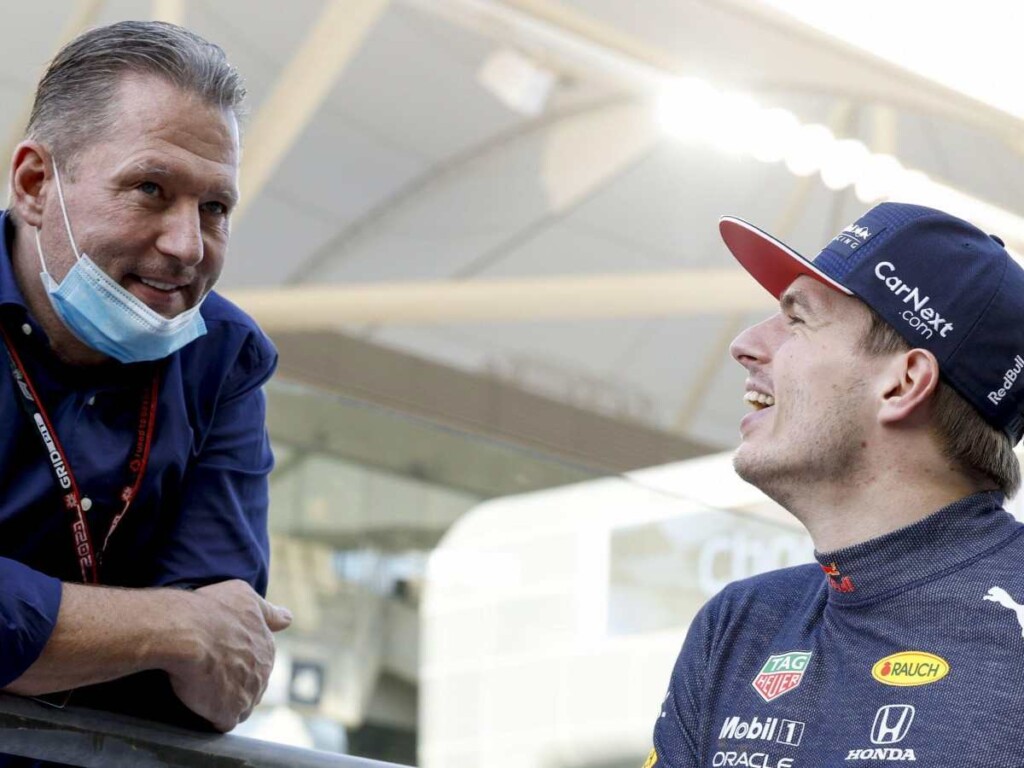 Jos Verstappen is also relatively sure that his son, Max, would have taken pole position (over Sergio Perez) if not for the driveshaft issue. Admittedly, the two-time world champion looked incredible throughout the weekend. The former Benetton man said of this: "It went against us in qualifying (referring to Max's driveshaft issue in Q2). Bad luck, I won't go into that. We know what it is. But otherwise Max just easily drives to that pole position."
Despite three DRS zones, it is not exactly easy to overtake on the 'Jeddah Corniche Circuit'. So, starting at P15, despite the dominant car, it wasn't exactly an easy task to make places up. On this, Verstappen Sr. elaborated: "And then the race is a bit easier. Because we actually already predicted: it is quite difficult to come forward here. This is a track with long turns, it's hard to make a difference there. We need more difficult circuits and more corners."
Jos also thinks that, at least based on the first two races, it seems as if Red Bull will be dominant. He even assessed them as "a second faster", based on how easily "they drove away". He couldn't say whether they will be caught up to (at the top) or not, but warned, that Red Bull will obviously not be standing still. 2023 might just turn out to be another season of Red Bull domination.
In case you missed it: